Official T-Shirt Wholesaler Blog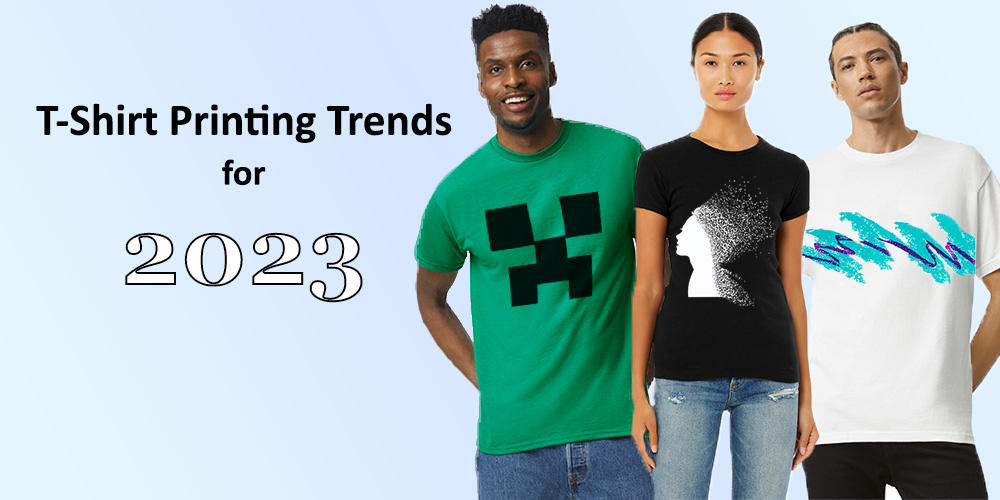 Listen up, all you custom t-shirt enthusiasts and event planners. The world of custom t-shirt printing moves quickly, and you don't want to be left behind. Some of the newest trends in the tee game are here for the year, and we're here to lay it out for you.
Of course, we've seen a few classics make a recent return. Looking at you, wavy writing from the 90s. But some of the genuinely fresh trends are a whole new thing. Fortunately, you've come to the right source on all things apparel and custom clothing. We'll explore what's working this season in t-shirt printing and how to keep yourself from fading out of style. Let's jump into the trends in custom t-shirt printing for 2023.
Printing Methods
Before getting into design choices, we have to briefly note printing methods. There are so many printing methods out there. Listing every way to imprint an image onto a shirt would be nearly impossible. While some timeless methods, like vinyl cutting and screen printing, are here to stay, recent years have seen a rise in heat press and sublimation t-shirt printing. Because these materials and equipment are becoming more common, even small businesses have started creating their own custom t-shirts.
In 2023, we predict that we will see many more custom t-shirt enthusiasts creating on their own.
Color is Crucial
In the age of expression, color is vital. The right baseline for your custom t-shirt can make or break your design from the start. Some of the color trends we're seeing for this year are more reminiscent of decades in the past rather than bold new hues. Many of the colors from the mid-90s and early 2000s are flooding the fashion scene once again.
We're talking about mauve, dijon, and seafoam as a few examples. It seems 2023 is a year to reflect on an era filled with scrunchies and skate tees. To be honest, we're not mad about it.
Statement and Mantra Shirts
A growing trend this year is bold or powerful statements on t-shirts. 2023 has decided that clothing can be an avenue for a personal belief. With everything from mental health mantras to political opinions, shirts these days can be a powerful messenger for a wide audience.
90s Wording Styles
Once again, the 90s are back in full force, and word art came with them. Some designs remind us of watching Full House or Fresh Prince every morning before school. It seems everywhere you look, there is a shirt with wavy words or flowery fonts on them. This whimsical word artistry is a growing theme in 2023 t-shirt trends.
Fandom Fashion
Rounding off our sort list are media merchandise themes. With comic media, anime, TV fandoms, and D&D being highly popular right now, it's no wonder that the art and quotes from these enterprises are everywhere. Custom t-shirt businesses have capitalized on these iconic images and catchphrases to give the people what they want; fandom merch.
Set Your Own Custom T-Shirt Trends
We deliver the best clothing brands like Bella + Canvas, Next Level Apparel, Gildan, Hanes, and more all in bulk so you can always find the perfect t-shirt for every occasion.
---
Related posts