Official T-Shirt Wholesaler Blog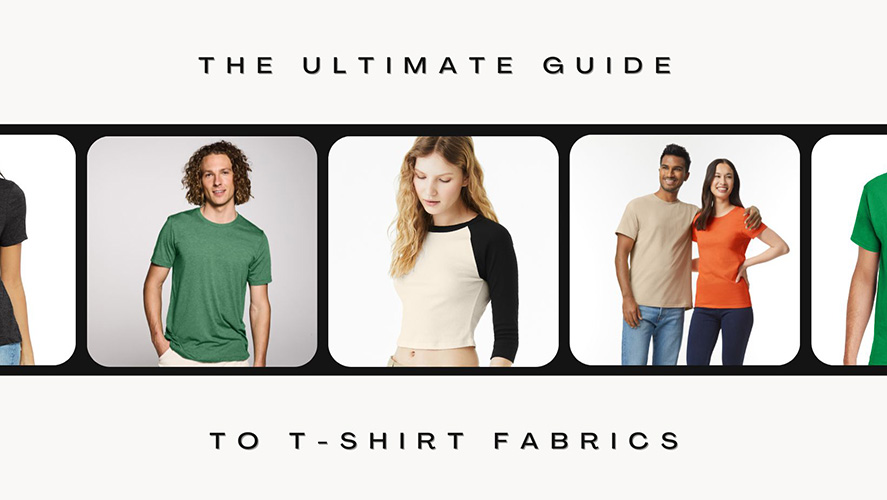 Whether you're just getting started in the t-shirt game or a long-time garment enthusiast, knowing the specifics of each fabric can be a game changer. Choosing the right material for your t-shirt is essential for comfort, durability, performance, and style. However, so many different t-shirt fabrics can easily become overwhelming and confusing. That's why we've created this handy dandy t-shirt fabric guide.
In this brief overview, we'll cover what makes some common materials unique and how they are used to make fabulous tees. We've created this t-shirt fabric guide as a tool for custom t-shirt designers, clothing retailers, DIY crafters, and anyone needing blank t-shirts.
Cotton: More Than Meets the Eye
Cotton is perhaps the gold standard of the t-shirt industry. Cotton comes from natural fibers and is known for its breathability, versatility, and incredible durability. Depending on the process used to refine the cotton fibers, the materials they produce can be widely buried in texture, durability, and absorbency.
Although 100% cotton t-shirts are the most common, not all cotton is created equal. Just because a t-shirt is made from 100% cotton does not necessarily mean it is the best it could be. Like most things, high-quality cotton requires a greater effort to refine. Let's explore some types of cotton commonly used to create t-shirts.
Combed and Ringspun
Ringspun cotton refers to the method of drawing yarn from cotton fibers. The cotton is filtered by this method to remove impurities and entanglements. That's the combing process. Once the cotton has been refined and the fibers organized, it is spun into a long, thin yarn to be woven together to make the fabric. Using this method, all fibers are aligned in the same direction to create a uniform woven pattern.
The benefit of using this method is it creates a tighter weaving pattern and gives a softer feel to the finished garment. Brands like Bella + Canvas have pioneered this method and use it to produce incredibly comfortable t-shirts.
Carded Open End
Another method for refining cotton is carded open-end, commonly used in value-priced shirts. This method is cheaper to turn cotton into yarn by which fibers are bound by a wrapped fiber running perpendicular to the bundle. This method involves using open-ended cotton fibers, which create a bulkier heavy knit.
Although this method is relatively standard across the board, it can produce a less uniform knit pattern because of the uneven fibers. In some cases, this can lead to scratchy or uncomfortable t-shirts.
Polyester: Performance-Driven
Polyester is a synthetic fabric made from a resin. This synthetic fiber is often used in athletic wear and performance materials because it naturally pulls moisture away from the body. A major benefit of using polyester in clothing items is its potential for eco-consciousness. Because polyester is made from resin, it can be produced using recycled materials like water bottles, plastic containers, and other disposable items.
Heather CVC: Best of Both Worlds
This spotted material is made from a polyester and cotton blend, which produces an incredible performance garment. CVC stands for chief value cotton because it is primarily a cotton fabric with elements of polyester woven in. Heather CVC receives its signature speckled look from the polyester elements, which intertwine with the dyed cotton. This blending process makes heather CVC shirts an excellent option for almost any apparel adventure.
Rayon
Rayon was first developed as a more cost-effective alternative to silk, so it is incredibly smooth and soft. The semi-synthetic fibers create a uniform material that is both light and flexible. Although it can be used independently, rayon is often best suited for garments that blend materials.
Tri-Blend: Make It a Combo
Tri-blend fabrics are a mix of cotton, polyester, and rayon. This blend combines the best elements of each material to create a fabulous texture and hand feel. Combining all three materials, tri-blend shirts offer impeccable breathability, remarkable stretch and performance, and an ultrasoft surface.
Structural Terms
Now that we've covered the basic fabrics and their blends, let's discuss some structural terms in t-shirt product descriptions.
Economical Tubular
A tubular design is cut from a material cylinder, so the front is the same as the back, except for the neck drop. This construction method is cheaper for t-shirts because it requires less stitching than other methods. However, because most people are not tube-shaped, tubular t-shirts can be uncomfortable for some people to wear.
Side-seamed
Side-seamed shirts are a little pricier to make as they require more stitching. However, side seams in a t-shirt are essential for a t-shirt to fit correctly. As its name suggests, a side seam is a vertical stitch running from the arm to the waist, which helps sculpt the t-shirt shape. Using this method, the t-shirt design fits better and is more comfortable.
Singles
Singles are similar to the thread count in sheets. The higher the number of singles, the tighter the knit pattern. T-shirts with a higher single count are softer, more durable, and more uniform than those with lower singles. Typically, you'll find the single count between 14 and 20 for most t-shirts or 30 to 40 for higher-end garments.
Weight
The fabric weight metric is per square yard or meter of material. Garments with a lighter weight are often made from more uniform fabrics, like combed and ring-spun cotton. Typically, the lighter the weight, the softer the garment.
Now you have the basic knowledge you need to find the ideal shirt. Follow along for more tips and style tricks.
---
Related posts