Official T-Shirt Wholesaler Blog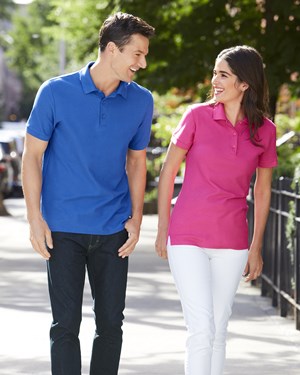 The polo shirt is a timeless wardrobe staple. You'll find polo shirts at home, at the office, on the job, and at play. They're perfect for almost any profession, but go great with just jeans, too. Maybe yours is part of your uniform or it's your go-to shirt for your favorite weekend outfit. A polo shirt can both dress up an ensemble or instead create a much more casual look. And while true, the traditional short-sleeve polo you're probably picturing right now can do all this, there's so many more than just one polo style these days. Let's highlight some of the most popular options. Picking your perfect polo shirt has never been easier.
Polo shirts have come a long away from the preppy short-sleeved look made famous on the tennis courts decades ago. Still serving up a ball on the court? Great. That's a look that scores, love, and is never going away, but now there are even more polo picks. There are long-sleeve polo shirts in addition to the traditional short-sleeve length. Add some fun and function with a pocket polo shirt. Finally find your perfect fit in men's, women's, and kids' cuts. Celebrate piqué or check out another look. Sure, cotton always stays cool, but feel the fabric of a blend. Play on or off the court with pumped-up performance properties. Sound good, sport? Let's explore more.
If you're more of a traditionalist, try the Jerzees 443MR Adult 6.5 oz. Premium 100% Ringspun Cotton Piqué Polo and companion Jerzees 443WR Ladies' 6.5 oz. Premium 100% Ringspun Cotton Piqué Polo. The breathable cotton is everything you envision a polo shirt to be, whether at home, on the court, or at the office. And the word we keep throwing around, piqué? At first glance, it looks like a fabric the simple and standard polo shirt is often made up of, but it's actually a type of weave. Study your shirt up close to see if it's a familiar honeycomb knit. That's the piqué way, but it doesn't have to be made from cotton. Any fabric these days will do, but for those who love the business casual standard or just the all-purpose look of a polo shirt, a short-sleeve polo shirt will do.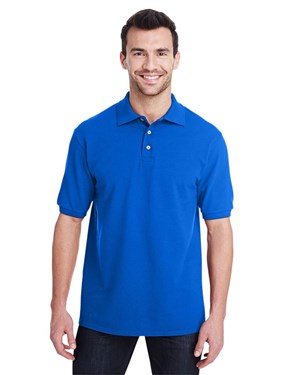 If you're more on the move, the Gildan 44800 Performance Adult 4.7 oz. Jersey Polo Shirt and Gildan 44800L Performance Women's 4.7 oz. Jersey Polo Shirt bring performance properties to polos. You might just be wanting to stay cool and dry for a day at the office or you can let these shirts help up your game. Here's how. Performance apparel can include moisture-wicking and antimicrobial properties to keep you looking and feeling dry and smelling fresh, UPF protection to protect your skin and the color of your shirt, and polyester or blended fabrics that provide optimal air flow. Looking good in a polo was always no sweat, but a performance polo means that you really are feeling fresh. With perhaps the most crossover appeal, performance polo shirts are sharp enough to wear to the office and then make after-hour appearances everywhere else. Make your move in a performance polo.
There's another polo shirt with fans who are on the move, a fun and functional pocket polo shirt. On the go? Stash your supplies within an arm's reach and keep on keeping on. Fans of the pocket polo, though, also know just how fun that simple pocket polo can be. For fashion or function, the Hanes 0504 EcoSmart 50/50 Polo Shirt with Pocket smartens up any outfit and takes a simple look to the next level with the interest and intrigue of a pocket. A pocket polo shirt just looks a little more upscale, even at this sensible price. Stash your stuff or look a tad more sophisticated with a pocket polo.
Ladies can find companion pieces to many types of polo shirts, which make coordinating uniforms easy, but some shirts are especially created for the fashion forward. From the mild dip of a V-collar in the Devon & Jones DG20W Ladies' CrownLux Performance™ Plaited Polo to the bold color contrast of the Harriton M355W Ladies' Side Blocked Micro-Piqué Polo, styles vary from just a touch of style to the extreme. It's the shape of a woman's polo shirt that puts it a cut above. For those wanting to show off a more feminine form, the boxy unisex look is out. Look for women's polo shirts to flatter your form. A good fit is always in style, and you'll find it in a women's polo shirt.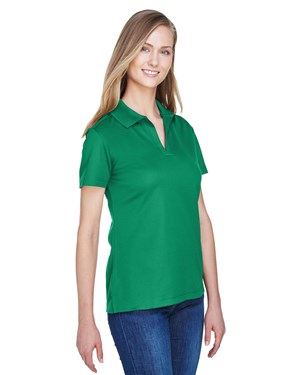 Last, but not least, is going long in a polo shirt. Long-sleeve polos make this staple a year-round piece of apparel. When the temperature drops, switch out the short sleeves for the Core 365 88192 Pinnacle Men's Performance Long Sleeve Pique Polo, Core 365 78192 Pinnacle Ladies Performance Long Sleeve Pique Polo Shirt, or even find this style in the Core 365 88192T Men's Tall Pinnacle Long Sleeve Polo Shirt. In one smooth style, absolutely no one is left out in the cold. Stay warm with a long-sleeve polo shirt all year round.
Where to wear any of your polo shirts? Company owners, your crew is looking their best for your business in polos. Employees, your business casual at the office always looks professional. Ladies, why not pair that crisp polo with a flowy skirt. Gentlemen, throw on a long-sleeve polo with a pair of shorts for a laidback look. Is there even a wrong way to wear a polo shirt? It's the easiest way to dress up or dress down any outfit. So, what's your polo pick?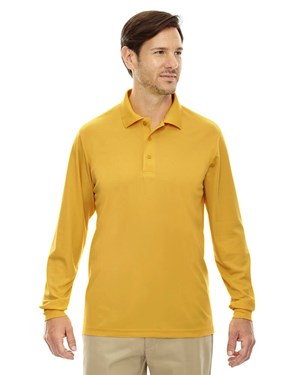 ---
Related posts