Official T-Shirt Wholesaler Blog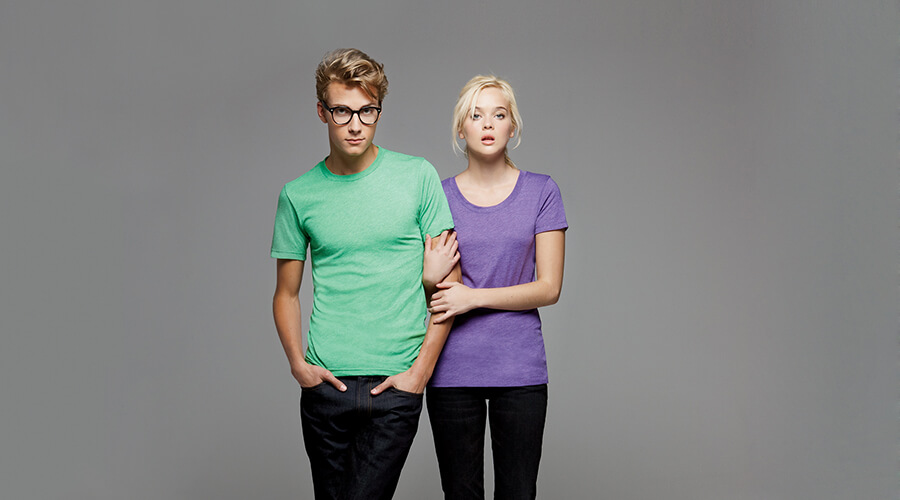 When it comes to t-shirts, you may think you know it all about necklines. You can probably name a neckline when you see one, even the lesser-known necklines. You might have your favorite neckline for all, if not the majority, of your t-shirts. The neckline you favor, though, is it doing you any favors?
Here's a guide on the need-to-know necklines. We're covering the basics on the most common t-shirt necklines, what they look like, and why you may want to try a new neckline out.
Crew Neck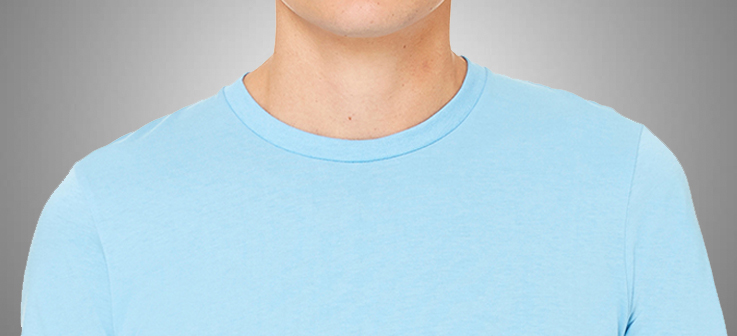 What's a crew neck?
A crew neck has a circular shape that sits close to the neck. It typically has a band around it, thick or thin, completely stitched or left raw, but the shape is what matters. It's round, so in some circles it is called a round neck. That's not entirely correct. A true round neckline actually has a curve, making them less round than a crew neckline. Don't worry too much about brands using this term interchangeably; they're not the same, and crew necks have far eclipsed round necks in popularity. In fact, the crew neck is more popular than any other t-shirt neckline.
Why a crew neck?
Let the t-shirt tradition carry on. Not only is a crew neck the most popular choice among both men and women now, it was the very first neckline style of the modern tee we know today. The name "crew neck" comes from a ship's "crew," the Navy being early adopters of this tee. Its popularity is probably because of its simplicity. It's a real people-pleaser, a grab-and-go favorite, and a broad canvas for printers. While unisex styles like the Bella + Canvas 3001C Unisex Jersey Short-Sleeve T-Shirt will always be bestsellers with both men and women, there's plenty of room to branch out into specifically women's crew necks. Traditional, semi-fitted, or fitted, there are plenty of crew neck tees tailored for a woman's specific shape and taste. Ladies, you can find a more feminine flow on a crew neck with the Bella + Canvas B6400 Women's 4.2 oz. Missy Fit Crew Neck Jersey. What stays the same, though, is that round, no-nonsense neck.
How do you wear a crew neck?
This classic neckline doesn't really need competition. It stands alone. Keep it simple or style it wisely. The crew neck tee is supposed to look effortless, but dressing it up makes a look uniquely you, too.
There's nothing more timeless than a plain white crew neck t-shirt and jeans.
Embrace all the hues (and heathers, too) to wear your crew neck as a standalone shirt.
Use it as an underlayer with an unbuttoned shirt to expose a bit or a bunch of that crew tee's neckline.
Women are taking a more formal look and toning it down. Try topping off a leather skirt with a simple crew neck or layering it under a blazer.
With all this real estate, there's a reason printers opt for a crew neck. Show the world your beloved band here. Printers, there's room aplenty for your designs on the t-shirt with the bestselling neckline.


V-Neck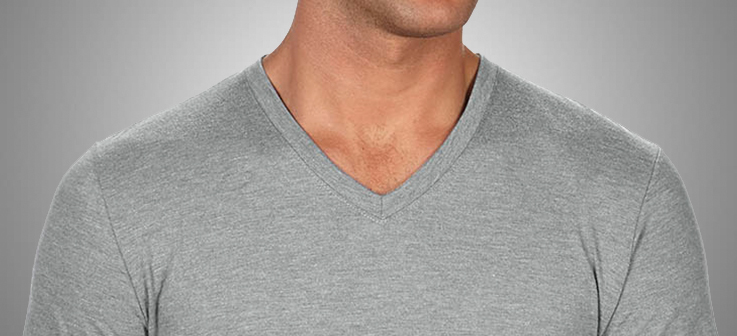 What's a V-neck?
The look of a V-neck is unmistakable. The "V" shape, for which this neckline is named, is formed by two diagonal lines from the shoulder that meet at the chest, creating that unique banded dip that differentiates it from a crew. While the depth of that dip differs by brand, a traditional V-neck, for either a man or a woman, reveals where the collarbones meet and exposes just a hint of upper chest.

Why a V-neck?
The V-neck was originally born out of necessity. Gents who were wearing t-shirts as undergarments didn't necessarily want the look of a crew neck peeping out from under an unbuttoned shirt. The simple dip of a "V" shape suddenly allowed everyone to relax a little. Men and women can still unbutton a button or two without showing off a shirt with a crew neckline. It was seamless underwear until it became outerwear. And it's still used as an invisible undershirt today, too.
Now men and women can choose a V-neck t-shirt as a fashion statement. It's still a laid-back tee, but with a bit of flair. For men or women who enjoy that unisex sizing, even a simple Anvil 982 Soft Spun Fashion Fit V-Neck can add a bit more polish to a tee.
A V-neck on a woman adds a feminine touch, as it's said to elongate the neck and draw attention to the face. The choice in a traditional, more shallow depth, is to add a bit more interest to an otherwise ordinary tee and draw attention upward. The Anvil 88VL Women's Ringspun V-Neck T-Shirt, for example, has a half-inch notch that barely bares the décolleté.
How do you wear a V-neck?
The "V" in a V-neck might just stand for versatile. V-neck tees are still sometimes treated strictly as undergarments. Others who just love this look are wearing a V-neck t-shirt to stand out among the crowd of traditional tees.
Layer a V-neck t-shirt under your favorite button-up without any show. That's what it was made for, and can still be used for today. It's your choice as an understated undergarment.
Smarten up a look with a blazer with an exposed V-neck tee. Seriously. It's all about suddenly being comfortably dressed at the office, while still looking professional. It's dressed down, done right.
Elevate even just a pair of jeans with a V-neck t-shirt. The simplicity of a t-shirt with the added touch of a dip make casual look a touch cooler.
Both women and men can display jewelry with a V neckline, so you can finally put those usually hidden necklaces on display.


Deep V-Neck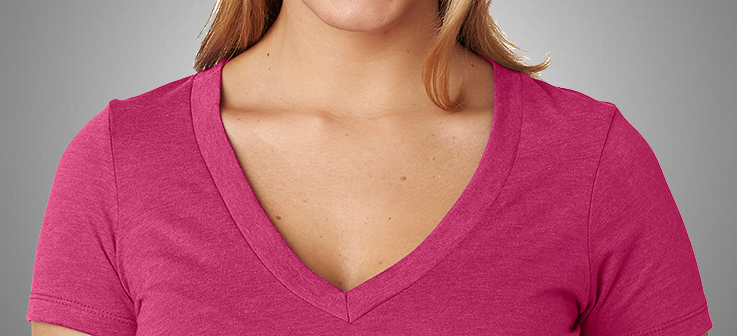 What's a deep V-neck?
If the look of a V-neck is unmistakable, the look of a deep V-neck is unforgettable. The "V" shape, the diagonal lines from the shoulder meeting at the chest, now has a deeper dip. While how deep the dip depends on the brand, there's no mistaking the deep V-neck t-shirt for a regular V-neck tee. The deep V-neck puts more of the décolleté on display. A dramatic plunge causes this t-shirt to be more of a showstopper than even a traditional V-neck tee.
Why a deep V-neck?
A regular V-neck tee is utilitarian because it was invented to disappear as an undershirt. The deep V-neck t-shirt, however, was meant to be seen. It's a fashion piece, not meant to be hidden as an undershirt. It elongates a woman's neck like a traditional V-neck, drawing attention to the face, while creating the look of a proportionate silhouette. It's a distinctly feminine piece, no matter how deep the dip. The Next Level Apparel 6640 Women's CVC Deep V T-Shirt flatters a female form with that dramatic deep dip.
Is the deep V-neck t-shirt only for women? Not if the early 2000s have anything to say about it. Men ran rampant with this chest-baring look. Is it a look we'll likely see again? Never say never. Styles seem to have a way of coming back into fashion. Some men are currently wearing deep V-neck tees. So-called feminine features look very different on a man, but the objective is the same. Look stylish while showing some major skin.
How do you wear a deep V-neck?
Take the plunge with a deep V-neck. The look is more bold than its more demure regular V-neck, so while it can still be paired with an easygoing ensemble, it's more of a feature attraction. It's the type of tee that can be easily played up, but it's both casual and chic at the same time.
Dressy tops aren't always the answer with a skirt. A V-neck is the right amount of flirt and femininity to wear with even the most stylish of skirts. Because being stylish doesn't mean you can't be comfortable.
No, wearing a cami or lightweight tank top underneath a deep V-neck doesn't defeat the purpose of a dip. Try contrasting colors that give this look that very purposefully crafted pop. A layered look creates even more interest to this dramatic tee.
The plain white deep V-neck is the feminine version of the causal look of a white crew. Take any outfit down a notch with this classic look or just enjoy it with your favorite jeans. The white deep V-neck is versatile.


Scoop Neck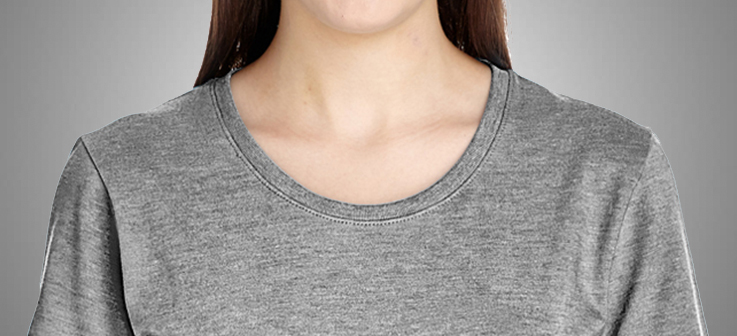 What's a scoop neck?
Here's the scoop with a scoop neck. Scoop necks and crew necks have a similar collar shape, so they're sometimes confused, but the two are definitely not interchangeable. A scoop neck has a low, wide, almost U-shaped neck while a crew neck has a much more round shape that sits higher up on the neck. It's also sometimes thought that scoop neck t-shirts are crew neck tees for women. Women are more than welcome to enjoy both, of course. A scoop neck, though, does expose a bit more of the collarbones than even the deep V-neck tee, and displays a bit of the upper décolleté, making it very appealing to a feminine physique. The Hanes MO150 Ladies' Modal Triblend Scoop T-Shirt is tailored specifically for women. The scoop neck is rumored to have originated from a desire to layer t-shirts. It's a look men enjoy, too, when wearing a scoop neck.
Who is a scoop neck best for?
A scoop neck t-shirt tends to trend more feminine and fashionable than many other necklines. Yes, men have, and do, wear scoop necks, but it's more frequently worn by women wanting to accent more skin than a crew neck can. It's a totally different look, though, than a V-neck or even deep V-neck. While a deep V shows off skin, the scoop neck uses more upper chest with a U shape instead of narrowing into a V. It can be a bit demure, more conservative, than a deeper cut, but a scoop neck still accentuates the delicate features around the neckline.
Of course, if you're a man rockin' the scoop neck, none of this is what you want to hear. Décolleté? Feminine? Delicate? Men wear scoop necks to layer or to show off a little skin of their own. Of course, there's typically nothing delicate about your neckline, gentlemen. We understand you sometimes just want the world to see your skin, a hint of muscle, even your fresh ink, and there's nothing wrong with that. Boldly bare away, men.
How do you wear a scoop neck?
If the idea of showing a bit of skin appeals, but the harsh lines of a V-neck tee don't, try a scoop neck.
Add a soft touch to some distressed jeans with a scoop neck tee. Torn jeans with this sweet neckline balance each other out for a unique and interesting look.
The polish of this dainty neckline makes any skirt more romantic, whether long or short. No need to worry about hemlines here. The mild-to-moderate scoop doesn't ever leave you looking overexposed.
Accessories will always play a part of any neckline this open, but why not try an inspired throwback? The scoop neck was all the rage in the '90s, so what better way to accessorize than a choker necklace? Any accessory, though, has a beautiful canvas behind it in a scoop neck, though: your bare skin.
Men and women can both layer away with a thin tank top underneath for a pop of color, although men have traditionally loved an oversized scoop with a same-color tank to add bulk and style.
Deep Scoop Neck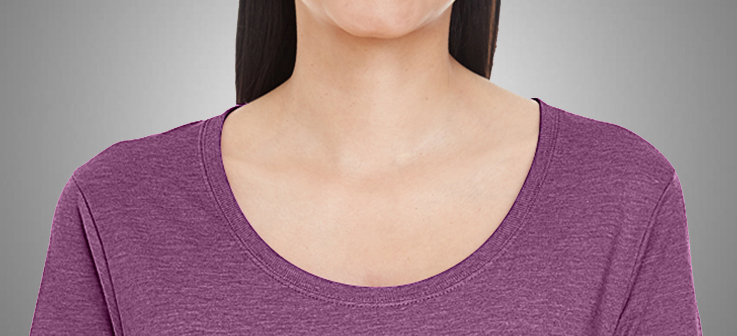 What's a deep scoop neck?
The deep scoop is the same shape of a scoop neck, only with a larger and deeper cut neckline. Continuing with the elongated and wide U-shape scoop, the deep scoop can be exaggerated to the extreme. The deep scoop is debatably the boldest of the necklines, with its more-than-generous skin exposure. Unlike the deep V-neck, though, the focus is on the exposed collarbones and large portion of the décolleté rather than the deep dip of the overtly sexy deep V.
But the deep scoop neck is sexy in its own way. This deep cut accentuates a maximum amount of skin, but just how deep depends on the brand. Just trying a deep scoop neck out? The Gildan G6455L Ladies' Softstyle 4.5 oz. Deep Scoop T-Shirt is a moderate cut among deep scoop tees, but it still accents those collarbones and upper chest areas.
Who is a deep scoop neck best for?
The deep scoop neck is perhaps the most feminine take on a traditional tee. For women, it's for those who love the comfort and casual look of a t-shirt, but with that added delicate touch of a deep scoop and exposed skin. It can be both fashionably dressed up or, wait for it, touch on the hot trend of athleisure. All other necklines have been obvious picks for a workout. But a deep scoop, when not dressed up, is perfectly at home in athleisure. What is athleisure? It's not sloppy sweats. Athleisure is a style of clothing that takes gym wear out and about. And because of its popularity, it's seen everywhere from genuine athletic activities to grabbing lunch with friends. It's welcome almost everywhere. And the scoop neck tee should be crowned its most popular piece. Gym or not, you're still wearing a feminine look when worn as a simple deep scoop.
Gents, here's the very latest scoop for you. We know you can be as dedicated to this look as a regular scoop neck or any other neckline for that matter. Don't let ladies have all the fun with this look. You're typically buying in oversize for a tee that's already bearing a lot more than, say, a traditional crew neck. So show that skin, those bold collarbones, those fresh tats if you have them. Go ahead and reveal so much more than a regular scoop. Or enjoy the trend popping up to layer. Yes, women have historically enjoyed a deep scoop. It's a feminine tee, but only when placed on a female. Wear this look and enjoy it as you like.
How do you wear a deep scoop neck?
The deep scoop neck can actually be worn in many more ways than just as a showstopping tee. A scoop neck does more than dress up or dress down an ensemble. It can actually go on trend with athleisure.
Yes, enjoy athleisure. Wear a deep scoop layered over a tank, wear it under a cropped hoodie, or do both. The best place to layer up is with athleisure. This dressed-up t-shirt is the perfect balance between the dressed-down appeal of athleisure wear.
Shocker: wear a deep scoop neck to the actual gym, not just for brunch. Sports bras have historically come a long way and deserve to have a little exposure. Throw a deep scoop neck over that fashionable sports bra or even just a tank for an upgraded look even while working out.
Style a deep scoop neck as a stand alone t-shirt with your favorite high-waisted pants, slouchy boyfriend distressed jeans, or with any skirt, of course. With a neckline this bold, your t-shirt is now your statement piece.
Treat this wide open space as the place to show off statement jewelry, even dangling earrings are front and center, or start layering necklaces. Those pretty pieces deserve to be seen. Use that deep scoop to show off those accessories.
Didn't see a neckline you wanted more information on? We've only scratched the surface on the necklines with the most popular trends of today, but you may not have considered a neckline you know for your own closet. Do something new or buy a neckline you've been wanting to try. We're sure you have your own ideas now on how to style your own new or favorite neckline.
Hey, thanks for the read! If you love our blog, you should totally sign up for our emails chock-full of coupons, savings and more awesome content from us here at T-Shirt Wholesaler. That's what you came here for, right?
---
Related posts