Official T-Shirt Wholesaler Blog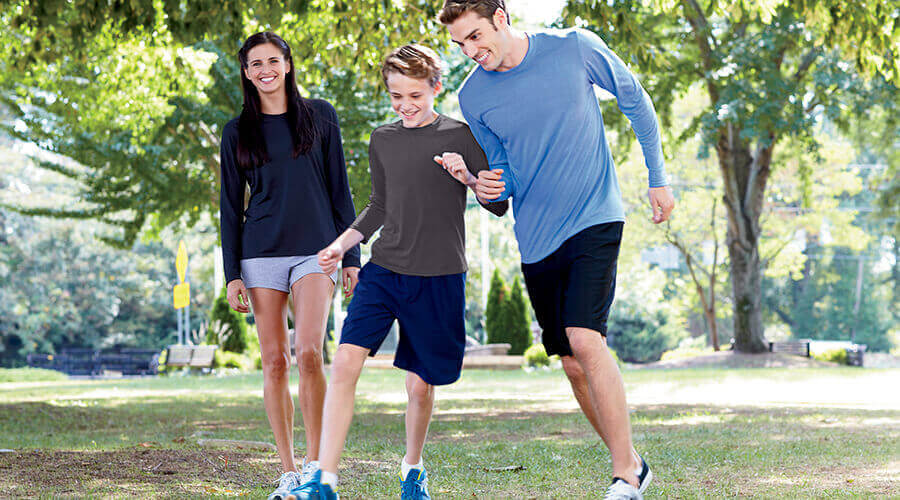 It's fall, y'all, so long live long-sleeves. Whether you're feeling fall—or not at all—long sleeves deserve a short feature. Celebrate the season by putting away the shorts and tank tops or just consider covering those arms to avoid the chill.
There's plenty to love about the season. If you're a fall sports fan, your team is just gearing up for their season. If you're starting your own team, you can still suit up in style. If you love an outdoor workout, it just got less sticky and sweaty. If you're tired of the same old office attire, you can consider a whole new wardrobe. If you're a printer sick to death of squeezing your art on tiny tanks, your canvas just got a lot larger. How can we make such bold promises? Because we're all about long-sleeve season. And while we may not convert you to loving the cold, we'll make sure you stay warm and look good at the same time, whatever your interests are.
Are you embracing all that long-sleeves should be? This is your guide to the hottest long-sleeve shirts you should be warming up to right now.
Sports Season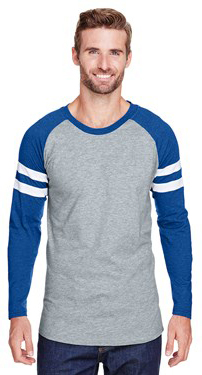 Come fall season, you've got a lot of options as a sports fan. It's time to get ready for your team's season opening, whether you're in the stands, on the sideline, at the sports bar, or in the armchair in your own home. Everyone's counting on you. Yes, you. You, sports fan, are the unsung hero of the game. Maybe you're not quite training like the athletes you adore, but you're the one who keeps your beloved sport alive. But it's not just your admirable support of your team during a losing streak that keeps them going, it's definitely all your quirks. You and your unique superstitions are the only thing getting your team to the playoffs. How'd your team do last year? Not so well? Consider acquiring a new lucky shirt. We hear this long-sleeve t-shirt is especially lucky. It's time to switch to the L.A.T. Apparel 6934 Men's Gameday Mash Up Long-Sleeve Raglan T-Shirt. Ladies, we know you're a super fan, too, so there's a women's L.A.T. Apparel 3534 Ladies' Gameday Mash Up Long-Sleeve T-Shirt. Besides now watching your team now score win after win, there are a few more bonuses. Wherever you are, you're going to be cheering in comfort with a super soft combed ring spun cotton and polyester blend. There's also the added fact that you're all warmed up without doing a single stretch in this long-sleeve tee. And the fact that you look fashionable in a game day shirt? You just might want to switch up your venue from your house to local pub. Why? These game day long-sleeve shirts are something you're going to want to be seen in. Don't believe in superstition? Okay, but looking great never hurt, either.
Are you cold-weather athlete? If you're suiting up to play, what's your sport, ol' sport? No matter who you are or what your age, there's no shortage of sports to be played in as temperatures cool. Club sports are upon us with flag football, field hockey, kickball, and so many more. If you're teaming up and choosing a uniform, consider staying warm in a long-sleeve shirt. You'll also be standing out from your competition. The Bella + Canvas 3000C Men's Hawthorne Baseball T-Shirt is a modern take on a sports shirt. Sure, you know this athletically inspired t-shirt from your spring sports, but this so-called baseball shirt has gone from a three-quarter sleeve to its long length. Yes, here's the long-sleeve made for the cooler months. And let's make this an all-sports shirt instead of letting baseball have all the fun. As team captain doing the uniform ordering, put your own spin on this long-sleeved look. We hope you can play half as good as you look with whatever sport you're playing. You're about to leave your competition shivering out in the cold.
A Warm Workout
Walk, run, hike, bike. If you're an outdoor enthusiast, you don't go into hibernation as the temperature drops. All spring and summer, you've been working up a sweat in the heat, but now your operative is to stay warm. The solution seems simple, but lots of layers doesn't necessarily mean warmth. How about one and done with a long-sleeve performance shirt? The Team 365 TT11L Men's Zone Performance Long Sleeve T-Shirt is one powerfully thin layer protecting you against the elements.
You might think the long sleeves are doing all the work in keeping you warm, but it's a moisture-wicking performance property built in the fabric. Keeping sweat close to your body is downright cold, but wicking it away helps leave your skin dry. That means no damp clothes making you cold. This lightweight long-sleeve will keep you warmer than a heavyweight. Besides, nothing messes with your mobility than bulky layers. Ladies, you'll find the same performance properties in the Team 365 TT11WL Ladies' Zone Performance Long Sleeve T-Shirt. If you're the king or queen of cotton tank tops during the summer months, you'll find you're more comfortably warm while keeping cool with performance properties, even out in the cold. An added bonus is the UV protection in this line. It only feels like the sun's gone during the cooler months. A cold-weather sunburn is no way to stay warm.
If you're doing more running around than actual running, another long-sleeve option is the A4 N3165 Long-Sleeve Cooling Performance T-Shirt. With the same moisture-wicking properties, staying cool means staying warm. This long-sleeve performance shirt is also odor resistant with a stain release in a snag-resistant knit. You're running the urban marathon, every day. You deserve to stay warm while still looking put together. If a long-sleeve button-up is just too formal for your active lifestyle, you're still looking polished and put together with a long-sleeve performance shirt. Consider this your warm wear for any activity.
Work Wear
Don't ditch your favorite business-and-beyond piece of apparel as the temperature drops. Not only is the polo shirt a business casual staple, it's worn out of the office to punch up any outfit. Maybe you've been getting extra life out of your short-sleeve polo shirt as an underlayer. We hate to file a formal complaint, but are you ordering beautifully embroidered polo shirts for your company? We're sure those looks fantastic during the summer, but come fall, that logo is layered under cardigans or beneath sweaters.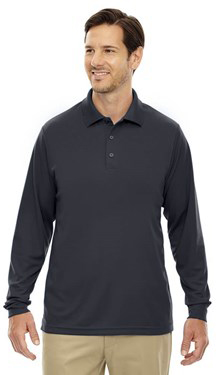 There's another option. Call up that embroiderer to work that same magic on a long-sleeve polo shirt. Go for one seamless look with a long-sleeve polo shirt that'll never become an underlayer, the Ash City - Core 365 88192 Pinnacle Men's Performance Long Sleeve Pique Polo. There's also a men's tall version in this line with the Ash City - Core 365 88192T Men's Tall Pinnacle Long Sleeve Polo Shirt and women have their own perfect fit in with the Ash City - Core 365 78192 Pinnacle Ladies Performance Long Sleeve Pique Polo Shirt. If you're ordering for the office, this look might be worn year-round. It's got the professional pop of pique, but in a lightweight polyester. It'll keep your temperature regulated better than cotton. Moisture-wicking, antimicrobial, and UV-protection performance. Yes, you need all these, all year. Just ask the coworker who sits closest to you. We all sweat in any season. A fabric that wicks away moisture when sweat actually keeps you warmer since there's no damp material left against your skin. Antimicrobial means your long-sleeve polo shirt smells sweet, season after season.
You might even wear a long-sleeve polo shirt all year long. Why? When's the last time everyone agreed on the office thermostat? Whether you're rocking a company logo or just wearing a long-sleeve polo outside on your own, you can wear this through all the seasons. You'll be unfazed if a summer day turns cloudy or if someone dares dip that office thermostat below 68 degrees.
Print
Are you a printer? Don't let your artwork become just another underlayer, or worse, sent to the back of the closet for spring. See what's trending now in long-sleeve shirts to avoid getting lost under layers.
You're bursting with ideas right now, and finally, you have a large enough canvas to work with. Hey, cropped tanks were fun this summer, but you had such limited space. Also, you were competing with a navel, which was hard enough to do. People are open to those long sleeves. So what do we suggest you throw your cutting-edge masterpieces on?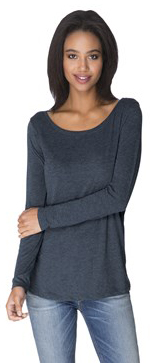 The name of the game is to give the people what they want, and you can't go wrong with the Gildan G540 Long-Sleeve 5.3 oz 100% Cotton T-Shirt. As a printer, you know that cotton is one of the most forgiving of canvases. It takes ink like it was born to be bold. With 18 color options at a budget-friendly price, try out your hottest slogans and artwork just as your buyers are wanting something warm. There's the companion piece of the Gildan G540L Women's 5.3 oz. Cotton Missy Fit Long-Sleeve. It's basic apparel—until you get your ink on it.
Want an advanced course? Your customers are wearing these trendy triblend long-sleeve tee just blank. They're the Next Level Apparel 6071 Men's Tri-Blend Long-Sleeve Crew T-Shirt and super stylish Next Level Apparel 6731 Women's Tri-Blend Long-Sleeve Scoop T-Shirt. Does a triblend tee take the knowhow to print on? Absolutely. Do we believe in you? An emphatic absolutely! You're paying a bit more for this superior softness—it's a triblend, after all—but so will your loyal customers when you nail that perfect print. To us, a triblend is a soft sell to those who have a hard time with long sleeves. There are those fickle few who want an endless summer filled with tank tops and t-shirts. But get that buttery soft long-sleeve triblend against those bare arms? You have yourself a convert. And there are those who just love the look of a trending triblend and stylized cut. Just make your mark on them for a surefire seller.
Go Long
So long, summer. Hello, sleeves. We hope you've found there's a long-sleeve shirt to meet any of your needs. We can't sell you on a season, but upgrade your look as the temperature drops. Don't lose your look for half of the year under coats and jackets. Go long in style. Because you know what's totally not in vogue? Shivering in a short sleeve. Stay warm in style in a long-sleeve shirt.
Hey, thanks for the read! If you love our blog, you should sign up for our emails chock-full of savings and more awesome content from us here at T-Shirt Wholesaler. That's what you came here for, right?
---
Related posts