Official T-Shirt Wholesaler Blog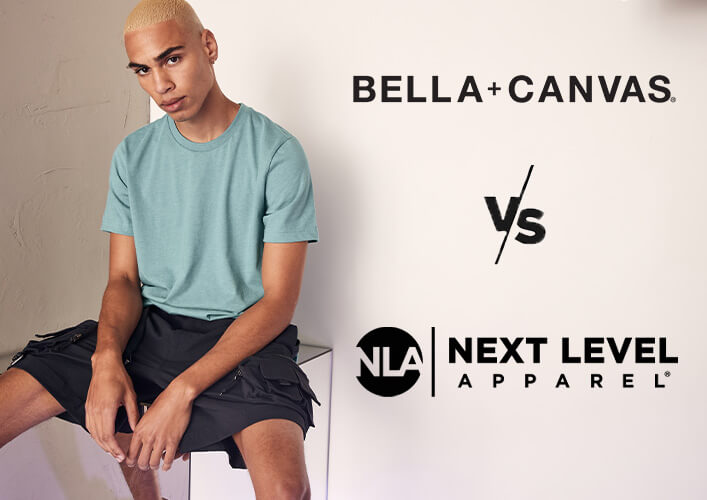 Bella + Canvas and Next Level Apparel are two of the top contenders in fashion-forward apparel choices today. These iconic brands also produce some of the softest and most comfortable garments you'll ever wear. So, how do you choose one or the other? We'll look at what makes each manufacturer unique, top products to consider, Bella + Canvas and Next Level Apparel reviews, and more—all to help you decide in our ultimate apparel head-to-head.
Who is Bella + Canvas?
Founded in 1992 by Marco Degeorge and Danny Harris, these savants saw the incredible lack of great fitting and feeling off-the-shelf garments. Starting in their garage as a print shop, Danny and Marco have grown Bella + Canvas into a dynasty. Bella + Canvas is responsible for groundbreaking new products like the first ever 40 single tri blend and capitalizing on revolutionary apparel advancements like flowy poly-viscose and the no COE (carded open end) movement. It made a name itself by offering airlume combed and ringspun cotton for that crazy soft feel and superior fit everyone knows the Bella + Canvas wholesale options for.
What Makes Next Level Apparel Next Level?
Coming on the scene in 2003 as a blank apparel manufacturer in the promotional products space, Next Level Apparel has long understood the need for lightweight, comfortable clothing that sublimates well. The result of many trial and errors produced the perfect blended fabric - the 65 polyester 35 cotton t-shirt aka the 6200 Poly/Cotton T-Shirt. With a vast product line of different t-shirts, tanks, hoodies, and more, scoring Next Level Apparel wholesale might be as good as it gets.
Comparing Offerings from Bella+Canvas & Next Level Apparel
Comparing Bella + Canvas and Next Level Apparel is aided by looking at everything they each bring to the table. We find that each is heaviest on t-shirts, tank tops, and hoodies and sweatshirts, with a few jacket and pullover options as well, but from there they deviate. Bella + Canvas also offers insanely comfortable sports bras, underwear, onesies and bibs while Next Level Apparel ventures into face masks.As far as "top products" it wholly depends on what you're looking for. However, we would be remiss if we didn't give honorable mentions to the Bella + Canvas 3001 and the Next Level Apparel 3600, two of the most popular t-shirts of all time.
Bella + Canvas and Next Level Apparel Reviews
One of the most compelling reasons to buy one brand over the other is reviews. However, when each has hundreds of reviews that are all 5 stars, it can be difficult to narrow it down (if you're curious, you can still check out Bella + Canvas reviews and Next Level Apparel reviews).
However, if you've ever ordered a box full of same-sized shirts, with certain manufacturers there can be some deviation in sizes. Well, that's exactly what happened when we ordered boxes of triblends with Bella + Canvas 3413s and Next Level Apparel 6010s. The 3413s were quite consistent in size and shape, while there was a bit of variety among the size/shape of the 6010's. This small detail all comes down to the preciseness of Bella + Canvas cuts.
Choosing the Perfect Apparel Option
If you didn't already figure it out, there really is no perfect choice. The perfect apparel item is going to be the one that best meets your needs and your budget. Fortunately, both Bella+Canvas and Next Level Apparel offer fantastic variety so you can always find the perfect items for everyone on your list.
---
Related posts