Official T-Shirt Wholesaler Blog
Some things are decidedly seasonal, like pumpkin-flavored everything. Wait, you disagree that pumpkin spice lattes shouldn't be seasonal? Well, take that up with Starbucks. Here's something we're sure you're getting ready for as the temperature drops: the seasonally snuggly warmth of a hoodie. Except wait—hoodies are not seasonal. In fact, there's a hoodie for every season.
We hope we didn't make you spit out your pumpkin spice latte in shock. Hey, we get it. Hoodies speak to your inner autumn. There's cool and crisp evenings, hot drinks steaming from mugs, football, beautiful fall colors, bonfires … and the warmth from the hoodie that you've been waiting all year for. That's some hardcore nostalgia we hit you with, and there's absolutely a hoodie for that. But do you know how many different types of hoodies there actually are? There's not only one for your personal style, but different types to keep your hoodies in rotation all year long.
Let's discuss our popular picks: pullover hoodies, zip-up hoodies, t-shirt hoodies, hockey hoodies, and fashion hoodies.
With so many options, you'll find a hoodie to celebrate whatever season you're in. And besides, talking different types of hoodies is much less controversial than a pumpkin spice latte, the drink you either love or love to hate. But who hates a hoodie? No one. No hoodie hate here.
Which hoodie will you want to wear today, whatever the weather?
What's a Hoodie?
First, let's define what is a hoodie and what is not. It's fairly simple. Does it have a hood? Good, but that's not necessarily a hoodie. Did you know that what is—and is not—considered a hoodie is hotly debated? Some swear anything with a zipper can't possibly be a hoodie. Others contend anything not made of a super-soft fleece can't quality as a hoodie, either. And still others say it must have that iconic front or "kangaroo" pouch. We're about to blaze trails here with our definition of a hoodie.
Hoodies were ultimately made for function. Less formal than a full jacket, it's one piece of material with, yes, that necessary hood attached. There are short-sleeve t-shirts with a hood out there, calling themselves hoodies. Short sleeves don't speak to us of the function hoodies were designed for, so although it's debatable, we're defining the hoodie as a long-sleeved, one-layer garment, absolutely with a hood. Just because hoodies are year-round pieces doesn't mean we can send you out in a hooded tank top in good conscience. No, a hoodie is designed to protect you from the elements, whether it's your final layer to stay warm in the woods or if it's a light version for a morning workout.
Here are our favorite hoodies to keep you warm, or even cool, all year long.
Pullover Hoodies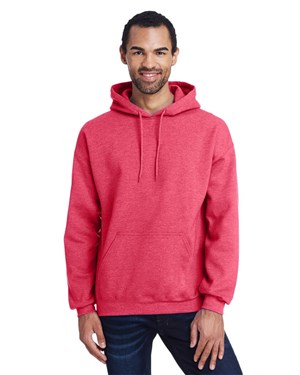 A pullover hoodie is probably what you most likely think of when you hear the word "hoodie." What's a pullover hoodie? It's the hoodie style that pulls on over your head. The quintessential pullover piece might have that classic front pocket pouch to keep your hands warm and iconic drawstrings to pull your hood tightly over your head as the temperature drops. It's your campfires and crisp nights. The unisex look is still fairly standard, but there are many pullover styles cut specifically for women. And while there's many weights to any hoodie, many pullover enthusiasts opt for a heavier weight. It's a look intended to have no agenda, it speaks of comfy and casual, except there's so much more to the pullover hoodie than a lazy Sunday afternoon.
One traditional pullover hoodie style is the Gildan G185 Hoodie 8 oz. 50/50 Heavy Blend. With its classic look of a solid color, front pouch pocket, and dyed-to-match drawstrings, this heavy-duty hoodie sets the standard. Why does weight matter? At 8 ounces, it's not the heaviest, but it's got that thick-feeling fabric you might envision pulling over your head to ward off a chill. It's even got a youth companion piece with the Gildan G185B Youth 7.75 oz., 50/50 Heavy Blend Hoodie, so the little ones can stay warm, too. But bucking tradition, these pullover hoodies have gotten some major upgrades, like a polyester-cotton blend that not only elevates its softness, it also helps your pullover hoodie retain its shape. Its preshrunk cotton also keeps your hoodie stay true to form. And remember how the wash and wear of your old hoodie eventually made it look like it'd broken out with a case of the measles? Everyone has a specific word for it. Nubs, nubbies, pills. It's where tufts of fabric have twisted together to make your pullover a little less fleecy fantastic. Newly inspired pill-resistant yarn mean no more nubs.
A pullover hoodie is also the perfect piece to uniform up your entire company. It's the easiest way to keep things casual on the job, while still looking professional out in the field. Consider outfitting them in the heaviest pullover hoodie Hanes produces, the Hanes F170 10 oz., 90/10 Ultimate Cotton Pullover Hoodie. Dress your team in style, especially if they're working out in the elements. It's also at a price that won't break your business' budget. Nothing says put together and professional like a pullover hoodie with your company's name printed across it. The updated pullover hoodies of today are even easier to print across or even embroider. The thicker and heavier the fabric, the easier your pullovers will be to print or embroider. No more dreaded center crease. For printing, that's a problem of the past. These fabrics, especially a cotton-polyester mix, move enough to not crimp your print or cramp your style. Keep your pullover hoodie blank or blaze your business across them.
Zip-Up Hoodies
Here's another hoodie reminiscent of good times, the zip-up hoodie. Something about a zip-up hoodie practically screams from the bleachers, "Hey there, sports fans!" Yes, it's an American all-star. Maybe the zip-up hoodie reminds you of the time you scored four touchdowns in a single game while playing for the Polk High School Panthers in the 1966 city championship game versus Andrew Johnson High School. Or maybe your kid is working on his or her own record on the soccer field.Yes, a zip-up has a certain athletic appeal, but there any plenty of people who love a zip-up hoodie who are more mathlete than athlete. Here's to those who have never set foot on a field. The zip-up hoodie is still for you.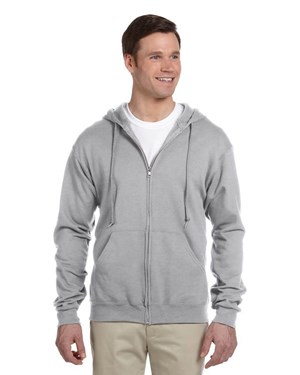 Another misnomer. Zip-up hoodies are hot. Instead, here's a hoodie that doesn't care if it's hot or cold outside. A zip-up hoodie still has its hood, it can have pockets or be without, but it needs that zipper all the way for quick removal. Even when worn casually or fashionably, it's entire emphasis is on throwing it on or tossing it off with a quick zip. You're warming up, staying comfortable, or cooling down in a zip.
A zip-up hoodie is perfect for your morning run. That 5 a.m. morning always starts out a little crisp until you get in the groove. Soon enough, you've unzipped that zip-up hoodie with a simple flick or tied it around your waist as you start to sweat. The zip-up hoodie is the ultimate crossover, and the Jerzees 993 8 oz., 50/50 NuBlend Full-Zip Hoodie is your answer to a warm-up hoodie with many of the features of a heavy-weight pullover hoodie. A cotton-polyester blend can keep you warm if you want to zip it all the way up. Its own NuBlend fabric keeps the dreaded pilling or nubs away. And it's still the warmth you can count on during any activity. The same dense material holds up for printing and embroidery, so an entire team can still be outfitted in a zip-up hoodie. It's also another alternative for your company, at a budget-friendly price. Print or embroidery on a blend and zip? No problem for a seasoned pro.
But zip-up hoodies have such all-over appeal, here's a fan favorite for all seasons. A new, lightweight champ has entered the arena. We're mixing a lot of sports metaphors, but stick with us. The Threadfast Apparel 302Z Unisex Triblend Full-Zip Light Hoodie is a lighter hoodie that still stays true to its zip-up roots. They may have ditched the drawstrings, but a frosted vintage heather yarn still makes this a gym class hero. What is a frosted heather yarn? Heather refers to the mixing of different colored yarns, typically multiple shades of gray or gray with another color, to produce a much more muted color. The effect is unmistakably reminiscent of your old gym uniform. And while that may or may not be a happy memory for you, the "frosted" look is oh-so soothing. Instead of burning up, this lightweight blend just keeps you feeling fine throughout any season. In fact, you'll want to wear this zip-up hoodie all year with its popular triblend material. With its mix of cotton, polyester, and rayon, triblend manages to utilize the best of all three fabrics, but that's not quite what makes it so unbelievably popular. The answer is its superior softness. Triblend is quickly becoming an artist's friend. While not as straightforward as simple cotton, it's a fabric worth mastering with printing, especially if your art is going to be showcased from season to season.
T-Shirt Hoodies
What do you love about a t-shirt? Is it its casual look? Its comfortable feel? Or the way it can easily be dressed up or down? If you love a good t-shirt, make way for the one with a hood: the t-shirt hoodie.
Wait, hoodies are supposed to keep you warm, right? Remember, we promised you hoodies for all seasons. The first rule of hoodies? No, it's not that you do not talk about hoodies. A bit controversial, but the t-shirt hoodie meets all the criteria to us. So, t-shirt lovers unite. There's a hoodie for you, too.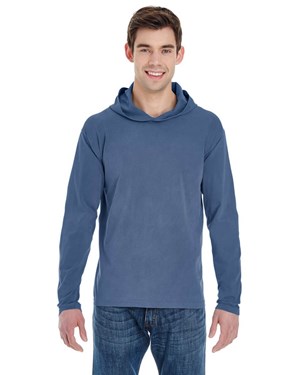 Yes, at some point, your tee is going to leave you out in the cold, and not everyone loves layers. Yes, you could always just wear a long-sleeve t-shirt, but you could also pull on a parka, pal. No, the t-shirt hoodie offers you that added bit of coverage with even more of an outdoor advantage: that hood that keeps you protected from the elements. Rain or shine, your hood still works hard to add just a little bit of protection. Take the Comfort Colors 4900 Adult Long-Sleeve Hooded T-Shirt. This is already an upgrade among t-shirts with 100 percent preshrunk ring spun cotton. Add sleeves and an unlined hood? It's barely there for a hoodie. Keep the rain off your head or sun out of your eyes without any added bulk or the heat of a heavier hoodie. This isn't just a lightweight hoodie, though. Sure, it's functional, but there's also the fashionable flair. The added hood adds a touch of interest to what would otherwise be just a plain long-sleeve t-shirt. Use it or not, there's a bit of rugged edge with that hood. With its wide-open real estate on the front, printing on a t-shirt hoodie just makes sense.
A t-shirt hoodie isn't just about looks, though. When you're looking to get wet and wild with a hood, the Gildan G465 Performance Adult Hooded T-Shirt is up for anything. Welcome to the performance properties of a t-shirt hoodie. Perhaps you know a little bit about performance. It's all the technological advances put into a t-shirt hoodie to give you every known advantage. What kind of advantages can this t-shirt hoodie offer? The first is a preferred ultra-lightweight, snag-resistant polyester. If you're made to move, this t-shirt hoodie has anti-microbial and wicking properties to keep you dry and smelling sweet. With these sorts of advancements, the hood might seem rather low-tech, except you'll be glad it's there when you're keeping out elements. With a performance-based t-shirt hoodie, the look is low-key, but the payoff is powerful.
If you're into a hoodie for its lightweight appeal, performance power, or just for looks alone, let a t-shirt hoodie help.
Hockey Hoodies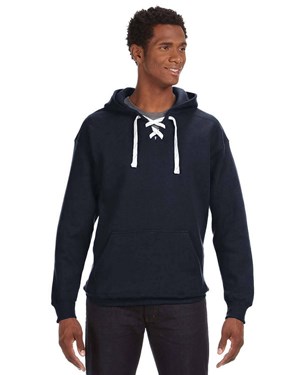 Yes, hockey has a season, but the hockey hoodie is without season. You can carry on your love of the sport or just enjoy the on-ice look all year round. The hockey hoodie is also known as lace-up or sport hoodie. The hockey hoodie is essentially a pullover hoodie with thick laces on a deep v-neck. While these laces can be worn just for looks, they were originally designed for a sport that needed a quick loosening or tightening of that v-neck. Early day hockey was played outdoors, and that demanded warm uniforms. Much like the functionality of a zip-up hoodie, it's for warming up or cooling down quickly. Some describe this sporty look as having an old-school appeal.
Whatever you're wearing a hockey hoodie for, you can find one through thick and thin. That means you'll find this style in a lightweight, midweight, or heavyweight hoodie. Given the origins of the hockey hoodie, however, and its classic heavyweight appeal, we'd like to recommend the J. America JA8830 Sport Lace Hoodie. Weighing in at a hefty 10 ounces, you'll feel armed against the elements. Even this throwback has gotten a modern makeover with a ringspun cotton mixed with polyester. Ring spun cotton is the premium cotton choice, making this fabric much softer than our athletic ancestors who were out on the ice. This heavier weight has a soft side.
For many, the style is to wear the laces undone to leave the v-neck open. Does it actually keep you cooler or just keep you looking cool? We'll let you be the judge.
Fashion Hoodies
Even with the other hoodie options out there, hoodies should never make you feel like a slouch. Fashion hoodies can be wild or mild or somewhere in between. Step up your game with a fashion hoodie.
Maybe it's just your season for looking stylish. You get to pick and choose what kind of warmth you want to wear. What's the difference between a so-called fashion hoodie and any other type? You'll see some overlap between styles, such as a fashion hoodie that zips up, one that pulls over the head, a t-shirt variety, and many more. What elevates a hoodie into full-on fashion is that a fashion hoodie has an extra air of flair.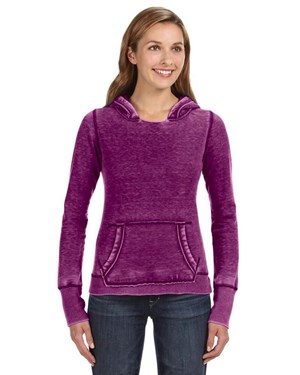 A great example of a fashion hoodie style is the J. America JA8915 Vintage Zen Pullover Hoodie and companion J. America JA8912 Women's Zen Pullover Fleece Hoodie. So far as style, this could fall into the pullover family, except for its extra attention to detail. Actually, this fashion hoodie is all about detailing. It's one that will keep you moderately warm in a midweight hoodie. More likely, it'll have people asking where you got your amazing hoodie. This is like your favorite pair of acid washed jeans, but in a hoodie form. With its distressed look, it's the first hoodie that actually looks as if it's well-worn with style. Naturally distressed isn't best for hoodies. In fact, most hoodies you've held on to forever might look like they've lived past their prime. This hoodie might have you considering retiring the real retro for an artful design. Speaking of art, printers, borrow this throwback for a look that will last. No waiting for your designs to trend in a decade or two. Your artwork will pop on a piece with ready-made classic style.
What else falls under a fashion hoodie? Anything that's trending that you'll want to try. That's why the Bella + Canvas B7502 Ladies' Cropped Fleece Hoodie is both hot and cool. Cropped is a style that shows no sign of stopping, and it's made its way into an ironic hoodie. It's the look of a pullover hoodie that abruptly stops in a crop. And while some may wonder about wearing the warmth of a hoodie with crop, you can dare to bare or not. Yes, this fashion hoodie is perfect for showing skin, but you also might fall in love with the look of layering. Wear this top trend by throwing a long tank or tee underneath. Go on, it'll still give 'em plenty to talk about. And printing is a major plus on such a hot commodity. Get it while it's hot. As a lasting trend, a cropped hoodie surpasses seasons.
Hoodies Are Seasonally Superior
We don't want to take away that wonderful fall feeling. Yes, you may be reaching for the warmest weight of a hoodie in your closet right now, but consider adding to your collection with so many more hoodie alternatives. Never be cold again, but never be hot, either. If the temperature if dropping in your area, celebrate in style with a hoodie. A hoodie is your cold-weather friend, sometimes, but it doesn't have to stop there. There's a hoodie for you, no matter what the season.
Hey, thanks for the read! If you love our blog, you should sign up for our emails chock-full of savings and more awesome content from us here at T-Shirt Wholesaler. That's what you came here for, right?
---
Related posts