Official T-Shirt Wholesaler Blog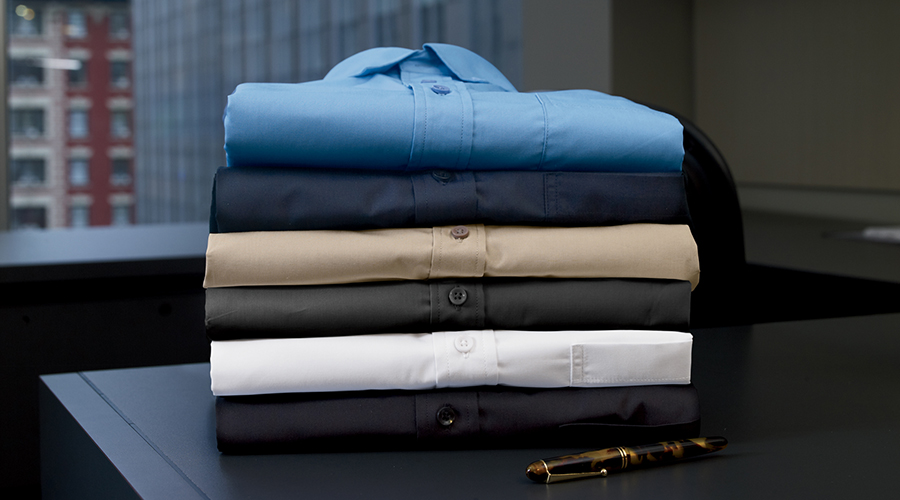 Business casual in the workplace can be tricky. This isn't the stuff of stuffy ties and ultra-starched suits, but should you break out the Hawaiian shirt and shorts? Not just yet—or probably never, unless it's a luau luncheon. With business casual in your workplace, you've been entrusted with the greatest of confidence to represent your company in comfort and style while still looking professional. So, what is business casual?
What's Business Casual?
Business casual is still a dress code for the workplace. It can seem almost as daunting as your regular dress code, even more so if your company hasn't exactly hammered out the definition. With business casual comes the great risk of not getting yourself canned. But with that great risk comes the sweetest of rewards. Get comfortable and learn the starting points on how to pull off comfy and casual shirts while still embodying confidence in the workplace.
If you start to sweat at the open-ended definition of business casual, here's how we got to where we are today.
The Birth of Business Casual
Business casual has been around much longer than you may have thought. Is this country in a downward trend? When it comes to ditching impossible-to-tie neckties, maybe. And for business casual, that's a good thing.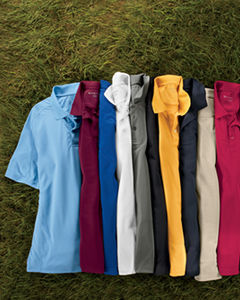 Perhaps you've heard of smart casual. Great, one more trend, right? Except it first appeared in print in 1924, a pro-casual stance for "street wear," giving the go-ahead for a "casual" appearance. Of course, this was 1924, so the the Iowa newspaper The Davenport Democrat And Leader may have only been giving license to lose the tie tack, but it was a start of easing up in the workplace.
Smart casual segued into business casual around the 1950s, but it only implied a more casual suit back then. Alas, still a working stiff. Leave it to one of our most laid-back states to start a movement. Casual Friday came from Hawaii's Aloha Friday, which spread until the 1990's dubbed it Casual Friday. That one day a week, those workplace warriors got to ditch those stodgy suits, dress shirts, neckties and dress shoes for more casual wear on Fridays. They may have gone a little overboard in their enthusiasm with the very real Hawaiian shirt love, but maybe everyone had gone a little cufflink crazy by then.
And then the Silicon Valley boom. No, not that one. The lesser-known trend starting in the 1980s that ushered in polos, short-sleeve shirts and khakis. Hey, this was a major movement. This small part of the world was suddenly spending a great deal of time at their desks in front of computers, but since they were also developing the tech world as we know it, they had some strong sway in their attire. The rest of the world followed suit. Or, suitless, it would seem.
Today's Business Casual
Today's business casual as most know it isn't so far from where it started in Silicon Valley, so let's go by the basics. Even though each workplace is different, the most basic definition of business casual today is button-up shirts, quality polos and dressier pants. There's a real emphasis on quality, though. Your attire can have all the comfort in the world, but it won't look casual if your seams are coming undone or your shirt is wrinkled. That's business cruddy, not business casual, and you don't want to end up there.
There's no business cruddy here. While picking pants is your personal preference, your shirt says so much about you. Get dressed for success, but let's discuss what just what you might be looking for in business casual shirts and the many features you can expect.
Ease into Easy Care
If you're all about the ease a business casual shirt should bring into your life, let's talk easy care. Your shirt should be worry-free. Here's many of the treatments you'll find in easy care: pill-resistant; anti-snag; preshrunk; reduced or anti-shrinkage; strain-resistant; anti-static; and wrinkle-resistant. Easy care is sometimes also known as just wash and wear, but easy care is so much more.
Your business casual shirt should come out of the dryer ready to go, but it should stay that way, wash after wash. And the easy care standard put into quality business casual shirts make sure you're always up to the job.
Performance Goes Professional
Not all business casual fans are behind a desk all day, so if you're out and about, performance properties in business casual can help keep you cool and casual. It's your secret weapon in business casual wear. What can you expect from performance properties? Moisture-wicking; antimicrobial; UV protection; and more. You'll stay dry as material pulls moisture away from your skin. Antimicrobial means you can count on your shirt smelling fresh and clean. UV protection not only guards your skin against the sun's rays, it also keeps your shirt colors bright.
Performance-style properties are usually thought of as workout or outdoor wear, but this technology has found its way into business casual shirts to keep you looking sharp, whether you work indoors or outdoors, are on the move or behind your desk. Performance wear keeps up with your busy day, while still keeping you looking professional.
Polo Power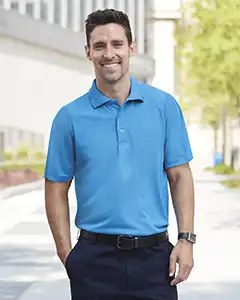 Polo shirts are a business casual staple. It's about time to perfect your polo. Did the '80s and '90s versions give you the business end? You're due for some major upgrades.
One of the worst things polos of the past did was create more work than actually save you from it. How? The worst offenders were unsightly wrinkles and strains, stretched-out and shrunken shapes, and all in some of the blandest and most boring colors.
The Ash City Core 365 Performance Pique Polo Shirt line brings your polo up to par in a lot of ways. Let's not gloss over the perfect fit. When any shirt is tailored to your frame, the look is professional and polished. Choose from the men's 88181 or enjoy the fit of the men's tall 88181T. The women's 78181 has the custom fit with a feminine frame in mind. There's a perfect fit you'll love for yourself or for your entire team. Why's this line so popular? Starting with easy care, a 100 percent polyester is truly wash-and-wear, straight from the dryer. With the most forgiving fabric, there can be all the stretch and pull you like, but this polo bounces back into shape, like a business casual superhero. Speaking of almost superhero-like ability, this polo has major performance power. This line has moisture-wicking and antimicrobial properties with UV protection. And by the way, black-and-white thinking is the polo's most standard business casual, true. You or your office might still favor traditional colors, but there's as many as 17 color options in this line. No bland or boring colors here, if that's what you're wanting. Is there any doubt that these aren't your polos of the past? If you're loving the idea of this line, there's a long-sleeve option in the men's 88192, men's tall 88192T, and women's 78192.
If you're missing a little touch of cotton, consider a bi-blend. A bi-blend is a mix of two fabrics, usually cotton and polyester. Because here's a helpful hint. A 100 percent cotton shirt usually isn't going to be quite so wash and wear, unless it's been specially treated. A cotton-polyester blend is going to make your day a little bit easier, though, if you want to avoid pumping iron in the morning. A popular all-purpose polo is the Gildan G880 50/50 Cotton/Polyester Polo Shirt. It's still got the cotton you love, but the polyester adds some ease in care. Bonus, a cotton-polyester blend is going to be much softer than you'd find in a full cotton polo. And this particular piece has some added performance power with its own DryBlend fabric that wicks away moisture.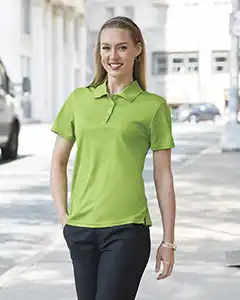 Another bi-blend of cotton and polyester, the Jerzees 437 Polo Shirt 50/50 Cotton/Polyester and companion women's Jerzees 437W Women's 50/50 Polo Shirt have their trademarked SpotShield, a treatment especially created to repel water and resist stains. This isn't just straight-from-the-dryer business casual. Stay dry or avoid stains, all while taking it easy with these easy care polos. Both are wear-in-confidence wondershirts. So hit the snooze. Your morning routine just got easier.
Pure 100 percent cotton will always have its cult following, so it'd be remiss not to recommend a popular cotton polo pick. As far as bland, that's in the past. Some of our polos already go up to 27 traditional and unique colors. But with a low price point, feel free to stock up on the myriad colors of the Gildan G828 Premium Cotton 6.5 oz. Double Pique Polo Shirt. Go for your classic colors, or, depending on your workplace's definition of business casual, go bold with options like kiwi, cardinal red, and tangerine. They're all the colors you crave. Women, get your sapphire, heliconia and daisy on in the companion Gildan G828L Premium Cotton Women's Pique Polo Shirt. Word to the wise, no one's against cotton here. In fact, some swear by the feel of 100 percent cotton. Both of these polos are pure cotton, so if you're willing to put in a little bit of care, you'll have the traditional feel of a 100 percent cotton polo. Cotton is never the enemy. In fact, some might argue that a crisp cotton polo is the very essence of the traditional business casual look. You might have to put some extra effort into a wrinkle-free appearance, but this line isn't the poor quality you might be used to. Buy a quality cotton like this that won't wind up in a wad after its first wash.
Button-Up Business Casual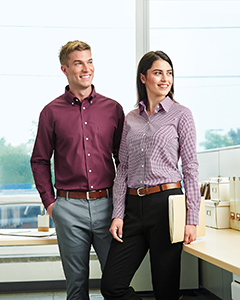 If you feel most at ease in a button-up shirt, you're covered. You're still a million miles away from the suits and ties of the less-fortunates not living the business casual dream. And it's certainly not a choice between polos and button-up shirts. You can have your favorite go-to shirt or enjoy mixing both throughout your work week. But for those who love polos, there's just as strong of a fan following for long-sleeve or short-sleeve button-up shirts.
What've been the button-up bummers in the past? A lot of the same complaints of yesteryear's polos, actually. Button-up shirts of the past have been wrinkled nightmares, shoddy quality, or left you longing with dull color choices. Let's examine the business casual button-up shirts of today.
If ease in care is high on your list, there's good reason for a bi-blend like a cotton-polyester mix. The cotton still feels traditional, while the polyester means it's less likely to wrinkle. Take it easy in the Harriton Twill Shirt line. It's a cotton-polyester blend that's built-in wrinkle resistant. This piece has another trick up its sleeve with a patented soil and stain release. Wash and wear is possible in a button-up shirt. And it's a look that will last. Quality construction, such as extra stitching, means it won't come apart at the seams. This line comes in the men's M500S and women's M500SW. The same as a polo, a fitted button-up makes all the difference. Even the unsung heroes of front and back darts add feminine shaping for women make a casual still look professional. Keep this look as the temperature drops in the long-sleeved versions in the men's M500, men's tall M500T, and women's M500W.
Another easy care bi-blend option is the Devon & Jones Crown Collection Solid Broadcloth line. This line looks polished, but it's true straight-from-the dryer, there's no iron nonsense, and it has a stain-release finish in a cotton-polyester mix.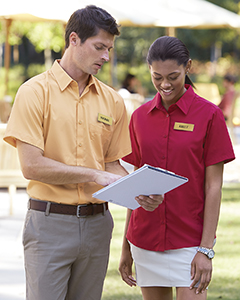 If stains are your biggest nemesis, making you throw away your shirts in despair, this special stain-release treatment will actually have you wearing even white without worry. But remember, if you're in an environment that lets you play with a pop of color, why not try out a few surprises in this line, like pink or dill. Find your fit in the men's D620, men's tall D620T, and women's D620W. There's a short-sleeve option for warmer weather or just a more relaxed look with the men's D620S and women's D620SW.
You can even find performance properties in your favorite button-up shirts. For example, the Harriton Paradise Performance line. Keep cool and comfortable with moisture-wicking and anti-microbial performance with UV protection. It's the kind of technology you'd expect working out, but instead you're working hard on the job. While button-ups are the workhorse of business casual, let performance properties keep you smelling sweet instead of mucking that horse's stall. Have you ruined a perfectly good button-up through perspiration? Your job might make you sweat, but let those dry-wicking properties work to never let it show on your shirt. It might be the kind of technology you'd expect working out or in the woods, but you're working hard, instead. Who knew performance could make you look confident? Try the men's long-sleeve M610 or short-sleeve M610S. There's the option of the women's short-sleeve M610SW or the fashionable three-quarter sleeve M610W.
Ask Away
What's business casual for one workplace might be too contemporary or even too stuffy for others. You want to nail business casual. So, what are your coworkers wearing? Your boss? Or, if you're the head honcho, what do you want your employees to be imitating from you?
Your work attire might be clearly spelled out in an employee manual, lucky you, or you might have nothing to go on. You might have special rules only for only a casual Friday or, bummer, you might always be expected to be suited up. When in doubt, it's safest to ask. Your HR rep might really welcome the question before you go full lime green polo, especially if you have any doubt at all. Best case scenario, you might find you have much more liberty than you'd thought. Or, worst, you'll thankfully find out beforehand to keep that gingham-print button-up saved for the weekend.
And when you find out what you can wear, you also now know where to find the best polo and button-up shirts for your best business casual. It's all right here, with tons of choices in styles, properties, cuts and colors.
It's time to mix a little business with pleasure. That is, business casual to your workplace. It'll be a pleasure.
Hey, thanks for the read! If you love our blog, you should sign up for our emails chock-full of savings and more awesome content from us here at T-Shirt Wholesaler. That's what you came here for, right?
---
Related posts