Official T-Shirt Wholesaler Blog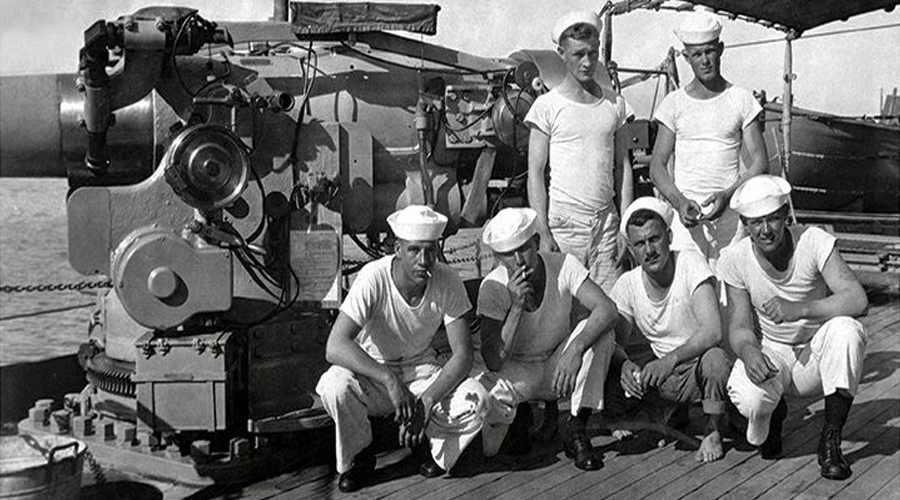 Gents, have we got the hottest invention for you! Are you tired of safety-pinning your shirt together once you've busted all your buttons? Or trying to tie it back together it with twine? Or trying to talk while holding it together with your teeth?
Well, introducing The Bachelor Shirt—or Bachelor Undershirt—for a fella in the need to know. Mail us a shiny quarter and never touch a button again, our friend!
How's our old-timey advertising hitting you? Well, wait before you mail us that twenty-five-cent piece. Please. That latest-and-greatest invention that took the world by storm.
The Bachelor and the Button
Yep, our favorite origins story recounts today's t-shirt as The Bachelor Shirt. Why? Well, because you poor guys couldn't sew a button and hadn't found the right little lady to do it yet. Sounding sexist? That's all history now, literally.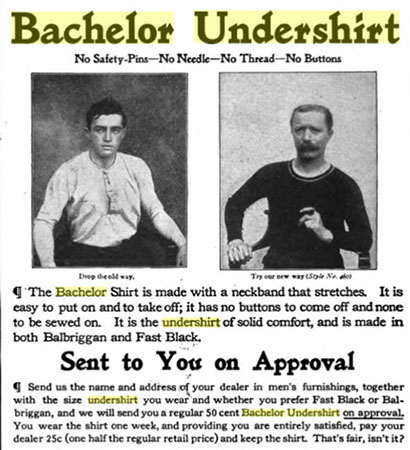 Over a century ago, actually.
Cooper Underwear Company ran a magazine ad in 1904 to promote the now-staple product, a "bachelor undershirt."The before photo featured some poor sap with his busted shirt held together with a safety-pin. Boy, does he look ashamed, as he should. The after photo features our hero, looking quite the cat's meow, wearing his snazzy new undershirt. The ad's catchy phrase? "No safety pins—no buttons—no needle—no thread." Or, we guess it could read, "No moms—no wives—no prospects—no sewing skills."
Hey, before we reignite a war of the sexes, when's the last time any of us have resewn a button? Ugh, no way! With its stretchy neckband and fabric that retained its shape, the bachelor undershirt was a hit. It came in "Balgriggan" and "Fast Black." Catchy, whoever coined those colors, right? Old-time advertising really wrote itself back then.
But was Cooper Underwear Company the father of our modern t-shirt? Not so Fast Black there, pal.
Underclothes, Under Construction
What is a t-shirt? Slick advertising aside, the modern tee has been begging to be born since the late 19th century. Our entire history could be summed up on our war on wears, or, underwear. Our 19th century workforce got the bright idea of cutting their once-piece jumpsuits in half to keep cooler in warmer months. We just hope that cutting-edge idea didn't come out of their paychecks. And meanwhile, we literally labored under the union suit. You may not know it by name, but surely you know the stereotypically red one-piece undergarment, most prominently featuring its, er, rear flap accidentally undone. Usually, though, the union suit was white and worn by both men and women. Patented in 1868 as "emancipation union under flannel"—more advertising genius—this was supposed to be cool and comfortable. But those blasted buttons again! Without much ado, the union suit got a major makeover, as the undergarment was cut into separate top and bottom pieces. Most importantly? These pieces started appearing, gasp, without buttons. Without buttons, the earliest t-shirt dates to somewhere between the 1898 Spanish-American War and 1913, as the U.S. Navy began standard issuing them. Welcome to the crew-neck, short-sleeve white cotton t-shirt we now know. Slip-on garments without the hassle of buttons, a fabric that stretched over the head to snap back into shape once on. Sounds simple, right? Except how did the still-then underwear become the outerwear we now know?
Underwear Goes Outerwear
While we had some fun with Cooper Underwear Company's 1904 "Bachelor" promotion, it's actually predated by the P.H. Hanes Knitting Company in 1902. Sears introduced their "Gob"-style shirt in 1938, its advertising proudly promoting: "It's an outer shirt, it's an overshirt." Manufacturers were churning out this "all-purpose" shirt as it took on mass appeal. The workforce started adopting the t-shirt because of its light cotton fabric in warmer weather. In fact, cotton t-shirts were relatively inexpensive and easy to launder, ushering in even more outerwear wear. Slowly, this under-to-outer look took trend.
The actual word "t-shirt" is supposed to have simply come about for its shape of the letter "t," but who officially gets credit for coining the now-famous word "t-shirt"? Only the king of 1920s cool himself, F. Scott Fitzgerald. While the t-shape may seem a fairly obvious move for t-shirt, none of us were busy publishing This Side of Paradise or keeping Zelda out of trouble, were we? So, in famous lit form, Fitzgerald gets the credit. Merriam-Webster would add "t-shirt" to its dictionary in the 1920s. The t-shirt was officially bursting out on the scene everywhere. There was no covering up this phenomenon, anymore.
Rebels with a Cause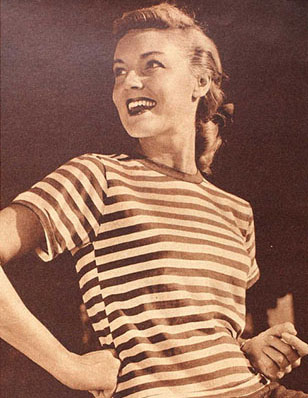 While iconic heartthrobs Marlon Brando's 1951 A Streetcar Named Desire and James Dean's Rebel Without a Cause catapulted the t-shirt into iconic stardom, those rebels actually did have a cause. Wearing their signature undergarments as outerwear on the silver screen struck the cord. So much more than just a tee, it because a political statement. No, their cause wasn't wanting cool cotton comfort. While t-shirts had become an almost norm, they still weren't quite socially acceptable outerwear. The t-shirt at that time was rebellion.
We take that look for granted now, the iconic look of a plain white tee. We look for ways now to dress it up, keep it casual, but that iconic look of James Dean in a white tee? That wasn't the simple, dressed-down look we aspire to now.
But perhaps the true rebels of their time? Women wearing t-shirts. Due to the acceptance of looser clothing throughout the decades, there's evidence women were on their way to a traditional tee quietly as early as the 1920s, but it wasn't until World War II that t-shirts made mainstream. Women's tees started appearing for sale in Sears catalogs. Women in their t-shirts were finally on their way. Now that was outright rebellion.
Tees Get Graphic
Our early t-shirt enthusiasts started to realize around the early 1950s that they could be walking billboards and manufacturers pounced on print. What's thought to be the earliest printed t-shirts were—if you're still having nightmares over this scene from The Wizard of Oz—the workers with their printed "OZ" t-shirts. We suppose the printed tees gave them the credibility to unstuff and restuff the poor Scarecrow as he lay helpless on their operating table. While the tees were supposed to promote the 1939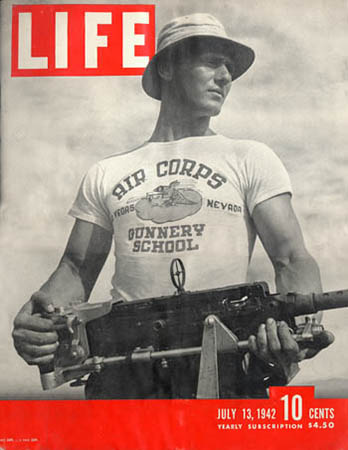 film, they soon became one of the first highly sought-after collectible tee. A printing company in the 1950s, Tropix Togs, held the original license to print Walt Disney characters. And throughout the years, three of the most popular t-shirts that have consistently sold well and retained their popularity are any prints of Disney characters, the Coca-Cola logo and album art of the Beatles.
Credit of the first printed tee often goes to the Air Corps Gunnery School, featured on the July 13, 1942 cover of LIFE magazine. Governor Thomas Dewey's "Dew-It with Dewey" was printed on promotional tees during his presidential run in 1948. This tee is on display at the Smithsonian Institute as the oldest t-shirt with a printed slogan. We may not have done it with Dewey, nope, but the 1960s were ripe for t-shirt even more decoration.
By that decade, t-shirts as outerwear mostly had lost their shock value, but have something shocking to say? Put it in print, instead. Not much has changed today since in the early messages of self-expression across our tees. Back then, anti-war stances and other political slogans competed for our attention alongside with company logos and bands as brands as our first printed tees.
Bold, bright colors were born. Tie-dyed tees, the sign of the psychedelic '60s, are still popular today. Innovations to the printing, such as screenprinting, turned graphic tees into the majorly profitable industry it is today. You say you want a revolution? Music legends like Jimi Hendrix and Janis Joplin rocked inked tees, ushering in print en masse. And we're still wearing our favorite messages across our chests today.
Style and Restyled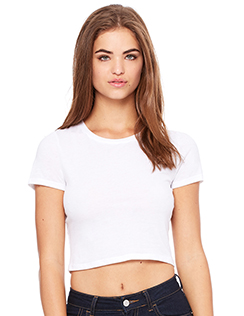 We started playing with the construction of our original t-shirts even before the '50s. Cotton gave way to popular polyester in the '60s and '70s, making way to today's blends.
Some of our favorite tees now have had generations of play to create the bi-blends and tri-blends of today. A bi-blend is typically a mixture of two fabrics, cotton and a polyester.
A tri-blend is typically three fabrics, made up of cotton, polyester and rayon. Why? Decades have taught us to blend for the best of each fabric. While polyester still holds strong, especially in our athletic gear, there's probably nothing more traditional than original cotton. But bi-blends and tri-blends fly off the shelves these days.
And our cuts have changed throughout the years. Capped sleeves, fitted, longer length, and, oh, shorter length. The cropped tops of the '90s seem to always find their way back. Crop tops are back in a big way, like the Bella + Canvas Women's Poly-Cotton Crop T-Shirt. Did we say the t-shirt lost its power to shock? A bare belly usually does the trick. Speaking of trick, we were—and are—always looking for ways to trick out our tees, whether in cuts, style or blends.
The Tee of Today
Are you shocked by the chronicle of the t-shirt? For such a staple, it has had a shocking history. Whether men chose to wear it as outer wear, women started sporting it at all, the message across it, or even that neon glow of the '80s, the t-shirt is one shocking piece of apparel. However, the trailblazers of the past have made that underwear okay for outerwear. Feel free to wear that t-shirt, men and women, without others shielding their eyes for the fear you've forgotten your cover. Although we're still wearing it as underwear, too. Our most high-end designers have even made that classic tee couture. So, no matter how you wear it, casual or couture, the t-shirt is now a fashion staple. No fancy advertising needed, bachelors.
---
Related posts