Official T-Shirt Wholesaler Blog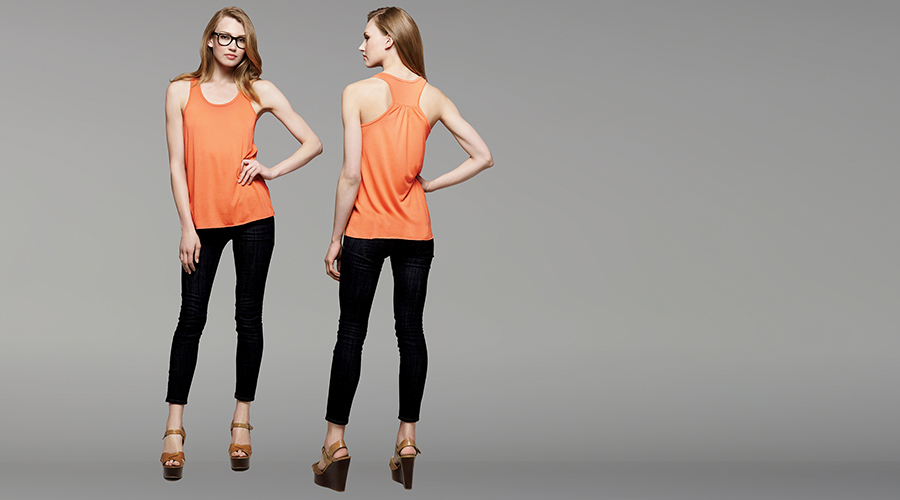 Sporty, stylish, sexy, sophisticated. Ladies, who knew your shoulder blades had such broad appeal? It's not just those sultry shoulders that are grabbing so much attention right now. It's the best piece of apparel to show them off in, a racerback tank top.
The racerback tank top has always been a top-trending tank. It might have the most crossover appeal over any other tank. With the "T"-shaped, shoulder-baring back, you won't mistake a racerback tank top with any other style.
A racerback tank top may have been designed with the intention of giving the fullest range of motion, but it's your move how you wear this athletic-inspired piece. Only your trainer will know whether you've been wearing your racerback tank top to the gym. Or you can wear this sporty style without ever breaking a sweat.
Having tank top trouble? Racerback reservations? Here are the different types of racerback tank tops and why you should be wearing a racerback, too.
Standard Racerback Tank Top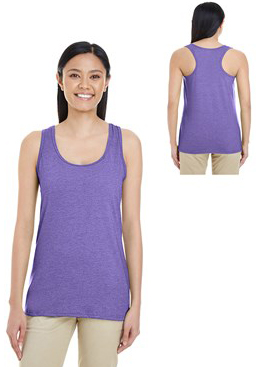 The standard racerback tank top is a classic look among racerback styles. The look is absolutely athletic, truly timeless, and it's the easiest way to wear the trendiest tank effortlessly. A standard racerback tank top has the signature-shaped back that allows for maximum movement. In fact, the racerback look made its debut for women as swimsuit. While the racerback started out in the pool for swimmers, there's no drowning in shapeless fabric in today's look for women. Designed with a woman's shape in mind, a standard racerback doesn't have to be skintight to still show off a feminine silhouette.
For traditional athletic appeal, try the Gildan G645RL Ladies' Softstyle 4.5 oz. Racerback Tank. It sets the standard for standard-style racerback tank tops. With a relaxed fit, it flatters your feminine figure, on the court or enjoying a weekend barbeque. A luxuriously soft ringspun cotton is a bonus, making this the piece that wears well anywhere.
For printing projects, this may be one of the best pieces. A relaxed fit of a standard means it's no stretch to say your design stays true to form. Choosing a fabric like cotton that takes and keeps the ink of your design makes printing no problem. And the popularity of this piece will keep your art in high demand. A standard racerback tank certainly is made to move?—off your shelves in sales, that is.
Ribbed Racerback Tank Top
Add some interest with a ribbed racerback tank top. Ribbed is a fabric knitted with alternating raised and lowered rows. The so-called ribs in this racerback give the material a distinct look and texture, with a little bit of stretch. Ribbing also adds even more athletic appeal to the already sporty style of a racerback tank top.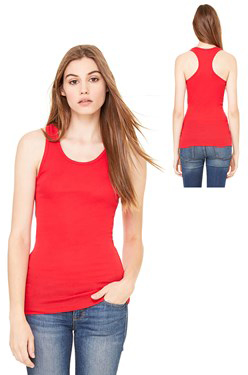 Not all ribbing is the same, though. In fact, the ribbing you choose will affect the look and feel of your racerback tank top. The most common ribbing is either 1x1 or 2x1. The 1x1 ribbed knit is also known as a baby or mini rib, with the space between the raised ribs the same size as the ribs themselves. The 2x1 ribbed knit has twice as much space between, giving the ribbing a much more obvious raised distinction.
If you're going for looks alone, the 1x1 rib still offers the dimension, stretch and distinction with a bit more subtlety. The 2x1 rib is much more obvious to the eye and used to be a fan favorite for sporty tanks like a racerback. But look out, the 1x1 rib in racerbacks is on the rise.
The Bella + Canvas 8770 Women's Meredith Sheer Rib Longer-Length Racerback uses a 1x1 rib, calling it a mini. It's a much softer ribbed look to the racerback style. You'll find a more fitted look here. The stretch of a rib complements your shape more than your average fitted tank, with the eye drawn toward the texture. This racerback tank top has even more to offer with a longer length for those with a longer torso or anyone wanting extra inches for the look alone. In the softest ring spun cotton with a bit of spandex, this racerback is made to move with the most comfort. With such a flattering fit, a ribbed racerback tank top can go from working out to just hanging out. This is the piece that wears well anywhere.
While the majority of printers say that printing is possible on a ribbed racerback, it's best achieved on the 1x1 baby rib. The stretch of a 2x1 rib will likely crack and crumble, which is only good if you're going for a retro look to your design. Some printers shy from art on even a 1x1 rib, but most agree the 1x1 can be done with extra attention and knowledge on how to work with the texture of this style.
Racerback Workout Tank Top
Wear your racerback exactly as it was intended, for maximum mobility in all your athletic activities. A racerback workout tank is designed to give you more movement than any ordinary tank top. Set those shoulders free to get into plank, nail that three-pointer, or simply get the ultimate stretch. There's no shoulder straps to get in your way.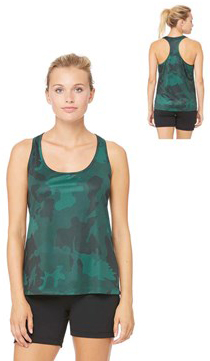 While that's how a racerback workout tank top was originally intended, its been given even more perks along the way. Performance is a word that's tossed around a lot these days, but what does it mean? It means your workouts just got even more intense with a racerback workout tank top that can see you through even your most strenuous activities.
Many performance gear now has moisture-wicking fabric, anti-microbial properties, UV protection and more.
The All Sport W2079 Women's Performance Racerback Tank Top improves upon the racerback design with power-up performance. With dry-wicking and anti-microbial properties in a lightweight polyester, this performance-enhancing racerback tank top is designed to keep you cool and comfortable. But never trade function for a fashionable fit. There's still a flattering form to suggest your feminine silhouette, without showing too much. Speaking of showing too much, there's no surprise peek-a-boo with the longer length of this piece. This is no ordinary workout tank. There's 19 colors to choose from, with camo choices among the mix. This camouflage isn't just for looks, though. It cleverly hides any moisture from the most intense of workouts. Never let them see you sweat in these advanced camo patterns.
The Team 365 TT11WRC Ladies' Performance Racerback Tank is another racerback workout tank top choice with moisture-wicking and UV protection performance in a light polyester. It's fun in the sun without the burn, so hike, bike or just play outdoors in this workout racerback. The UV properties not only save your skin, they keep these tank's colors bright and true. You can work out as hard as you want, but you won't wear out this performance racerback.
Racerback Tank Dress
You didn't think racerbacks had to be all sports, all the time, did you? Celebrate some skin and those sultry shoulder blades with a racerback design you might not have seen coming. Enjoy a sporty style in a racerback tank dress.
The L.A.T. Apparel 3523 Ladies' Racerback Tank Dress is a playful take on the racerback appeal. In fact, in addition to solid colors comes a surprising mix of contrasts, like black-and-vintage-camo combo, in a unique racerback almost reminiscent of a raglan-style baseball tee. The bold Caribbean-and-white and papaya-and-white combinations strike a stylish stance of a dress that might look most at home on a tennis court. Except with a semi-fitted silhouette in the softest combed ring spun cotton fine jersey, this racerback tank dress is fashionably for fun.
Speaking of fun, take your racerback tank dress go from day to night in the Next Level Apparel 6734 Ladies' Triblend Racerback Tank Dress. The little black dress just became the little racerback tank dress. With a flirty hemline and racerback cut, this dress shows a bit of skin without ever coming off as trying too hard. The heathered colors of this dress play homage to its sporty appeal, too. Try this fun take by day or even on date night. It's a way to look stylish while still coming off as cool and casual.
Racerback Cropped Tank Top
For those who want to show even more skin, try a cropped racerback tank top. Try the ultra-trendy Bella + Canvas 6682 Women's Racerback Cropped Tank Top and wear as you dare. Before breezing by, thinking you can't pull off a cropped racerback tank top, there are some style cheats. Wearing a racerback cropped tank top layered over a longer tank still adds interest while enjoying the trend. Two contrasting colors make this top pop.
Another very wearable trend beyond the runway is just a sliver of skin in addition to your already-exposed shoulders. High-waisted jeans give the illusion of showing a lot more than you actually are.
But this is just as easily the trend for the risk-takers. Slouchy jeans let you bare as much as you dare. What doesn't change, though? The easygoing look of the racerback gives even a cropped top. It takes even the boldest racerback look while still keeping it casual.
Triblend Racerback Tank Top
If the season's hottest tank is the racerback, the material of the moment is triblend. When these two trends merge, they create a whole racerback style of their own. To say that a triblend racerback tank top is merely having a moment is to imply it'll eventually go out of style. The racerback tank top is so traditional, it's a closet staple. And the material of triblend may be a top trend, but it's here to stay.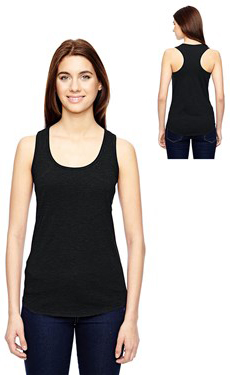 What's a triblend? It's the fabric that results from mixing cotton, polyester and rayon. A triblend borrows from the best of all these fabrics. Cotton for its comfort and breathability, polyester for its durability, and rayon for its drape and shape. What people notice most, though, is its superior softness, second to none.
While a triblend always involves cotton, polyester and rayon, there's no true industry standard for percentages. Each brand has their own take on a triblend. For instance, the Next Level Apparel 6733 Women's Tri-Blend Racerback Tank Top blends 50 percent polyester, 25 percent combed ring spun cotton and 25 percent rayon. Using an upgrade like combed ring spun cotton might give this piece an even bigger boost of softness. It's stylized with slightly thinner straps, straight bottom hem and longer length. Meanwhile, the Bella + Canvas 8430 Women's Sylvia Tri-Blend Racerback Tank Top is another triblend take, in 50 percent polyester, 37.5 percent cotton and 12.5 rayon. Using even more cotton in its triblend could affect its texture, too. Stylewise, it's a classic look of a racerback tank top, with a straight bottom hem. And then there's the Anvil 6751L Women's Triblend Racerback Tank, with 50 percent polyester, 25 percent combed ring spun cotton and 25 percent rayon blend. It has the added detailing of a curved bottom hem. While all three are similar, you'll have to pick your own favorite brand, blend and style. If a racerback is your favorite tank top, try it in a triblend.
Flowy Racerback Tank Top
The racerback tank top will always have its athletic origins, but there's no denying the sultry exposure racerbacks can give shoulder blades, especially in a sophisticated style. Enter the flowy racerback tank top.
A flowy racerback tank top can help show off some skin without the risk of overexposure. There are sexy and stylish racerback tank tops that celebrate a bit of that racerback exposure with a flowy fit.
The Bella + Canvas B8800 Women's 3.7oz. Flowy Racerback Tank Top has an easy, draped fit that's versatile enough for favorite jeans or over your favorite leggings. This flowy racerback tank top is a bestseller because of its flattering silhouette, while its gathered back adds a touch of intrigue. In 32 colors, you're sure to find a flattering hue. And with the subtle nod to the racerback tank top's origins, check out the variety of heathers. It's sporty done with sophistication.
Shoulders with Style
Keep sporting those shoulder blades, ladies, or start showing them off now with a new type or two. Whether you're having fun or getting your sweat on, there's a racerback tank top type for you.
Hey, thanks for the read! If you love our blog, you should sign up for our emails chock-full of savings and more awesome content from us here at T-Shirt Wholesaler. That's what you came here for, right?
---
Related posts