Core 365

>

Style# 88181
Core 365 88181 100% Polyester Pique Performance Polo Shirt
Item# 88181
Core 365 88181 100% Polyester Pique Performance Polo Shirt
Item# 88181
Description
This professional style comes in an exceptional array of colors with the Core 365 88181 Origin Men's Performance Pique Polo Shirt. For gentlemen who enjoy the practical application of a moisture-wicking, antimicrobial, UV-protected shirt but desire to go beyond the lineup of classic colors, this polo comes in a variety of vibrant shades for you to choose from. Made from durable 100% polyester, this pique polo shirt is sewn to last. The flat knit collar has the same built-in protection from curling as a welt collar, but lays flat against the neckline for a slightly more casual look, along with a placket of three color-matched buttons. A heat seal label allows you to keep fitment and care information handy without a scratchy tag. The 4.1 oz. fabric weight is dense enough to let you feel the quality of the shirt without compromising that airy, flexible feel you get from feather-weight fabrics.
100% polyester pique
4.1 oz
Moisture wicking, antimicrobial and UV protection performance
matching flat knit collar
heat seal label
Companion Styles
Customer Reviews
Customers Also Bought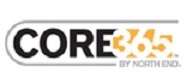 About Core 365
Inspired by style and exceptional value, Core 365 by North end stands out as the solution to your corporate apparel needs. Core 365 offers Men's and ladies matching PMS styles, not to mention tall sizes in key styles. All the possibilities keeps Core 365 as the answer to any companies need for a sleek uniform look.