Official T-Shirt Wholesaler Blog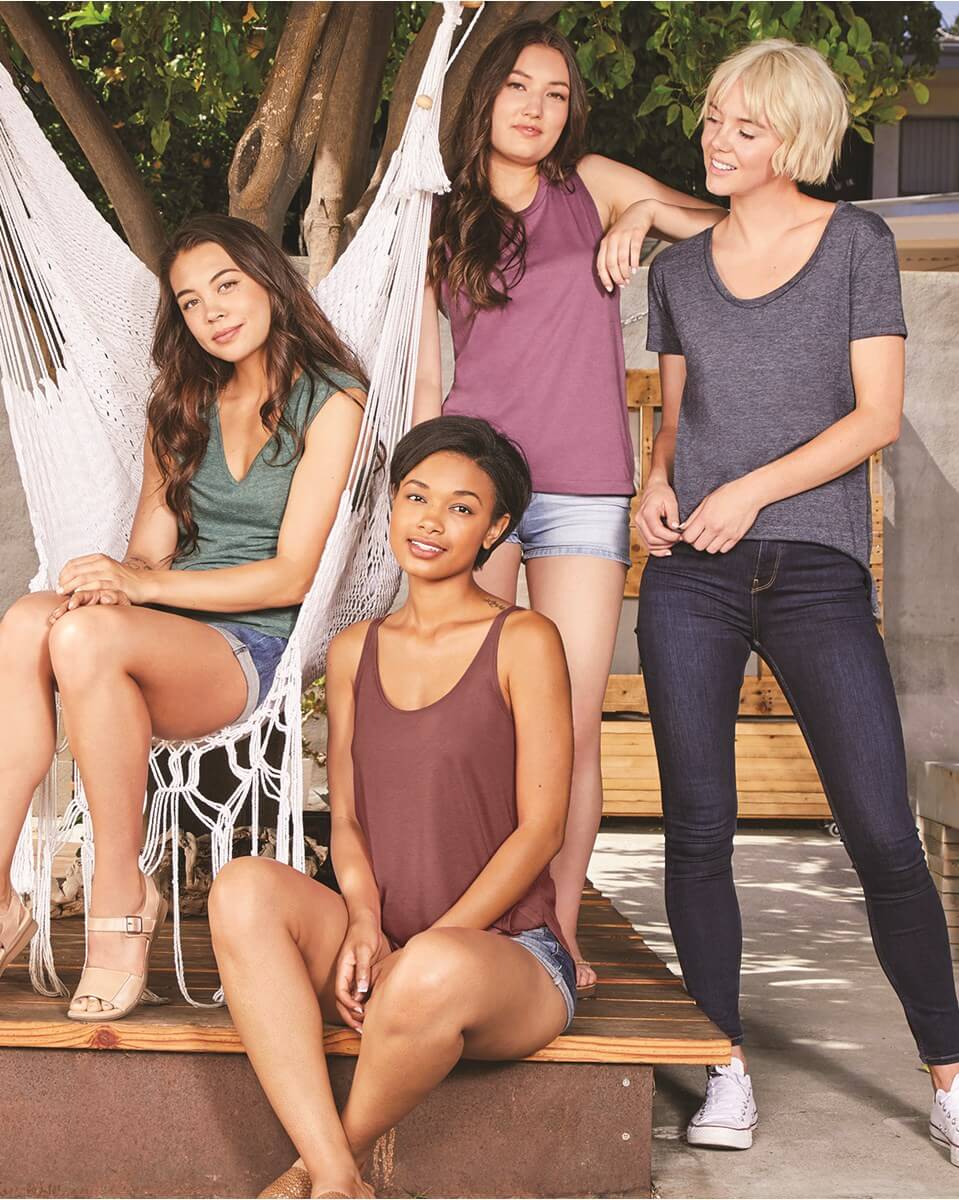 When it comes to flowy t-shirts and tank tops, so many styles fall under that elusive word. Flowy isn't easily definable, but the feel of a flowy top is unmistakable. It's not just the fabric, which is sometimes specifically selected to form that flattering drape, or even its exclusive softness. The trend is all about how laid back you look and feel. A well-structured flowy t-shirt or tank top feels casual while still looking stylish.
How can a flowy top be both relaxed and structured? Before the advent of flowy, if you wanted that slouchy drape to your top or tank, you'd have to order a size or two larger. In ordering up, though, all that extra fabric hung in all the wrong places. All that bulk wasn't necessarily comfortable, and was decidedly not flowy. Flowy styles are now cut to do exactly that, flow away from your body without sacrificing your unique shape. Flowy, while not fitted, still manages to honor, and even accentuate, your true silhouette. Everyone enjoys comfortable clothes, but the feel of flowy is quality comfort. Shape matters, and the flowy trend knows that. You can now feel free to order your own size, knowing that designers have structured a looser style that actually fits. No guesswork required at getting the perfect fit and feel with today's flowy t-shirts and tank tops..
If a stylish structure of flowy sounds counterintuitive, try on the Bella + Canvas B8800 Women's Flowy Racerback Tank Top for size. And by "for size," we mean for you to be sure to buy your size. Again, no ordering up a size necessary. This bestselling tank top is already designed with a relaxed fit that falls away from your shape instead of adding bulk to it. Flowy in a racerback tank takes this sports-inspired top and makes it functional enough for the gym with that extra movement but fashionable enough to simply show off those shoulder blades at a festival. Racerback tank tops aren't your thing? Flowy doesn't stop with that one style. You'll find flowy tank tops in high necks, scooped necks, V-necks, and more. There're thin straps to solid standards and everything in between. Check out the longer lengths or go with a cropped top. A completely different take on the traditional tank top is the Bella + Canvas 8838 Women's Slouchy Tank Top. Yes, you're seeing the word slouchy, another word for flowy. Despite its delicately thin straps, it's absolutely the antithesis of the spaghetti strap tank top that was the oh-so-tight top of the '90s. Show the same amount of skin as a spaghetti strap top, but with the comfortable cut of a slouchy style. The drape of a flowy top might even give it a subtly sexier edge than a traditional spaghetti strap.
A flowy t-shirt adds a femine touch to a basic t-shirt without taking itself as seriously as a blouse. When is a blouse, button-up or dressy top ever comfortable? A flowy t-shirt has all the fashion of a fussy top, just minus the fuss. Another big bonus with the flowy trend is just how throw-and-go your best look just became. The Next Level Apparel 6760 Women's Tri-Blend Dolman is the t-shirt that you didn't steal from your boyfriend for its cool comfort. It may have that well-loved feel that makes some of us closet kleptomaniacs, but it's a top that's fashionably feminine. The drape of a flowy tee flatters a silhouette of any size. Unlike just a too-large tee, a flowy t-shirt's fit is universally appealing. The dolman detail, sleeves that are cut extra deep and wide, only adds to a shapely drape. Flowy doesn't stop with short sleeves. Adding a flowy shape to a long-sleeve t-shirt, like the Bella + Canvas 8850 Women's Flowy Long-Sleeve Off Shoulder T-Shirt, can give your look a casual air with a peek-a-boo layer or go bold and expose some skin. A flowy long-sleeve shirt was meant to slip seductively off your shoulders. It looks quite unintentional, which is a flowy top's greatest secret. Casually cool can actually look alluring.
The feel we've been talking about with a flowy top isn't just its relaxed shape. The cut alone of flowy tanks and t-shirts feels freeing in its movement and mobility, but the fabric often chosen to make flowy actually flow is just as important. The fall of the fabric isn't just by chance. Sometimes special blends of two or three materials make up a flowy fabric. A popular pick right now is a flowy t-shirt or tank top in a tri-blend. Not every flowy tank top or t-shirt is going to be a tri-blend, but many are. A tri-blend is a mixture of cotton, polyester, and rayon. The blend creates a super-soft, ultra-breathable, and made-to-move mix, all in one fabric. In fact, rayon was originally created to give clothes a flattering drape, exactly what gives a flowy top its desired shape. Adding cotton and polyester make it feel as amazing as it looks. Want to try a flowy tri-blend top? The Anvil 6750VL Women's Triblend V-Neck T-Shirt is made up of 50% polyester, 25% combed ringspun cotton, and 25% rayon.
When shopping for your perfect flowy t-shirt or tank top, other words to look for can be slouchy, drapey, boxy, semi-fitted, relaxed, and now the term "festival fit," among others. Find the word that most closely resembles what you're looking for and that fits your own definition of flowy. The flowy trend is an easygoing look and feel that still manages to celebrate style. Go with the flow in a flowy t-shirt or tank top.
---
Related posts