Official T-Shirt Wholesaler Blog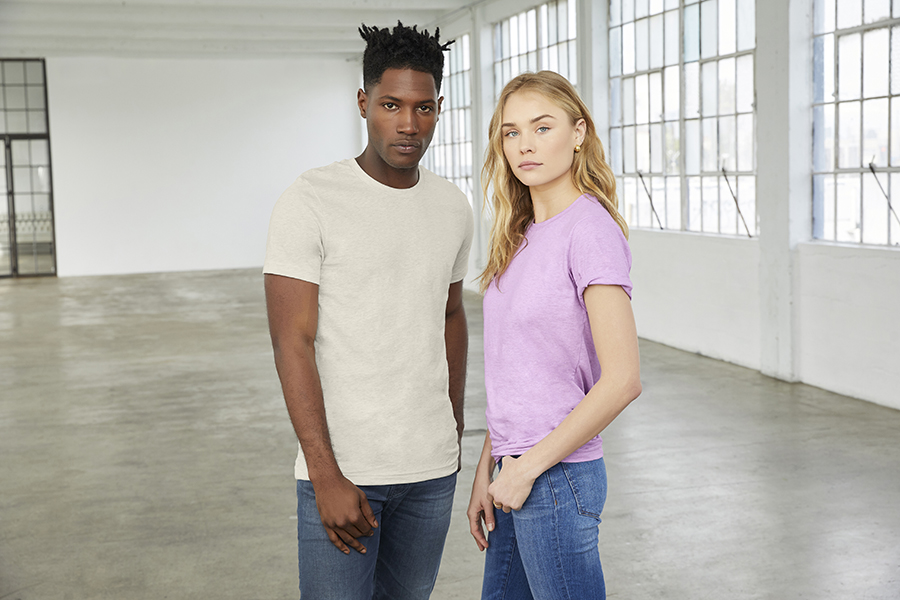 The Bella + Canvas 3001 isn't just a bestseller among the brand's many fans. The 3001 has legendary appeal among those who love the t-shirt's simple-yet-modern design, quality construction, and hottest hues.
Bella + Canvas has branched out, though, with the Bella + Canvas 3001CVC. If you've noticed that three-letter difference between these two best-selling t-shirt styles, you may have wondered what changed. Why did Bella + Canvas mess with near t-shirt perfection? Well, thankfully, they didn't.
The 3001 and 3001CVC share the same signature fit that gained this t-shirt the cult following that continues today. Yes, you'll find your favorite t-shirt style almost unchanged, but with the 3001 and 3001CVC, you now have some helpful options that will make ordering exactly what you want even easier.
The Number One Difference
Remember those hot hues Bella + Canvas is always bringing you? That's the number one difference. You can now find the shade you're looking for faster between the 3001 and 3001CVC.

The Bella + Canvas 3001 puts the spotlight solely on solid colors. Of course, there's nothing basic about them, with currently more than 50 color options to choose from.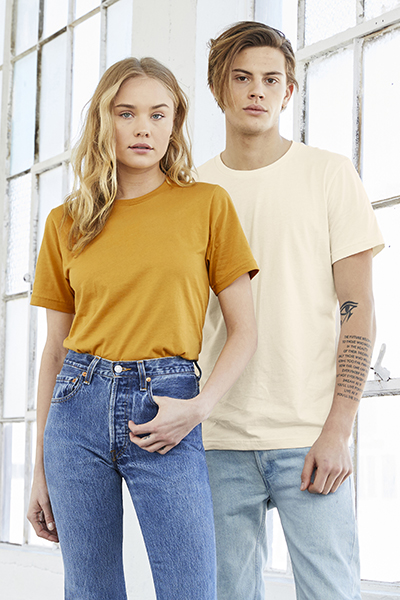 The Bella + Canvas 3001CVC is all about the heathers. It's still your bright and bold colors, your simple blacks and white, but with that interesting heather take to them. Not to be outdone by the 3001, there's currently more than 60 color options.

Why the split? Just a guess. Being such a bestseller, the Bella + Canvas 3001 catalog might have just gotten too big. A simple split gets you the look you want quicker than sifting through all those options. Want those many colors Bella + Canvas brings in a solid? Go with the 3001. Love that heathered look? Look no further than the 3001CVC.
Regular Vs. Heather
If you're not sure what the difference is between a regular versus heather tee, you'll know it when you see it, especially up close.
A regular t-shirt is made from only one color of fiber. Its color is the same throughout with no variation. But it's not boring or bland. You'll still find bright and bold colors, pale pastels, and traditional colors you're looking for. Bella + Canvas has their eye on what colors are trending and are always mixing it up to provide the classic colors with the latest pantones. Whatever hue you choose, that color will be universal throughout the t-shirt.
A heather t-shirt is the product of combining two or more colors of fibers. The very first heather t-shirts were usually a mixture of grays, but how heathers have expanded over the years. That classic gray-on-gray still has an athletic throwback appeal, but the newest heather t-shirts make the most out of mixing different fiber colors. Fans love the dimension the mix brings to the fabric. The blend can be subtle or obvious, but it always adds interest. Many will say that a heather will always have a retro appeal, but Bella + Canvas brings some heather collections that have never been seen before.
What Do Different Materials Mean?
The Bella + Canvas 3001 is made up of their 100% Airlume combed and ring-spun cotton. An exception is the color Ash, which is 99% Airlume combed and ring-spun cotton, 1% poly, but again, primarily that superior cotton that Bella + Canvas prides themselves on. The feel is the one of the softest cottons you'll find with a smooth texture easy to print on, which is what makes the 3001 so popular.
The Bella + Canvas 3001CVC will be a blend, which is a mixture of fibers. Most are 52% Airlume combed and ring-spun cotton and 48% poly. Some exceptions are Athletic Heather and Black Heather, which are 90% Airlume combed and ring-spun cotton, 10% poly. Bella + Canvas' special Heather Prism Colors are 99% Airlume combed and ring-spun cotton and 1% poly. The higher the poly count, the softer the blended tee will be. It's the feel of a favorite t-shirt right from the start. Blends are typically softer than even the most luxurious cottons. The 3001CVC offers a unique printing canvas, as its textured look differs from color to color. Many automatically opt for vintage-inspired art when printing, but designs aren't limited because of a blend, so don't be deterred.
Both the Bella + Canvas 3001 and 3001CVC notably have the Airlume combed and ring-spun cotton. This particular cotton deserves a mention because it is just so noticeable when compared to so-called regular cotton. Combed cotton is regular cotton, only literally combed to remove impurities and short fibers. The result is a stronger and softer cotton. Add to that a ring-spun treatment that continuously twists and thins this combed cotton to create even softer, smoother, and stronger ropes of cotton fiber. Airlume is Bella + Canvas' own promise that they've produced the highest quality combed and ring-spun cotton you can get. They've been more than 25 years in the works to perfect it.
Two Names, Same Great Style
What is it that makes the Bella + Canvas 3001 and 3001CVC such a big deal? If you're already a believer and wondered why the split, now you know. But if you've accidentally stumbled across the great 3001 phenomenon and wondered why, here's why it's not only Bella + Canvas' bestselling tee, but one of the most sought-after t-shirt overall online.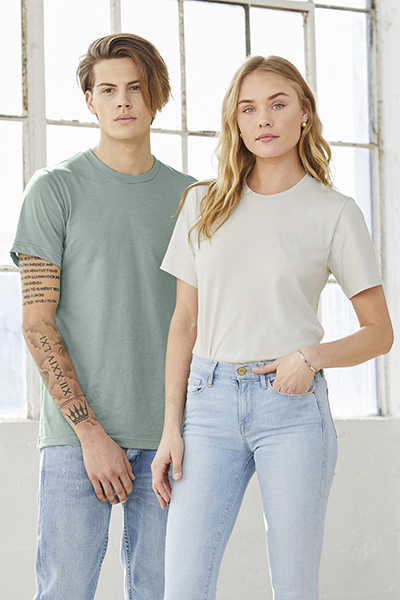 Here's a little about unisex sizing and the 3001 in particular. The traditional unisex t-shirt is made with a man's form in mind, even though either sex can wear it. A unisex fit can differ from brand to brand, but a traditional unisex t-shirt shouldn't feel different to a man used to wearing men's t-shirts. In comparison, a t-shirt specifically designed for women will typically take a more feminine shape in mind, even if the tee isn't tightly fitted. So, unsexing much be out, right? Quite the opposite.
The unisex sizing will always be the most popular tee not because it's made for either a man or a woman, but because it's genderless. It's less about who it was "made" for and more about fit. A traditional unisex size will be a straighter cut. Not all women want an even, modestly fitted look. The unisex look is about a looser look.
Both the Bella + Canvas 3001 and 3001CVC are "retail fit," which means these t-shirts aren't a boxy, generic style of a traditional unisex. According to Bella + Canvas, their unisex retail fit is more tailored with fitted sleeves.
While this bonus doesn't fall under the feature of retail fit, it also helps explain why the shape of the Bella + Canvas 3001 and 3001CVC are practically untouchable when compared to other off-brand unisex tees. It's the difference between side-seamed or tubular t-shirts. Tubular shirts have no seams, which might sound great, until you realize no one has a shape like a tube. The side-seamed 3001 and 3001CVC not only have the extra mark of quality, they actually flatter and fit a human.
The Bella + Canvas 3001 and 3001CVC feature a crew neck, short sleeves, and side seams, all in a very cool and quality fit and always at a competitive price. That's what's made the 3001 and the 3001CVC style one of the most popular t-shirts online.
What's Hot Now
Big news to the apparel industry is coming straight to the Bella + Canvas 3001CVC side, Black Heather and the PRISM collection.
The much-talked-about Black Heather is an industry first. When it traditionally comes to heather t-shirts, the color gray is a natural go to. There was no true answer to a black heather tee. Trial and error created Black Heather, a heather that's predominant color is black instead of becoming muted with grays, but with all the dimension of a heather blend. Bella + Canvas Heather Black is the first true black heather t-shirt. And it's so soft with its blend of 90% Airlume combed and ring-spun cotton and a 10% touch of poly.
The PRISM collection is pastels like you've never seen them before, now in heathers. Pastels could potentially look washed out or losing their true color when blended to make a heather. The PRISM collection creates the halftones and dimension that pastels deserve, without muting or overpowering them in this perfect balance.
PRISM brings new innovation to the heather t-shirt category. It was created by re-engineering the heather yarn spinning and fabric dyeing processes to create stunning halftones and never before seen dimensions.
You'll find both Black Heather and the PRISM collection under the Bella + Canvas 3001CVC.
Why the 3001 and 3001CVC?
The Bella + Canvas 3001 and 3001CVC are the two tees with the same signature fit you love, now in two takes on solid or heather hues. The style remains the same. Whether it's for yourself or for a crowd, a one-time event or your massive printing production, for a man or a woman, you'll find exactly what you want or need within the 3001 and 3001CVC collections.
Hey, thanks for the read! If you love our blog, you should sign up for our emails chock-full of savings and more awesome content from us here at T-Shirt Wholesaler. That's what you came here for, right?
---
Related posts