Official T-Shirt Wholesaler Blog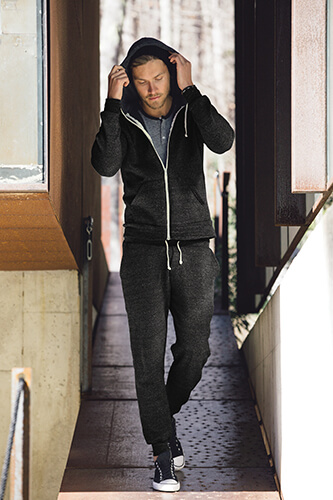 With the change into the colder times of the year, comes seasonal traditions of gathering around a roaring fire pit on a chilly evening, tailgating at the big game, crisp walks in the woods and neighborhoods, evening team practices, and gathering with loved ones. The fire is cracklin', the excitement is in the air, and you are happily soaking up every single moment in the comfort of your favorite zip-up hoodie.
Here, we'll look at top reasons why the zip-up hoodie is the perfect companion for those chilly days, workouts, workwear, and more.
Convenience & Comfort
Wrapped up in a zip-up hoodie, you can be ready to face the brisk cooler nights in the ultimate comfort clothing option for outerwear. The convenience and freedom of a zip-up hoodie ensures that you are able to adjust to let in air flow or bundle up to keep in as much heat as possible.
Quick and easy to both put on and take off, zip-up hoodies are the perfect grab and go jacket to snag as you are running out the door to your next backyard adventure. With the option and ease of a zip-up hoodie you can choose to wear your hoodies open for breathability or zipped up for maximum cozy warmth.
Practical & Perfect
While zip-up hoodies are known to be both comfortable and convenient, they are also an incredibly practical option to help keep you warm and dry as the weather turns from just chilly to dripping rain or snow. After keeping your head covered and protected from the cold and precipitation, a zip-up hoodie can be easily removed and hung up to dry once you are in form the elements. This makes zip-up hoodies the perfect choice for both convenience and practicality.
With options ranging from more fashion-forward Bella + Canvas hoodies to mainstays like Gildan Heavy Blends, there is always the perfect zip-up hoodie to meet your needs.
Stay Comfortable & Active
As activewear, zip-up hoodies are the perfect choice for that morning run, intense workout or evening sports practice. Without having to worry about the colder weather hindering your active lifestyle, nothing can stand in your way. When the colder weather starts to threaten to cancel the morning workout, do not be defeated or discouraged. Instead, zip up in your favorite hoodie and get back out there.
Ready to Zip-Up?
You owe it to yourself to dress in the best zip-up hoodies available on the market. We offer the top brands of zip-up hoodies like Gildan, Hanes, Bella + Canvas, Jerzees and so many more. With options available in every style, color and size of the best brands, you can get the perfect zip-up hoodies for you, your team, crew or family reunion. Check out all of our options for zip-up hoodies today and always stay both comfortable and active.
---
Related posts