Official T-Shirt Wholesaler Blog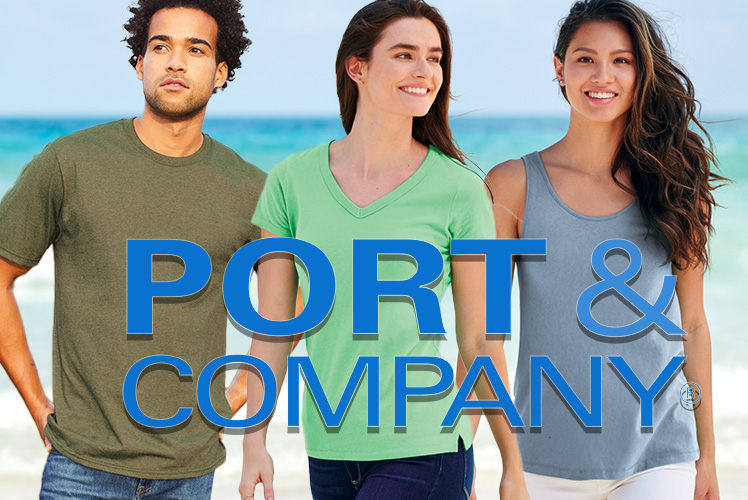 Although we offer numerous brand names in our inventory, one of our most popular clothing manufacturers is Port & Company. This incredible apparel creator began in 1998 and has overtaken the clothing industry. Port & Company's collection provides customers with excellent value while supplying outstanding style and durability.
With Port & Company products consistently making our top sellers list, our team is delighted to put them in the spotlight. In this deep dive, we'll explore what makes Port & Company products so great and why you might want to take notice.
Why Companies Choose Port & Company
We're not the only ones who have recognized the incredible value of Port & Company products. In fact, other companies consistently choose P&C for their product merch, special events, and promotions. As they boomed in popularity, Port & Company products are topping the charts of our wholesale apparel and accessories.
But what is it about Port & Company products that make them so popular? Perhaps it's their commitment to quality, design variety, or affordability that makes P&C products such a hot ticket item. Here are a few reasons we believe Port & Company products are worth your attention.
Quality Craftsmanship
Since its inception, Port & Company has striven to maintain ultra-high production and quality standards. With a rich history of producing high-quality garments and accessories, Port & Company has proven itself time and time again. Their commitment to craftsmanship is evident in every stitch and style. Their high standards lead to impeccable quality products that companies and organizations around the globe trust.
Luxury Without the Stuffy Price Tag
One of the most enticing aspects of Port & Company products is their affordability without sacrificing quality. Their designers create comparable clothing options to designer brands at a fraction of the cost. Whether you need a trendy t-shirt, durable work shirt, or cozy sweatshirt, Port & Company brings designer-level quality without the designer price tag.
Design Diversity
While their collection of tees is fantastic, Port & Company offers way more than just t-shirts. In fact, this incredible clothing company offers essentially anything you can think of. Here are some of the offerings we sell at Blank Apparel:
With such a wide design diversity, Port & Company has anything you need for a complete wardrobe.
Global Consciousness
In a time where sustainability and ethical practices are essential, Port & Company stands out for its dedication to responsible production. Making a conscious effort to ethically source and produce outstanding clothing and accessories, Port & Company remains a testament to modern innovation and above-board business practices.
Style for Every Occasion
With a wide range of styles for every fashion preference, Port & Company's collection supplies the options for every function. Whether you're searching for a casual weekend outfit, professional work attire, or comfortable loungewear, Port & Company provides the style and sophistication for every occasion.
Consistent Durability
Durability is one of the foundational principles of Port & Company products. The Port & Company designers create quality products built to last. This consistent durability means you can rely on their products to be top-notch whenever you wear them. You can rest assured your Port & Company products will stay vibrant and comfortable wear after wear.
Brilliant Bulk Options
For custom t-shirt designers, event planners, and large groups, Port & Company offers a wide selection of bulk blank attire and accessories that help you stand out in the crowd. Bringing their incredible design portfolio to the table, Port & Company products are ideal when you need large orders.
Comfort and Fit
Comfort is essential When shopping for clothing, and Port & Company excels in this department. Using quality materials and impeccable manufacturing, their clothing items are comfortable for all-day wearability. Because they prioritize quality and comfort, you can be sure your Port & Company items will be super comfy, whether running errands around town or staying indoors.
Get These Best-Sellers from Port & Company
If you're looking for a jumping-off point to start shopping, these are our top five best sellers from Port & Company.
Port and Company has an option for you no matter what occasion. Whether you need hats for a sports team, tank tops for the beach, or t-shirts for summer camp, we offer the apparel you need. Check out all that Port & Company has to offer.
---
Related posts