Official T-Shirt Wholesaler Blog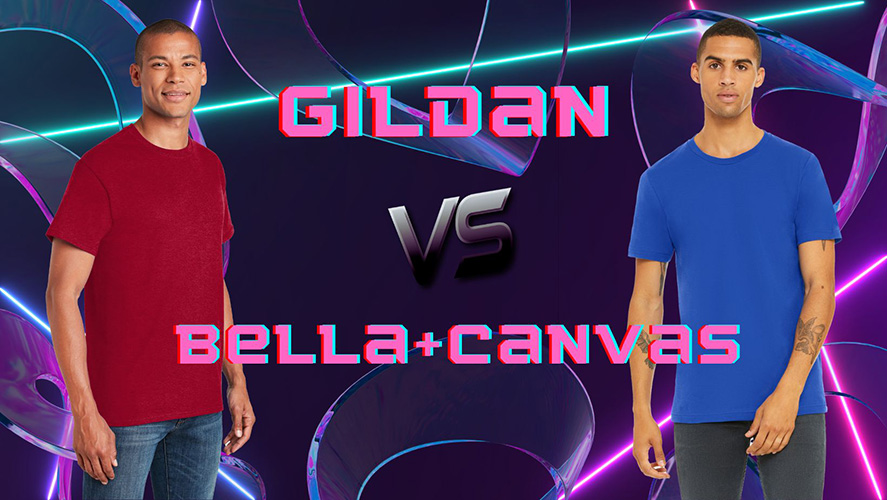 When it comes to finding the perfect t-shirt, it's common to debate whether more costly brands are really worth the money. Many consumers wonder if coughing up the additional funds translates to higher quality or better durability.
In this blog post, we'll pit two colossi of clothing against each other to discuss the age-old debate. We'll look at two of our best sellers, Bella + Canvas and Gildan, and discuss what each brand has going for them. Naturally, we believe both are worth a shoutout and have much to offer. Here are our thoughts on Bella + Canvas versus Gildan.
What We Love About B+C
Bella + Canvas is one of our favorite brands we offer here at T-Shirt Wholesaler. Known worldwide for exquisite comfort, top-of-the-line materials, and outstanding manufacturing, B+C represents a higher-end t-shirt. The designers at B+C create a wide range of t-shirts, sweatshirts, tank tops, and more. With a super soft handfeel, high single counts, and dependable manufacturing, Bella + Canvas shirts bring their a-game against any competitor.
High-Quality Materials
The key element to B+C's success is its commitment to premium fabrics. The global phenomenon utilizes combed and ringspun cotton, high-quality polyester, and other top-notch blended materials to create their stunning line of clothing. The result of using nothing but the best for their ingredients, Bella + Canvas shirts are the cream of the crop when it comes to comfort and soft-to-the-touch wearability.
Super-Soft Comfort
Bella + Canvas shirts are consistently well-liked due to their ultra-comfy wearability and soft materials. Because they are made with premium materials, B+C shirts are known for their superior coziness and remarkable feel. As you slip into one, it's not hard to see why it's a fan favorite.
Commitment to Craftsmanship
The clothing creators at B+C are dedicated to creating stunning products made with premium materials. You can count on their skilled manufacturers to pay attention to every detail and create a genuinely top-of-the-line design. Their dedication to quality craftsmanship is demonstrated throughout their lines of incredible apparel items.
Naturally, quality and premium materials come with a slightly higher price tag than some other options. As incredible as these shirts are, they may not be within every buyer's budget.
What Gildan Brings to the Table
Gildan has become a household name over the last century because of its dependable manufacturing and countless clothing options. Gildan has been a go-to option for many t-shirt designers, DIY crafters, and event coordinators when they need reliable t-shirts in bulk. But what is it about Gildan shirts that make them such a commonly chosen apparel item? There are plenty of reasons to love these shirts. After all, you don't become a household name for nothing.
Here are some of the reasons why Gildan may be an excellent wholesale t-shirt alternative:
Reliable Manufacturing
Gildan has been in the game for a long time. The industry giant has become synonymous with dependability and consistency throughout their years of operation. One benefit of choosing these shirts is you'll know exactly what you're getting. Countless folks have relied on Gildan to provide everything from school uniforms to band merch because they know it will always be consistent and well-made.
Variety of Features
Another perk of using Gildan shirts is the variety of features and styles they offer. With thousands of options in their lineup, Gildan offers reliable clothing options for any activity. Whether you need performance shirts for your sports team, 100% cotton shirts for screen printing, or heavy sweatshirts for late-year activities, Gildan has options for you.
Cost-Effectiveness
Of course, a key consideration when it comes to Gildan shirts is their budget-friendliness. Despite being a global clothing titan, Gildan shirts are remarkably cost-effective. When you're working with a tight budget, Gildan shirts make an excellent option for just about anyone.
Comparing Best Sellers
When exploring your options, it can be helpful to look at some of the best-selling standards each brand has to offer. As we've said, we believe both brands have exceptional value and are great options for anyone. We invite you to take a gander at the best each brand has to offer and compare for yourself.
As you shop, here are some things to keep in mind:
Your budget
The purpose of your t-shirts
Your activities
Desired materials
Printing methods/printability
Brand recognition
Ultimately, you can't go wrong with either Gildan or Bella + Canvas shirts. To see a few "best in show" examples, check out the Bella + Canvas 3001 and the Gildan 5000 Heavy Cotton T-Shirt to decide which you prefer.
---
Related posts