Official T-Shirt Wholesaler Blog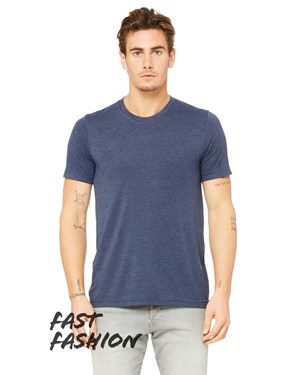 Bella + Canvas has become something of a sensation with their flowy material women's collection. The material used in the flowy line is called poly-viscose, which is a combination of 65% polyester and 35% viscose. The material has an incredible feel, is light and airy, and gives a draping effect when worn. With the 3880 Luxe T-Shirt, Bella + Canvas finally put this awesome flowy material into a brand new t-shirt line.
What Makes Flowy T-Shirts Flowy?
If you're new to flowy material, these clothes are going to change how you get dressed every day. Flowy poly-viscose is a super soft fabric blend and is a great option for printing since you can maintain the softness of the shirt depending on the dye used (more on this below). The fashion t-shirts we carry come with a tear-away label and are preshrunk for easy use.
How to Get Your Design Printed on a Flowy Poly-Viscose T-Shirt
It may seem daunting to those who don't have a lot of experience with printing on the flowy luxe t-shirts collection to envision the process. Here, we're breaking down a few of the tips presented in the video below from Bella + Canvas for printing on their flowy material.
Water-Based Ink Printing on Flowy Poly-Viscose
Water-based inks will look differently depending on the color of the flowy fabric being used. It's important to note that white shirts make the design pop while dark colors make it look vintage. Water-based ink is a sensitive ink meant for light fabrics like flowy. With this ink, you don't feel the thickness of the printed design and you maintain the soft, lightweight feel of the fabric.
Plastisol Ink Printing on Flowy Poly-Viscose
Plastisol ink doesn't dry out as quickly as water-based and it handles well which is why it's a popular standard as far as dyes go. Using plastisol generally means you want to use an art design that's not solid because the wearer will feel the added weight.
Start Your Bella + Canvas 3880 Fast Fashion Unisex Viscose Fashion T-Shirt Order
Head on over to our flowy t-shirt products page to check out all your options for unisex t-shirts in the flowy collection.
---
Related posts