Official T-Shirt Wholesaler Blog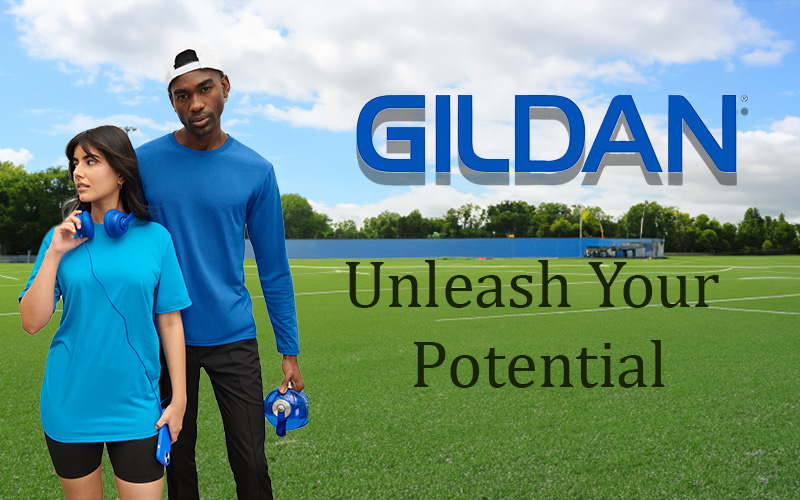 As wholesale apparel specialists, we get a lot of questions about the best athleticwear and performance attire on the market. We figured it was high time we highlighted one of our favorite brands and explained why we feel Gildan performance shirts are some of the best bang for your buck.
In the athletic apparel world, striking a balance between comfort, style, and performance is essential. Enter Gildan performance shirts, a brand that has stood the test of time and revolutionized the athleticwear industry. The international clothing company is known for creating outstanding performance attire for professional athletes and personal fitness adventurers alike. Here's why we LOVE Gildan performance shirts.
Commitment to Cutting-Edge Fabrics
Gildan athleticwear is created using state-of-the-art materials that work as hard as you do. Many of these shirts are made using innovative polyester, naturally pulling moisture away from the body. Other options use ultra-high-quality cotton polyester blends, which provide comfortable breathability to keep you cool during intense physical activities.
Gildan is committed to using the best of the best materials to make their athleticwear and performance shirts. With an unparalleled dedication to quality, athletes can rely on Gildan performance shirts during any activity. The luxurious fabric they craft these incredible shirts from is a testament to their reliability and consistent quality. After all, as any athlete knows, the right material can be a game-changer for your performance.
Superior Comfort to Put You At Ease
In any physical situation, comfort is paramount. Gildan performance shirts deliver consistent comfort game after game. Because they're made with premium materials, these athletic shirts offer smooth wearability and a soft-to-the-touch texture. Because Gildan performance shirts are made with athletes in mind, they provide a comfortable stretchability that does not hinder your movement and physical activity. This freedom of motion gives you the mobility and range of motion you need to be faster, stronger, and more agile.
Once you experience the comfort of Gildan performance shirts, you'll understand the hype behind these incredible athletic tops. The comfort the Gildan provides is a critical benefit to athletes and gym-goers alike. Because you don't have to worry about itchy or uncomfortable shirts getting in the way, you can easily focus on your run, workout, or team practice.
Styles and Design that Match Your Personal Flair
Let's be honest; athleticwear is not just about performance. Finding performance wear that expresses your style and taste can be a critical factor for many athletes. That's where Gildan's versatility in style and design comes in. Gildan athletic shirts are available in a wide range of styles, colors, and sizes, catering to individual tastes and performance needs.
From classic options, like the Gildan 42000, which boasts a timeless crew neck and short sleeve design, to the Gildan 46000L, which features a flattering feminine design, Gildan performance shirts have it all.
Durability You Can Count On
Serious athletes know that durability is essential to successful athletic wear. Intense physical activity demands extreme durability and reliable, lasting power from your performance attire. Fortunately, Gildan specializes in creating well-made athleticwear that stands the test of intense exercise.
Gildan shirts are built to withstand the rigors of an athletic lifestyle, game after game. Whether you're a runner, heavyweight champion, or casual cyclist, Gildan athletic shirts are built to withstand the most extreme motion and physical activity. You can count on their long-lasting ability and outstanding performance, no matter what.
Customizable Excellence For Teams
Another significant upside to Gildan's line of athleticwear is the many options they offer for printing and customization. Because Gildan provides a wide variety of athletic shirts, they have several options that are ideal for adding custom logos, screen printing, sublimation, or other forms of personalizing your custom performance shirts. This makes them an excellent option for sports teams, schools, and athletic leagues because they simplify personalization.
Budget-Friendly Athleticwear
Of course, one of the best things about Gildan performance shorts is their affordability. While some other brands may have comparable performance qualities, you can't beat the incredibly low prices of most Gildan athletic apparel. With countless options to fit everybody's budget, Gildan remains a powerhouse in the athletic community. Despite their comfortable price points, Gildan performance shirts are among the best on the market.
Get More Out of Gildan Performance Shirts
Have we convinced you yet? For outstanding performance wear on a budget, you simply cannot beat Gildan performance shirts' quality and price point. When you're ready to unleash your full potential in the athletic arena, you can't go wrong with Gildan. Get your Gildan performance shirts today.
---
Related posts