Official T-Shirt Wholesaler Blog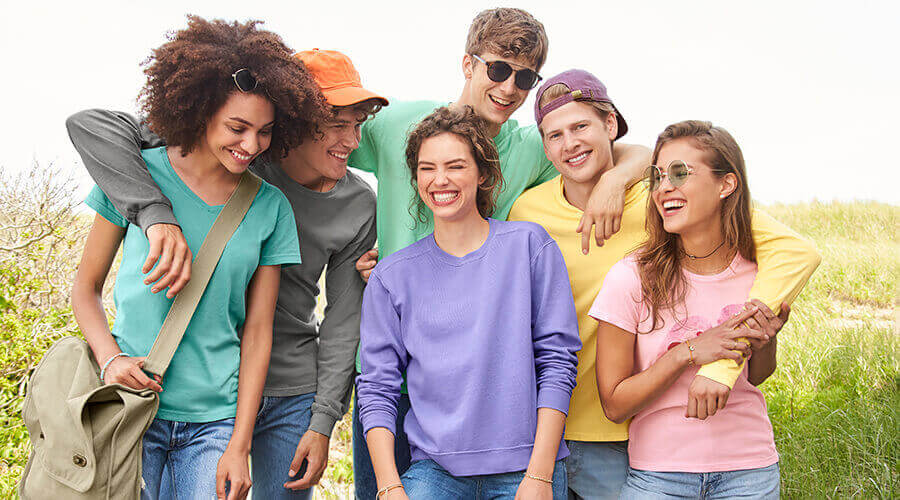 The fashion industry is all abuzz about pigment dye. What is it? Where can you get it? What will it look like? What will it feel like? And is it the same as garment dye? Wait, what's garment dye? Hold up, we get it. There's a lot of information and misinformation out there. We're dying—or dyeing—to set the record straight on the popularity of pigment dye, the deal about garment dye, and why pigment-dyed apparel is trending in a big way.
Why Dye
You probably have a lot on your mind when it comes to following the latest fashion trends. Style, cut, color, cost. But pigment dye? Even if you've heard of it, it may not be high on your list of fashion fads.
We'll let you in on a little secret, though. Before we even tell you about pigment dye, there's an even bigger word to take note of: proprietary.
Pretty boring-sounding word, right? Yeah, proprietary, in this case, is the exclusive right or title to something. Hey, we're not lawyers here. There's no real propriety on pigment dyeing that'd hold up in court. But propriety gets interesting when our best brands start laying claim to their own proprietary pigment-dyed apparel. That is, these big brands are starting to say, "Hey, we've found the secret sauce, and we're the only ones doing it right." When companies start talking smack, listen up, because it's time to pay attention. Shots fired mean a burst of sudden popularity in pigment-dyed apparel.
J. America. Threadfast Apparel. Adams. Authentic Pigment. They might not be claiming legal propriety, per se, but they've all got their own way of doing pigment dyeing. And in this case, they might be right. Each one's take on this special treatment is unique.
Here's why you should keep your eye on pigment dye.
When Distressed is Best
Don't get us wrong. We loved distressed, too, but finding your favorite t-shirt or hoodie with holes in it is a different kind of distressing. The sad story is that the more we love our clothes, the better they look, and the more we completely wear them out. Into the trash that tee goes. Goodbye, old friend.
Sad story no more. Pigment dye is the most popular answer to that well-loved look without the worn-out destruction. Pigment dyeing is cheating time when it comes to buying the best distressed apparel right from the start.
Garment dyeing is another way to get that well-worn look, but try to follow this. A piece of apparel can be garment dyed and pigment dyed. In fact, it's unlikely you'll ever see a pigment-dyed piece of apparel that isn't garment dyed. But not all garment-dyed apparel is pigment dyed. And there's no such thing as garment-dyed fabric. There's only garment-dyed garments.
Capeesh? No? Great! We'll explain what's what and why.
Regular Dye, Pigment Dye, Garment Dye
Here's what you've been waiting for. We've told you why you should care about pigment dye, but now we pull back the curtain to reveal some real answers. No, that curtain probably wouldn't be pigment dyed or garment dyed, either. It'd be regular dyed, darn it, but we'll cover that. It's time to get specific.
Regular Dye and Regular Dyeing
There are all sorts of dyes and dyeing techniques. Look around you. Your shirt, your pants, your carpet, your curtains, your couch. Did you ever realize how much dyeing was done behind the scenes? And there are all sorts of methods to the dyeing madness. To keep it simple, we're going to talk about regular or traditional dyeing, also thought of as large commercial dyeing. Regular dyeing is the application of dye on textile materials, like fibers, yarns, and fabrics. Application just means applying or submerging these materials onto or into a special solution of dyes and chemicals, depending on the fabric. Molecules in the dye chemically attach to the molecules in the material. The color isn't just absorbed into the fabric. It's chemically bonded. Done correctly, you've got one solid color. Cut from the same indistinguishably dyed material made into fabric, your shirt's then stitched together. The color will be perfectly uniform. Sure, you can get that desired distressed look over time with some fabrics, like cotton, but you'll have to work for it.
Pigment Dye and Pigment Dyeing
It's said that if you cut a pigment-dyed garment in half, the inside of your piece of apparel will be...white. Or beige. Or whatever natural shade your textile materials, like fibers, yarns, and fabrics, started out as. That natural shade remains untouched by pigment dye. Why? For starters, pigment dye is a post-production process. That means that your t-shirt, tank top, hoodie or sweatshirt already exists. It's already been cut and stitched together. Anything done past this point is garment dyed because it's already a wearable garment. Want some color, though? And make it distressed? Pigment dye's a great choice. Pigment dye sits on top of your finished garment instead of embedding into the fabric. Don't get us wrong. There's still a little science behind the process to bind the dye pigments to the garment, but it's more coating than changing the actual chemistry throughout the whole fabric. Pigment dyeing is a craft. It creates a weathered and worn-in look to your clothes because it's not an even dyeing process. And that's exactly the point. A naturally distressed t-shirt's color might start to fade in the seams, around the collar, the waistband. Who knows! That's the beauty of distressed. But what's happening with natural distressing is that you're losing the life of your favorite tee. The answer to that problem is the faux-finish of a pigment dye. It looks just like your best distressed piece, but it looks vintage from day one. And every single piece is unique. No two pigment-dyed pieces are alike. Its uneven tone is an art.
Garment Dyeing
There's some confusion around garment dyeing. To begin, there's not really garment-dyed fabrics, only garment-dyed garments. Garment dyeing is exactly what it sounds like. It's dyeing an already-finished piece of apparel, not a piece of fabric. Remember how we said that pretend curtain probably would never be garment dyed? For fun, we'll explain why. Garment dyeing—and pigment dyeing—isn't colored evenly. That's why it's so sought after. But imagine a large piece of fabric not uniformly dyed. Those curtains would be on clearance. That's why garments are dyed, not fabric. While this look lends nicely to pigment dye, not every garment-dyed piece of apparel is pigment dyed. If a t-shirt is complete and then regularly dyed to saturate and chemically alter it, it's garment dyed. If a t-shirt is complete and then sprayed to coat the top layers and chemically adhere to it, it's pigment dyed. A regular-dyed garment has many journeys it can take. It might stay pristine or even get a vintage look over time. But a garment-dyed pigment dye is only doing distressed. Don't worry about looking for the long label. Your pigment-dyed t-shirt is garment dyed, but not every garment-dyed tee is pigment dyed. Only want pigment-dyed pieces? Then please, look for the label. You'll see it because your favorite companies are proud to let you know it's pigment dyed.
Pigment Dye's Popularity
Aside from the distressed style without the broken-down look, there's something so comforting about a well-weathered top. Maybe our minds tell us that that tee's been with us through the good and bad times, even if it's brand new with pigment dye. With pigment dye, that comfortable—and comforting—tee has a lot of life left to give.
And those big-time brands we mentioned earlier? They know it's not all about looks. The key to becoming the favorite top is look and feel.
Threadfast Apparel? Their key to pigment-dye popularity is a blend. Anyone who's felt the softness of the a blend is a believer. So they've combined a combed and ringspun cotton with a polyester for super-soft results. Is the Threadfast Apparel 130A Unisex Pigment Dye Short-Sleeve T-Shirt the best? Threadfast Apparel hopes you think so.
J. America's secret to pigment-dye success? Style. They're counting on when you get cold, ladies, you'll reach for the J. America JA8666 Women's Oasis Wash Crisscross V-Neck Fleece. It's a fashionable fleece sweatshirt with a V-neck, raglan-sleeves, and extra-long cuffs. Add pigment dye to the party? It's an unforgettable look.
Adams goes for the obvious. What's one product many of us work so hard to break in immediately? Adams is pretty sure it's a hat. The Adams AD969 6-Panel Low-Profile Washed Pigment-Dyed Cap is the perfect place for pigment dye. Hats off to them for thinking that a relaxed cotton twill needed a little pigment-dye pop.
What's Authentic Pigment's claim to pigment-dye fame? Taking on interesting items. What's cooler than toting around the Authentic Pigment 1902 Pigment-Dyed Canvas Field Bag? Looking like you've owned it forever. Pigment dyeing canvas softens that rigid material right up. Broken in immediately is what you'll find with their pigment-dyed bags and totes.
Try Pigment Dye
If an entire industry is inspired by pigment dye, why not try pieces from your favorite brand's pigment-dyed pieces? It's a look that's unmistakable. Every t-shirt, sweatshirt, tank, hat, and tote? It's all unique. Pigment-dyed apparel is both soft and stylish.
Are you trying to turn a new tee into a vintage go-to? That's old news. Let pigment-dye apparel create your favorite shirt for you.
Hey, thanks for the read! If you love our blog, you should sign up for our emails chock-full of savings and more awesome content from us here at T-Shirt Wholesaler. That's what you came here for, right?
---
Related posts