Official T-Shirt Wholesaler Blog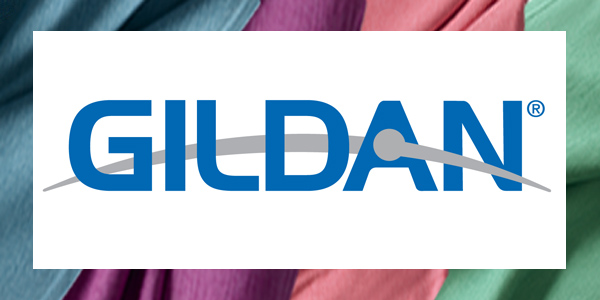 This topic is sometimes a heavy one. Although sometimes we like to make light of it. Have we gone soft on you? No, we're solid on our performance. Yeah, we're ultra serious. What on earth are we talking about? Why, the many collections of one of our favorite brands, Gildan, of course. Let's get into weights, performance, softness, durability and many more features of Gildan. Let us help you find the Gildan style best for your needs.
Fave Five
Maybe you're looking for the best shirts for embroidery? Or you're looking to do a little direct to garment printing or screen printing? Or looking for that perfect blank tee? The good news is that Gildan is sure to have it. We almost said that the bad news is that there are so many options, but we're about to take out all the guesswork with our five favorite Gildan styles: Ultra Cotton, Heavy Cotton, DryBlend, Performance and Softstyle. We promise, one is sure to suit you to a tee. But let's talk a little about what's what.
Ultra Cotton
Gildan's Ultra Cotton isn't kidding around. In 100 percent cotton and coming in at 6.1 oz., it's our weightiest pure-cotton tee we offer in the Gildan family. It's certainly worth the weight, for several reasons. For traditionalists, Ultra Cotton has the heaviest feel without the see-through effect some people dread. With that heavier feel, it's that traditional touch of pure cotton you'd expect. But for those die-hard traditionalists, Gildan's done us a few favors. For starters, Ultra Cotton's preshrunk jersey knit. A 100 percent cotton of the past didn't stand a chance against the dreaded dryer, but Gildan's preshrunk this fabric so your tee will remain the same, wash after wash.
Another improvement with many tees in the Ultra Cotton collection is the tear-away tag. A tear-away tag does exactly what it sounds like it should. It's loosely stitched with usually a paper-like material that can be easily removed. It's great for post-print. Who manufactured this shirt? Well, Gildan did. But who made it? You did, so far as any of your buyers know. This brings us to the reason Ultra Cotton is a fan favorite. Whether printing for your brand or embroidering for your business, Ultra Cotton's heavyweight comes in as a heavyweight champion. A heavy fabric holds. In the printing world, that means a practically foolproof print. And as for embroidery, your stitch stays. Is there anything more timeless and traditional than the Gildan Ultra Cotton Pocket T-Shirt?
Heavy Cotton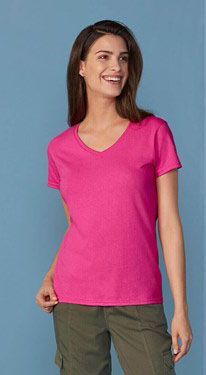 Gildan's Heavy Cotton is another heavy hitter in its tee lineup. But didn't we just get rather heavy with Gildan's Ultra Cotton? For every Gildan collection, expect some sort of overlap, but with differences that may matter to you.
Heavy Cotton delivers what you'd expect with 100 percent cotton made of that preshrunk jersey knit. It's got the same sturdy feel, tight knit, and no see-through appeal as Ultra Cotton. But thin is in with Heavy Cotton, at least with another heavy-duty tee as the Gildan G500VL Heavy Cotton Women's V-Neck T-Shirt. Sorry, were you not expecting style? At 5.3 oz., Heavy Cotton still has the weight to take on printing, embroidery and just overall wear, but with a little bit lighter weight comes a little more friendly feel. Trust us, it's still tough, but this Heavy Cotton is a little lighter, despite its name.
Look for a tear-away tag in some of these styles. With the Heavy Cotton, staying power for printing or embroidery, it's another tee meant to make your own, just a little lighter.
Dryblend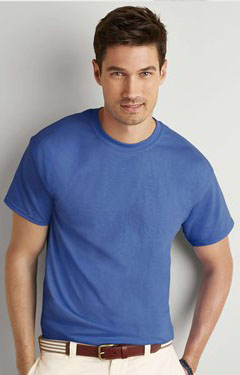 While Gildan might be known for its heavy cottons, allow us to bring up a blend you may or may not have even heard of. It's Gildan's own trademark fabric, DryBlend. Don't get us wrong. Gildan isn't quitting on cotton here. In fact, cotton is one half of the 50/50 blend with polyester that makes up DryBlend. With a blend, it's the best of the both fabrics. Cotton comes its noted breathable fabric enthusiasts love. Polyester adds softness and durability craved by those who'd like a little more flexibility to their fabric.
And when Gildan puts them together to create their DryBlend? It's a powerhouse blend that allows for breathability and while wicking away moisture, which keeps you cool and comfortable. Gildan sticks with its preshrunk cotton so that when mixed with polyester, it creates a tee almost guaranteed not to shrink. And with a 5.6 oz. weight, a heavy cotton and hearty polyester create the durability rivaling Ultra Cotton and Heavy Cotton, but with a touch more softness. It's the softer side of heavy. While some tend to shy away from a blend for printing or embroidery, simply because Ultra Cotton or Heavy Cotton are nearly foolproof, the heaviness of the fabric saves the day. If considering labels, Gildan DryBlend styles are transitioning to a new heat seal away from a standard sewn-in label. While the DryBlend is sometimes thought of as an athleisure tee, it's still traditional enough to be considered a shirt for any activity. Wanting to try a DryBlend? Allow us to point you in the direction of our DryBlend bestseller, Gildan G800 T-Shirt DryBlend 50/50 Cotton/Poly.
Performance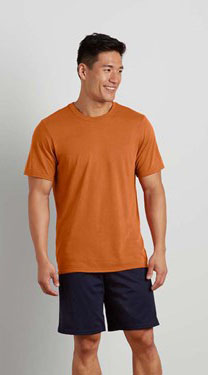 This Gildan line is pure polyester performance power. Gildan's Performance styles move away from cotton to 100 percent polyester, making it the tee you'll want on your team. Remember Gildan's patented DryBlend line? Well, Gildan's Performance gear has some tricks up its sleeve, too. Because Gildan's Performance line expects you to be working up a sweat, these tees have the Aqua FX wicking properties similar to the DryBlend line and Freshcare for anti-microbial properties, to keep your tee free from funk. At about a 5.0 oz. jersey knit, a Performance tee has a dense fabric that'll keep it in the game, but a lighter polyester than the heavier cottons and blends of other Gildan lines. When considering labels, you're free to move in a heat transfer label.
As far as material, it's not Ultra Cotton or Heavy Cotton for extraordinary ease in making your own, but polyester has been printed on and embroidered since its invention. Find a printer or embroider in the know, just to make sure these shirts stay sharp. With all that's gone into making this a tee to take on any activity, you'd never know it just by looking at it. It's certainly not the polyester of the past.
Check out the look of the look of traditional tee in Performance with the Gildan G420 5 oz. Performance T-Shirt. A Performance tee is something you won't just want to leave in your locker. Between you enjoying your favorite activity and Gildan's Performance line, it's hard to say just who's performing harder.
Try this trendy tee for women, the Gildan G420L Women's 4.5 oz. Performance T-Shirt. Ladies, what makes us want this tee on our team? Cap sleeves, a semi-fitted cut and longer length give this traditional tee a leg up with women.
Softstyle
With a line called Softstyle, it's easy to guess what Gildan was going for with this 100 percent ring spun cotton line. Hey, you're no softie if you opt for comfort above all else. In fact, this is the most comfortable cotton you can get.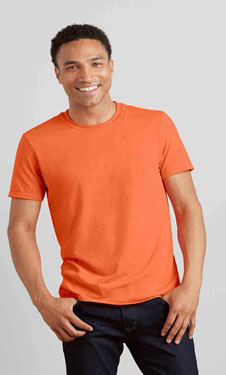 Gildan has its Heavy Cotton and Ultra Cotton lines, so what makes Softstyle so special? If you haven't heard of—or felt—ring spun, let us tell you what makes ring spun unique. Regular cotton, like what's used in the Heavy Cotton and Ultra Cotton lines, is processed into yarns of smaller and smaller size until they're of a standard thread. All done, right? Wrong. With ring spun, there's an extra step. Those same yarns are quickly spun around a ring mechanism—so, "ring spun"—onto a large bobbin. That process thins the yarns and twists the fiber into the same direction, resulting in longer, softer, and—get this—even stronger strands. Have a microscope handy? Regular cotton will look frayed and jagged; ring spun cotton will appear smooth. And all that twisting makes the fibers lock even tighter. For example, while the Gildan G640 Semi-Fitted T-Shirt SoftStyle Cotton comes in at just 4.5 oz., those interlocked fibers make ring spun cotton arguably even stronger than Gildan's Heavy Cotton and Ultra Cotton tees. But how do you really feel about it? No, really, it's all about the feel. While some people swear by the thicker feel of regular cotton, Softstyle is thinner, softer and lighter, with all the durability and still no show-through of a heavier line. It's not just a preference for fabric feel, though. Because of that extra in creating ring spun cotton, it costs a little bit more than regular.
Gildan's Softstyle is debatably the best choice for using with your own brand. It has the tear-away tag, coveted cotton for printing for embroidery, and the softness customers crave. Oh, and it's preshrunk, making sure those precious prints stay put. Softstyle means business for your business. Or as your own blank apparel, we think you'll agree it's okay to go soft on yourself.
Start Stylin'
We went totally tee on you, but guess what? Gildan doesn't just stop there. Under Gildan's Ultra Cotton, Heavy Cotton, DryBlend, Performance and Softstyle lines, you'll find hoodies, sweatshirts, long-sleeves, polos, tanks and more. And with sizes from XS to 5X, you're sure to find your perfect fit using Gildan's Sizing Chart. We gave you somewhere to start. Now go and find your Gildan style.
Hey, thanks for the read! If you love our blog, you should sign up for our emails chock-full of coupons, savings and more awesome content from us here at T-Shirt Wholesaler. That's what you came here for, right?
---
Related posts