Official T-Shirt Wholesaler Blog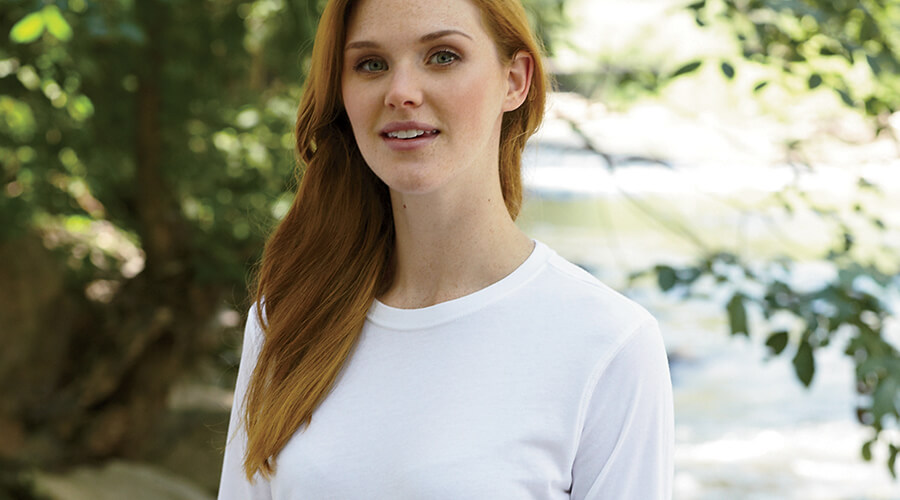 You've probably heard that you are what you eat. But if you are what you eat, are you also what you wear? The word "organic" is applied to a plethora of products, many most likely ending up in your grocery shopping cart. Even if your cart isn't full of organic fruits and veggies, you still might want to consider organic cotton t-shirts. What you put on your body might be just as important as what you put in it. Go beyond the buzz and learn what organic means for tees.
What's Organic?
Organic in apparel, such as t-shirts, isn't hype. A brand can't simply toss out the word "organic" on just any piece. It takes quite a commitment to be certified organic.
Countries that have gone organic are governed by strict guidelines to carry the "certified" organic guarantee. In the U.S., the National Organic Program oversees growing methods that integrate cultural, biological and mechanical practices that foster our resources, promote ecological balance, and conserve biodiversity. Synthetic fertilizers, sewage sludge, irradiation and genetic engineering, such as GMOs (genetically modified organisms) can't be used. Certified organic textiles, like organic t-shirts, must be made from organically grown fibers. Organic t-shirts are produced using methods and materials that have the lowest impact on the environment as possible, from seed to soil to shirt. And with cotton as one of our all-time favorite fabrics, especially in t-shirts, here's why organic cotton is on the rise.
Organic Cotton and the Environment
Something so small as buying an organic cotton t-shirt can have a great an impact on the environment. Cotton currently covers about 2.5 percent of the world's cultivated land, but it uses between 10 to 16 percent of the world's pesticides. That's more than any other single major crop and a lot of chemicals that end up in our environment. In fact, the World Health Organization classified eight of the top 10 pesticides most commonly used in conventional cotton farming in the U.S. alone as moderately to highly hazardous. Don't forget that people worldwide who are involved in producing conventional cotton are at risk, too. In organic cotton manufacturing, weeding is done by hand, by tools, with insects that help rather than harm, and by other natural processes. Organic cotton farming strives to keep millions of pounds of chemicals out of our environment.
Organic farming is less harmful to our air quality and atmosphere. Production of industrial fertilizers used for conventional cotton releases large amounts of carbon dioxide. Excessive application of nitrates leads to nitrous oxide, a greenhouse gas 300 times more destructive than even CO2. Organic cotton uses biological fertilizers, like chicken or cow manure, to naturally improve soil quality.
Organic cotton uses less water, too. Conventional cotton is repeatedly grown on the same soil, reducing soil quality, and leading to unhealthier crops. These crops require more water, resulting in heavy irrigation. According to the World Wildlife Federation, it takes more than 700 gallons of water to produce a single conventional cotton t-shirt and pair of jeans. Organic cotton is rotated from one soil to another, maintaining soil quality, which in turn produces healthier crops. Healthier crops require less water.
Organic Tees and You
Whether you're pledged to helping the environment or just curious about your choices, you do have some skin in the game. Here's how organic directly affects you and your health There's now growing concern that the copious amount of chemicals required in growing and processing conventional cotton can stay with the finished product. Even after washing, there's the chance that residue can remain and cause skin irritation. Some argue that those suffering from skin problems, like eczema and other irritations, might steer clear of even a conventional t-shirt and try an organic one. Organic cotton uses alternatives to manufacturer a finished t-shirt, such with natural or water-based dyes, peroxide for whitening, and other safer products. Organic cotton is also said to feel softer, is hypoallergenic, and can last longer than conventional cotton.
Our Organic Brands
While the organic cotton business is just starting to boom, you can support the brands that are giving you a choice. Some brands are wholly dedicated to organic apparel and more while others are just starting to carry organic lines and products. We are proud to offer many organic apparel. You'll find organic choices for your favorite t-shirt and more products from many of our popular brands. One brand wholly committed to the organic movement is econscious.

In econscious, you'll find organic cotton totes, hats, hoodies and, of course, t-shirts. While we've focused a great deal on organic cotton, econscious is also investing in earth-friendly materials, such as hemp, and reclaimed products, like 100 percent recycled polyester. If it's your first organic t-shirt, try the popular econscious EC1075 Men's 4.4 oz. Ringspun Value T-Shirt. It's pure organic cotton with the extra step of ring spun softness. Our bestseller for women is a fashionable v-neck organic t-shirt, the econscious EC3052 Women's 100% Organic Cotton V-Neck T-Shirt, also with the ring spun treatment. For a unisex appeal, try the econscious EC1007U Unisex 5.5 oz., Organic USA Made T-Shirt. It's also an organic ring spun cotton, but in a t-shirt made to universally fit both men and women. Despite its advantages, organic cotton still only accounts for 1 percent of cotton production worldwide. Supporting brands currently offering organic items will help encourage other manufacturers to join the movement. Switching your favorite t-shirt to organic may seem a small step, but it's the first of many in protecting our planet and possibly you and your family's health. Start making a difference by shopping for organic.

---
Related posts