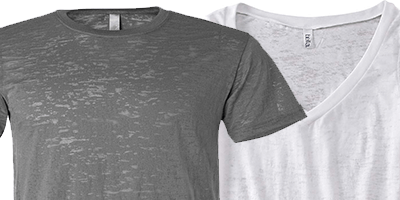 Remember your first concert? The excitement of seeing your favorite band live? The noise of the crowd cheering, the first act being awesome even though you had never heard of them, the lights, the smells, the amazement that you are so close to your idol.You leave the event with not only a ringing in your ear and an adrenaline rush that will last into the next day, but you also leave with your new favorite t-shirt with the band name printed across the front.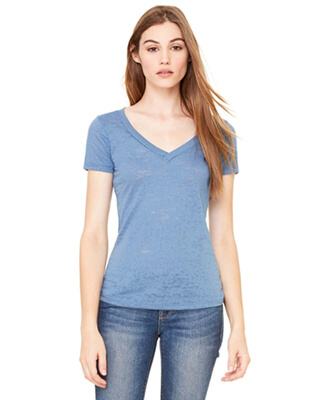 This is instantly your favorite t-shirt, you wear it the next day to school as a badge of honor that you were one of the lucky ones to have been at the concert the night before, you can feel your peers jealousy. You wear it over the weekend on your date, you kiss your new girlfriend in that shirt, that shirt goes to college with you and is worn just as much as it was worn in high school. The Bella + Canvas 8605 women's burnout v-neck t-shirt. It graduates with you and goes on your honeymoon with you and your new wife. It's so worn out, it's so soft and it's almost see-through, but even to this day, it is your favorite shirt.
Now you can get that favorite "worn-out concert shirt" look and feel without having to wait. The burnout fabric that makes up burnout shirts is one of the most popular fabrics on the retail market right now. As for the production process, a 50/50 cotton-poly blend is made and then the fabric is literally burned, burning the cotton out of the fabric and leaving a marbled look in the fabric with almost "see-through" characteristics in some spots. Burnout shirts still screen print wonderfully and also continue to wash great with minimum wear characteristics. Best of all, because the worn-look of these burnout shirts is produced within a controlled environment, the burnout fabric is strong and resists holes under normal wear and tear. Burnout shirts are made of the perfect fabric for layering and comfort.
T-ShirtWholesaler.com has available four different styles of burnout shirts from Bella + Canvas. The Bella + Canvas 8605 is a women's v-neck burnout shirt and the 8601 is a women's crewneck burnout shirt. Also for the men, the Bella + Canvas 3601 burnout short sleeve shirt is the way to go. If it's J. America you want, look no further than the J. America JA8254 women's burnout hoodie.
---
Related posts