Official T-Shirt Wholesaler Blog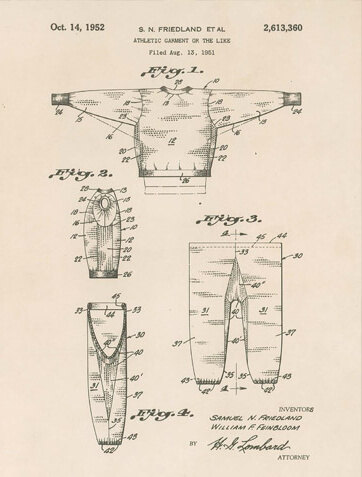 What does your hoodie represent to you? Better yet, who are you representing on your hoodie? Is it your number one team? Your Alma mater? Your favorite vacation spot? Maybe your hoodie tells a story that you might have long since forgotten. All you might remember is that the hoodie never leaves you out in the cold. Let's talk about our lengthy love affair with the hoodie.
FORECASTING A CHANGE IN FASHION
Hey, even we have been in this situation—and this is a totally judgment-free zone here. Think of a time you went on vacation, and whoever predicted the weather as you were packing was dead wrong. There you were, at your destination, as the locals muttered about it being the coldest season in July they'd ever seen. What do most of us do? Did you spring for a new winter coat? Probably not... and also not a hot commodity in mid-summer. But a nice little gift shop offered you a piece of apparel that's always in season and in demand. Not only did it offer you the warmth you needed, it was the quin-decennial souvenir that would show people for years to come that you'd been to Seattle or Chicago or New York. You might not remember it was the coldest season. You also could have forgotten that it saved you from being miserable on your trip. But you remember that trip, all because the hoodie is everywhere.
A HOODIE FOR ALL SEASONS
While so many people choose a hoodie as their favorite souvenir when they may have, ahem, packed a little light, and others are rocking only the choicest of prints, there's also a beauty to the simple look, feel and design. It's not just the best and brightest colors. It's about design choice these days. Do you like having a zip front? Check out the Bella + Canvas Unisex Poly-Cotton Fleece Full-Zip Hoodie.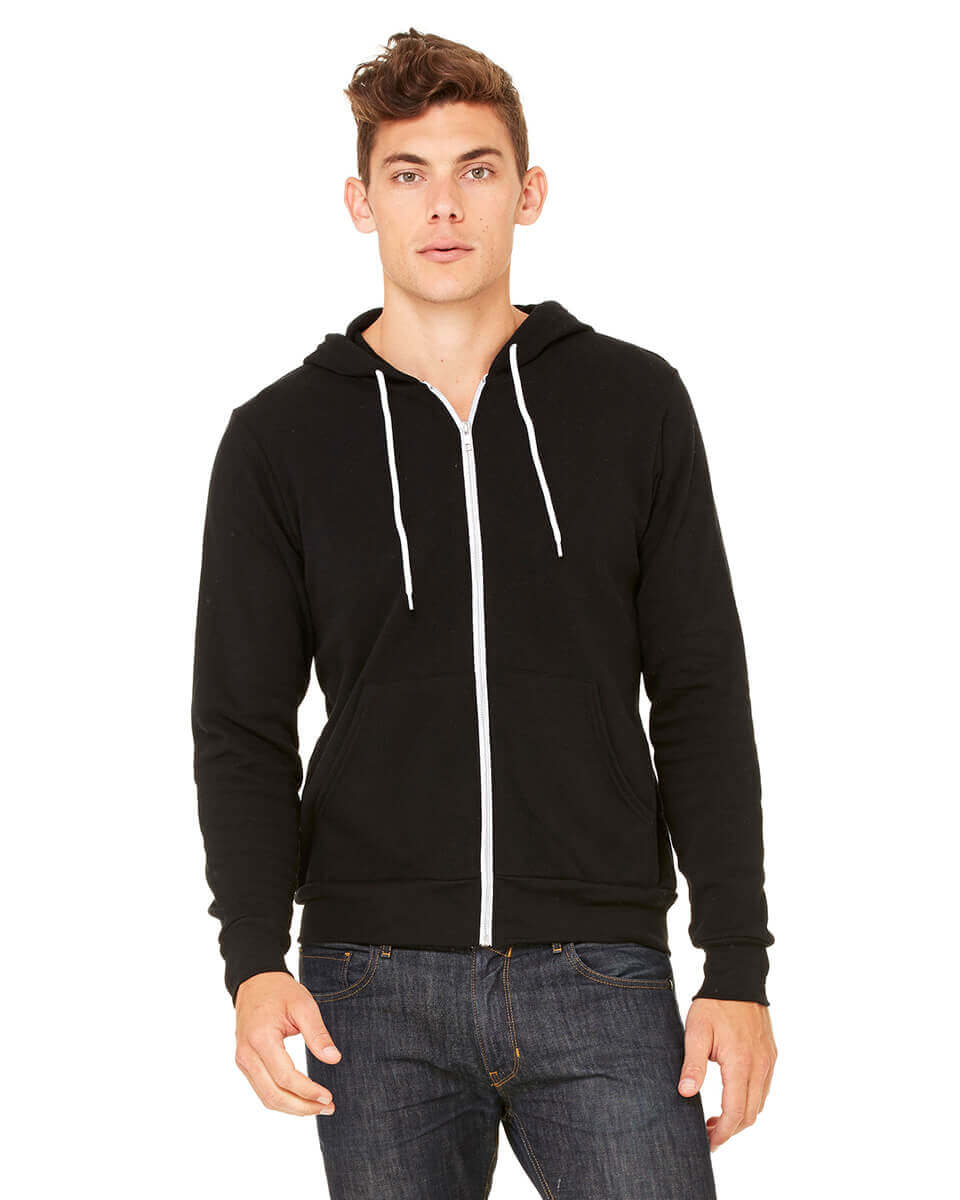 Love the pouch? How about the traditional Hanes Ultimate Cotton Pullover Hoodie? And how's this for fashion-forward? Ladies can rock a more fitted look, even with a hoodie, with the Anvil Women's Long-Sleeve T-Shirt Hoodie. And guess what? They're all still hoodies.
THE HISTORY OF THE HOODIE
Hoodies are as American as Mom and apple pie. Can you remember a time before the hoodie? The hoodie is no sweatshirt. Oh no. Don't get us wrong, sweatshirts have their time and place. They're also an American staple, but maybe a boysenberry instead of apple pie. The hoodie is a whole different animal. Why? Because it has a hood? Yes, but there's a little bit more to the story.
Hoodies are a true champion. No, really. A brand we so proudly carry, Champion, reportedly holds the claim to fame in heralding in the hoodie. Champion Products began as the Knickerbocker Knitting Company in 1919. Champion began making sweatshirts in the early 1930s because of an increasing demand to protect laborers from cold warehouses and outdoor elements. Already making sweatshirts, the brand added an extra component of warmth, a hood. With workers now reaping the benefits, high schools were making quick strides to get their star athletes appareled for the cold weather, too. Hoodies would quickly go on to replace the mainstay of long underwear. Who knew a hood could do such good?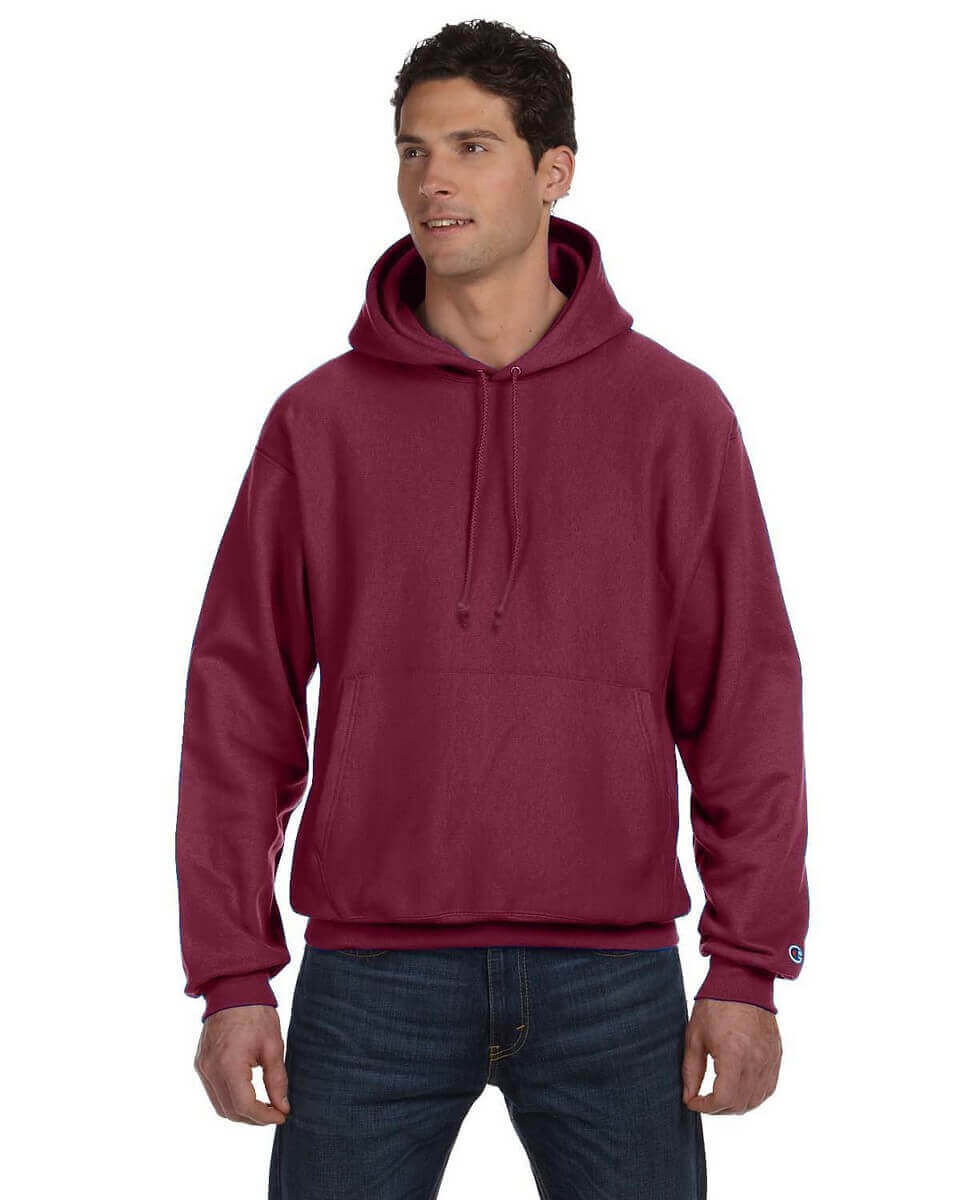 We sell the modern-day Champion 12 oz. Reverse-Weave Pullover Hoodie, with a bit more fit and flair than its predecessor, we're sure. While the first generation needed warmth, we get to celebrate warmth, comfort and style, all while ditching the long underwear.
THE LOOK OF A DECADE
While the industrial need for a hoodie will never disappear, the hoodie has gone through seemingly-incompatible phases simultaneously. The 1990s was the biggest boom and saw an insurgence of gritty counterculture hoodie wear. Meanwhile, the very top fashion designers of the time borrowed from this counterculture. And hoodies still had their place among student athletes, but now hoodies were being worn across the entire school population. No matter your age or demographic, you just might have been wearing a hoodie.
NAME CHANGER
Today you'll find hoodies are still going strong. At the gym, at the grocery store, on the best vacation of your life, look out, you're surrounded. It's made such a mark, it has resurged into a category known as "Athleisure Apparel."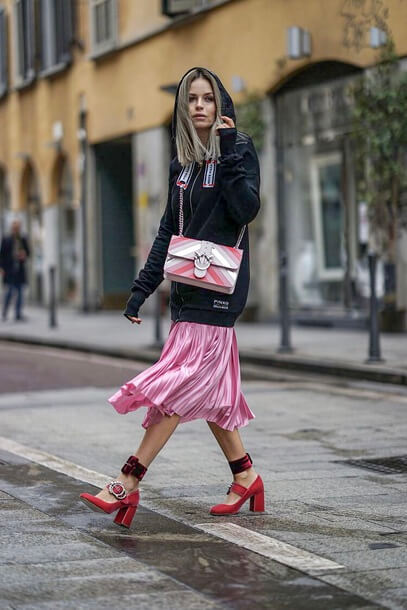 This term is a blessing to us hoodie lovers. It's America taking a stand and telling this world that this isn't just weekend gear. We don't stay at home and hide in our hoods, no way! This is fashion-forward and always appropriate. When you get that next invite to an event, make sure it's athleisure apparel-optional because black tie dinners are so out. Who said? Athleisure apparel did. Okay, maybe not to your brother's wedding. But this shift in the fashion world is making it appropriate for almost every event.
HOWEVER YOU SLICE IT
Are we still hungry for pie? Oh, yes, back to our other American staple, the hoodie. How ever you are wearing it, we have many more of your favorite brands in a plethora of styles and colors to meet your wants and needs. We'll always be upholding the hoodie heritage.
SHARE YOUR STORY
What's your favorite hoodie in your closet? If you have a special hoodie with a story to go along, we'd love to hear about it. Be sure to leave your story in the comment section below. We might just feature you in an upcoming blog. Your hoodie is probably already telling the world a story. Now let us in on that story, too.
---
Related posts