Official T-Shirt Wholesaler Blog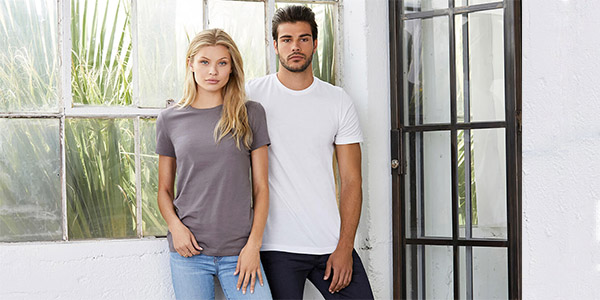 Who doesn't own a t-shirt? If most of us could get away with wearing them all day, every day, we would. That's because we love cotton. This soft, natural, renewable, plant-based product is only made better when we add durable, colorfast, ultra-smooth synthetic fibers. For purists, 100 percent cotton is readily available, and for folks who need certain qualities in their t-shirts, cotton blends and poly are just as plentiful. Being comfortable to wear and easy to take care of makes the t-shirt a wardrobe staple, and the many variations in t-shirt styles allows you to discover a tee that is both flattering and fitting of your personality.
Fit That Body Type
Whether you're an athletic type who prefers a semi-fitted design that is cozy and not too clingy, or a loose-and-baggy-type wearer, t-shirts are designed to go with the flow. Style is only limited by your freedom of expression and the look you hope to achieve with your shirt. Men and women generally desire the most flattering fit. And since no two people are alike, designers have made tremendous progress in improving the wearability of the modern tee. Women's t-shirts can be specially designed with curved seams to accentuate the natural shape of a woman's body, since the straight sides of a regular t-shirt can be unflattering. This same straight-side t-shirt is often an ideal fit for men and is an easy choice for youth clothing. The way the tee sits on top of your jeans has to be considered, as does the neckline and the cut of the sleeves. Overall, there's been a gradual shift towards a more relaxed look for men and women, where the length, seams, and sleeves are subtly changed to give the most effortless look with maximum appeal.
Here's What It Means
Unisex - The ever-growing trend of unisex t-shirt design seems confusing at first. Unisex is especially popular in youth sizing, because younger body types are more alike than not. Unisex adult sizing falls somewhere between men's and women's traditional sizing. So, a unisex large would be bigger than a woman's large but smaller than a man's large. It is always helpful to read reviews to get an idea of a particular manufacturer's unisex styling, or look at actual measurements if you need specifics. Don't let the neutrality of these shirts scare you. Afterall, we all want the same amazing feel and relaxed look, and these shirts are designed for the average joe or jane, and fit the broadest spectrum of body types.
Regular - Your everyday, not-too-loose and not-too-tight crew neck, as it was originally produced for generations. Timeless, comfy, classic look and fit.
Retail - Possesses some variation of body-hugging flow, as it has been designed to hug the shape of the wearer's body, the opposite of drapey designs. Slim styles are ideal for accentuating athletic and lean body types. Also known as junior fit, fashion fit, premium fitted, semi-fitted, and slim fit. This is the most contemporary design of the basic tee.
Relaxed - Generally features a wider body, more spandex and girth in the neckline, and longer sleeves, taking a more basic approach to oversizing. These shirts work well to have extra length for tucking the shirt in, and are the utmost casual when untucked.
Flowy - Describes a wide variety of modern, fashion-forward silhouettes designed to flatter all body types. The fabric is meant to drape away from the body, with these styles tending to be looser and slightly oversized. Typically designed for women, designers have experimented with varying ways to maximize drape, that is, the effortless way a shirt swings and hangs on your body. Hemming, neckline, and sleeve variation also leave a lot of options for pairing with jeans, skirts, leggings, etc.
Slouchy - Even more oversized than the previous. The silhouettes are extremely generous and forgiving, making them ideal for women of bigger proportions, and for layering over more close-fitting garments. You will be amazed at how much you can relax and be yourself in a shirt like this.
Boxy - Could be viewed as the male equivalent of slouchy. Not cut to any particular shape or tailored, a boxy top will not hug curves or the body per design. These shirts are usually very affordable because tube seaming (rather than side seaming) allows for quicker, cheaper production, but can be side seamed as well.
Junior - A petite, compact version of the classic faves. These shirts usually have shorter cap sleeves and aren't as long as adult-audience shirts. Less girth in the chest and a more narrow taper at the bottom hem keep the waist and hips in proportion. Styling is usually considered to be geared toward younger women.
Missy - A more conservative approach to feminine styling makes missy or ladies fit a well-balanced tee for most women. It tends to be slightly less fitted than junior or retail styles, but is not as loose as a flowy or slouchy style.
Sleeves are Life
Short Sleeve - The most common and traditional type of t-shirt sleeve. It covers about half of a person's upper arm, but length can vary slightly depending on the design. It can also be more or less fitted. Usually, fitted short sleeves are seen on women's, juniors, and retail t-shirt styles. The short sleeve is a universally flattering sleeve, and is the lifeblood of what makes a t-shirt a t-shirt.
Sleeveless - So versatile, t-shirt manufacturers started making them intentionally. Rejoice, put your scissors away, you no longer have to make your own. Often seen as a type of sporty tank top, the style leaves the shoulders bare, sans straps. For a more finished look, the arm holes are hemmed, and can have a ribbed finish (athletic or retro feel), or can have a seamless finish with big, open, flowy holes meant to expose more underarm area. Women's fashion took the design and utilized lighter fabric, camisoles, layering and flowy style for a more sophisticated look. These tops are best for warm weather or for layering with other t-shirts. Sleeveless t-shirts are sometimes called muscle shirts because they leave the upper arms completely exposed, and are often utilized for athletic and workout apparel.
Cap Sleeves - Exactly what they sound like: cute little baseball caps on your arms. Okay, that might be hyperbole, but women's arms are more flattered by sleeves that cover the top of the shoulder but do not hang around and under the arm. They are usually finished in a tighter manner at the exit of the sleeve and are sometimes embellished. The shape of the cap can range from sleek and simple to puffy and exaggerated, ultimately dependent on the overall design of the top. Cap sleeves are predominantly seen in women's styles, but occasionally pop up in the men's section for aggressive trend-setters.
Three-Quarter Sleeve - Typically falls just below the elbow, but any extra-long sleeve is usually called this just the same. These sleeves can be fitted, but they are also seen in a regular, somewhat loose style. Retro-style ringers and raglans often have three-quarter sleeve options. A variation on the three-quarter sleeve is the Dolman sleeve, which is very loose and flowy at the upper arm but then becomes snug around the elbow or wrist. This style is great for cooler weather and for layering over shorter-sleeved t-shirts.
Long sleeves - The best way to keep rockin' a t-shirt when the weather gets colder, but still made from a single layer of lightweight fabric. Longer than three-quarter sleeves, these always extend all the way to the wrist. The most common style of this sleeve is cut in a straight line down the arm, with no notable bagginess. The sleeves can end in a ribbed cuff that is tighter around the wrist, or they can have a looser, open wrist. Most men's styles have some sort of wrist cuff, while women's styles are more likely to be cuffless or flare out at the wrist.
Raglan sleeve - Does not refer to the length of the sleeve, but rather the style. This distinctive look is also referred to as a baseball tee because the style is synonymous with many baseball uniforms. With a raglan sleeve, the sleeve is attached to the shirt at the shoulder instead of the arm hole. This prevents wear and separation. Often, this style contrasts different colors of fabric for the sleeve and the body to emphasize the differentiation in the sleeve seams. The end result is a sporty, retro shirt that works well in your wardrobe.
This Is a Collar-Free Zone
Function, fashion, preference, oh my! Luckily, it is easy to balance all of these things in a t-shirt. We can't speak for your formal wear, but with the t-shirt, the choice of a neckline is usually determined by a combination of function and style, since they're all pretty comfy.
Crew - AKA "the round neckline," is the most traditional and common t-shirt neckline. It sits just under the base of the wearer's neck. This makes it the most conservative type of neckline, where plain and simple does the job. It is also the most popular style for men's undershirts, because men find it easy to meld it into their wardrobes.
V-Neck - Started off like a crew neck having a bit of fun, giving the neck a little more space and the tee a little more style. The point of the "V" is either mitered or folded, lending two distinct looks. Women's t-shirts have more variation in the depth of the V than men's tees. Some V-necks stay close to the size of the regular scoop neck, while some form a deep V that can extend several inches down. The range of sizes makes it easier for women to find a V-neck that works with their other garments, jewelry, and scarves. Whether you like the purest decolletage or prefer to layer it with camisoles or sleeveless t-shirts underneath, V-neck t-shirts are fun and a bit more fancy for both men and women.
Scoop - Almost exclusively used for women's t-shirts. This neckline is medium low in front, rounded and wider than the base of the neck, often falling around or below the clavicle. It is a very flattering cut, but could also been viewed as bold and daring. Very exaggerated scoop necks are often paired with slouchy fit, which can extend the neckline to edges of the shoulder or even down the back.
Henley or Y-neck - Best described as a hybrid of crew and V necklines. This banded neckline consists of a flat, shaped narrow band finishing the neckline and front opening. It is common in both men's and women's apparel and is considered to look more stylish than a standard crew or V-neck t-shirt. Typically having four or five vertical buttons going down from the neckline, the Henley draws your eyes to this little detail, which is both functional and fashionable. Unbutton some buttons for a casual affair, or keep it buttoned to the top for a more business-casual approach without sacrificing the ultimate comfort of a t-shirt.
Ringer - A sporty style in which the jersey shirt fabric is one color, but the ribbing used for the collar and sleeve bands are of a contrasting color. So-named because of the "ring" of the contrasting neckline, these shirts sometimes have rings added to the sleeves as well. These t-shirts can be plain or patterned and of varying lengths, and are a versatile choice for designers attempting to create retro, sporty, and classic looks.
We hope this guide helps you find your favorite. Since you can't go wrong with a t-shirt, chances are, you'll love whatever you find. With a color palette as broad as a box of crayons, all you have to do is decide which shirt is going to flow with you, for you, and on you when you wear it.
---
Related posts