Official T-Shirt Wholesaler Blog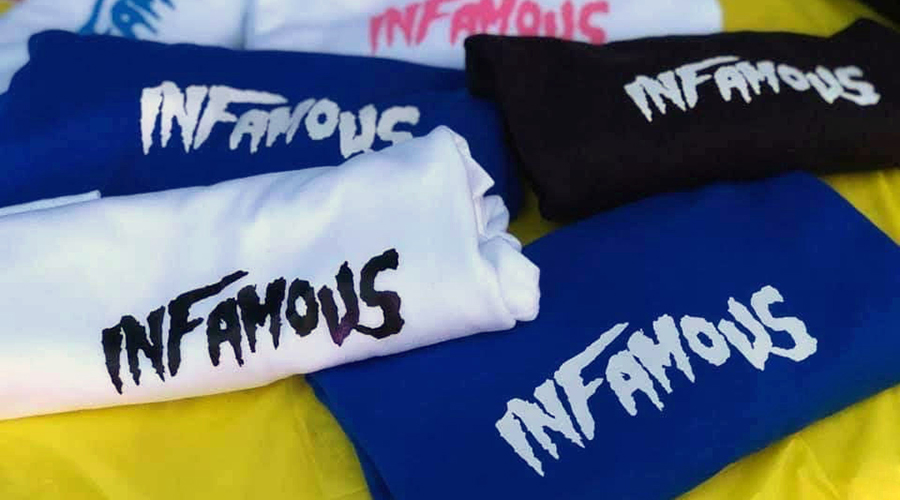 It takes guts to try to sell t-shirts by approaching a random group of skateboarders. It's even better when you actually do make that sale, and actually, it's the first shirts with your design that you've ever sold. It's the kind of bold move that'll make you famous—or infamous.
Meet Kyle Matthews, creator of the skate-culture and street-wear brand Infamous Street Co. And he proudly remembers hawking those first creations out of a backpack.
From a Backpack to a Business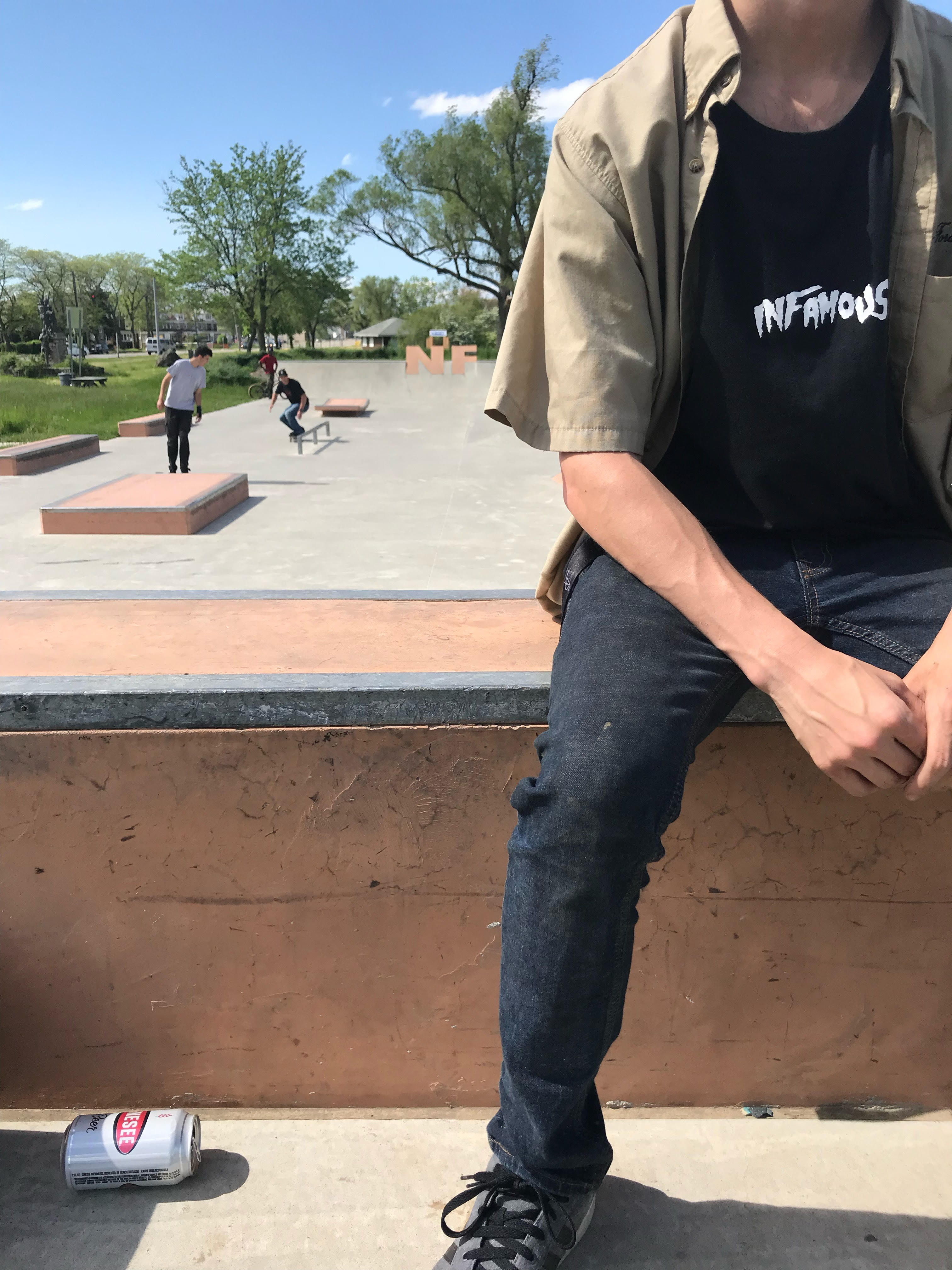 It was practically a dare and definitely a defining moment.
"I'd told my buddies, 'Hey, I'm going to start this company, I'm going to make these shirts and stuff,'" Matthews said. "They were like, 'Yeah, I don't know, dude, maybe that's not the greatest of ideas, no one's really going to buy them.' I was like, 'Yeah, I don't know, it's worth a shot.' I remember I met up with them later at a skatepark here in Brockport. We were skating around and as we were about to leave, some other skateboarders had shown up. On my way out, I told my friends, 'Hey, hang on, I'm going to see if I can sell a t-shirt to one of these guys.'"
Matthews' friends watched as he approached strangers who asked him what colors he had. He sold three tees on the spot.
"My very first customers wound up being other skateboarders. Absolute, complete and total strangers. I'd never met these people before in my life. I think they gave me $20 a piece for three shirts. Right then and there."
It's the kind of thing that makes you feel like an overnight entrepreneur, especially if you're a young skateboarder yourself, but how did Infamous Street Co. even come to be? Why Infamous Street Co.?
The name was probably infuriatingly easy. When Infamous Street Co. was founded in 2014, skateboarding was making some progress with being recognized as a legitimate sport from its decades-old beginnings, but it was still sometimes catching a bad rap.
"The ideology of Infamous came from obviously that word means something or someone incredibly famous, but for bad reasons," he said. "I thought of it as, 'Alright, skateboarding is famous, and a lot of people who skateboard are famous, but some people still see these guys as outcasts.' That kind of resonated with skateboarding."
As a young teen, new to Brockport, New York, skateboarding came naturally to Matthews, where other sports hadn't. What didn't come easy? Sponsorships for his and his friends' skateboarding. As demo tapes went ignored, Matthews had a simple idea.
"One day, I just got fed up with it and thought, 'Alright, if no company is going to sponsor us, then I'm just going to make a company to sponsor us,'" he said. "And that was the birth of Infamous."
The Art of Vinyl
It helped that his uncle had equipment that would make the desire of creating his own brand into an actual art that he still uses today. Matthews, it turns out, is a vinyl printer. For those printing with vinyl, it's a lesser-utilized but beloved art, using simple but bold designs. And that's right up Infamous Street Co.'s alley.
"That's the way I had to learn how to do it. So a few months later, that's the equipment I ended up buying," Matthews said. "It's an old-school technique if anything. I still use it, and I don't know many people who do. I definitely prefer it over ink. It's a lot cleaner, it's a lot faster, and it's more cost-effective."
Infamous Street Co. isn't selling tees out of backpacks, anymore, but vinyl printing is still Matthews' go-to for even large-scale projects.
"It's not the easiest technique, and there are some tradeoffs, you have to know what you're doing," he continued. "At this point, I know how to use it, it's not going anywhere, and I'm going to continue to use it as long as I can."
What's Now, What's Next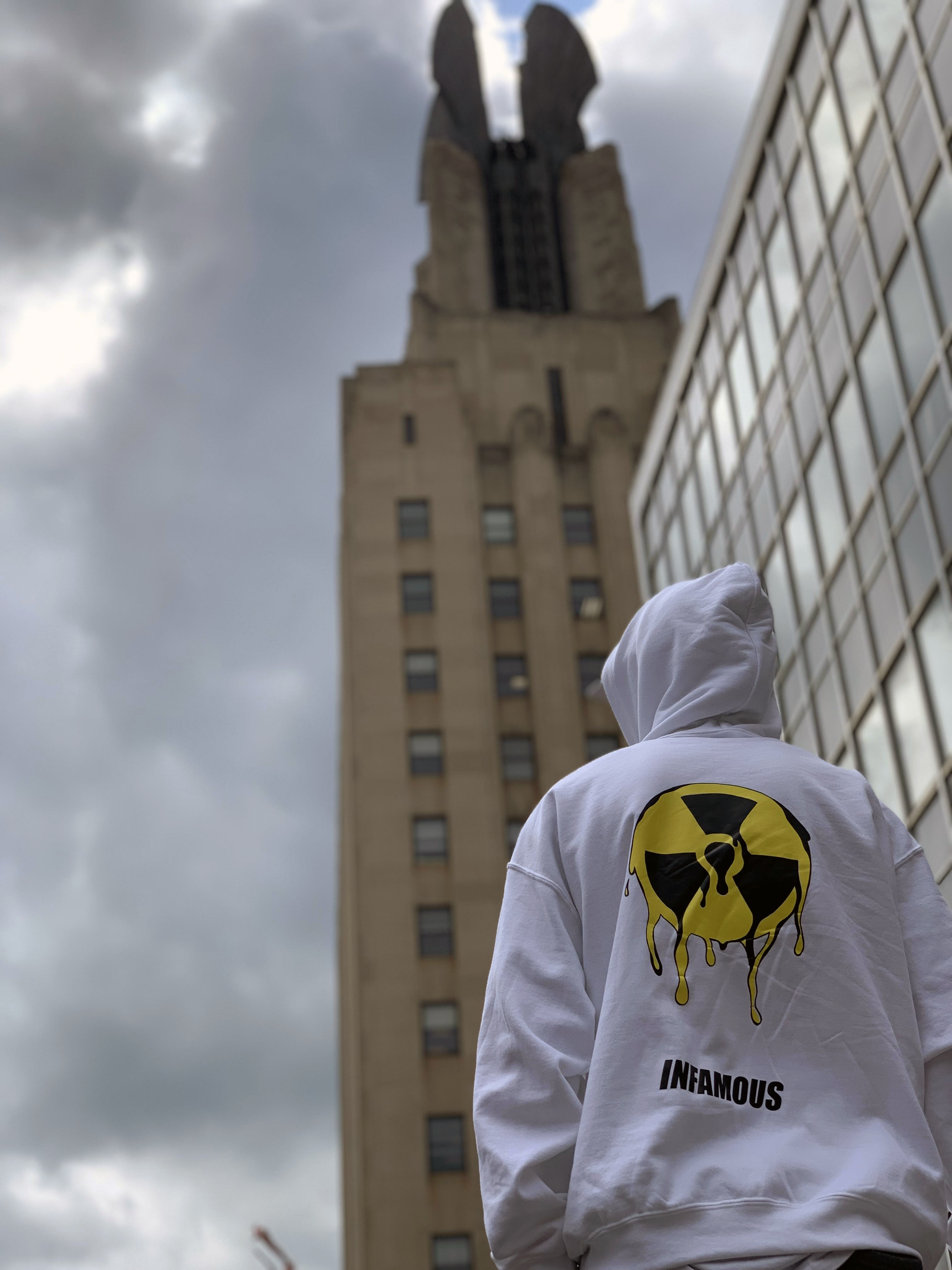 What's he printing these days? As the brand grew, Matthews had a similar story to many in the printing business. Buying t-shirts from chain stores simply wasn't cutting it.
"Originally, the first shirts I bought were from Walmart, and I didn't like the quality of them. I tried finding other stuff, and then I thought, 'Alright, I've come to the point where I'm big enough that I need to start going through a wholesaler and ordering mass amounts of product.'"
Matthews suddenly seemed to rethink what "mass amounts" might mean, deciding that maybe he identified more as a smaller business. He seemed content with that thought.
"I like to think that the little man still counts," he stated.
Wholesale opened up doors in a way box stores couldn't, and he's now able to work his magic on more than just tees. With T-Shirt Wholesaler, he's got his must-have products.
"I mainly use three products from you guys," Matthews said. "Gildan's G800 t-shirt and Gildan's 50/50 hoodies. The blend's important. I've always had that issue where my clothes shrink and it pisses me off. Just about everything I buy from you guys is a 50/50 blend. That way it significantly limits the amount of shrinking. And Big Accessories six-panel BX020 hats."
So buy blends to not get pissed off. And pony up the cash for an embroidery machine for hats and beanies. Try to give the customers what they want, and hope he's right. It's been a trial-and-error process, Matthews openly admits. Social media, the website, and just old-fashioned word of mouth have taken Infamous Street Co. beyond skateboarders these days.
With t-shirts, hoodies, sweatshirts, caps, and more street-worthy apparel bearing Infamous Street Co.'s designs, what's up next?
"I ordered a bunch of beanies and need to start embroidering those," Matthews said. "I'm looking forward to those because they're not as bright as some of the stuff I've done. I've done fuchsias and pinks and blues and lavenders and colors that Gildan offers, but when I ordered the new beanies, I have two colors right now, which are black, which I can obviously do a ton of different embroidery on, and olive. I'm actually looking forward to seeing what olive looks like."
The Skate to End Hate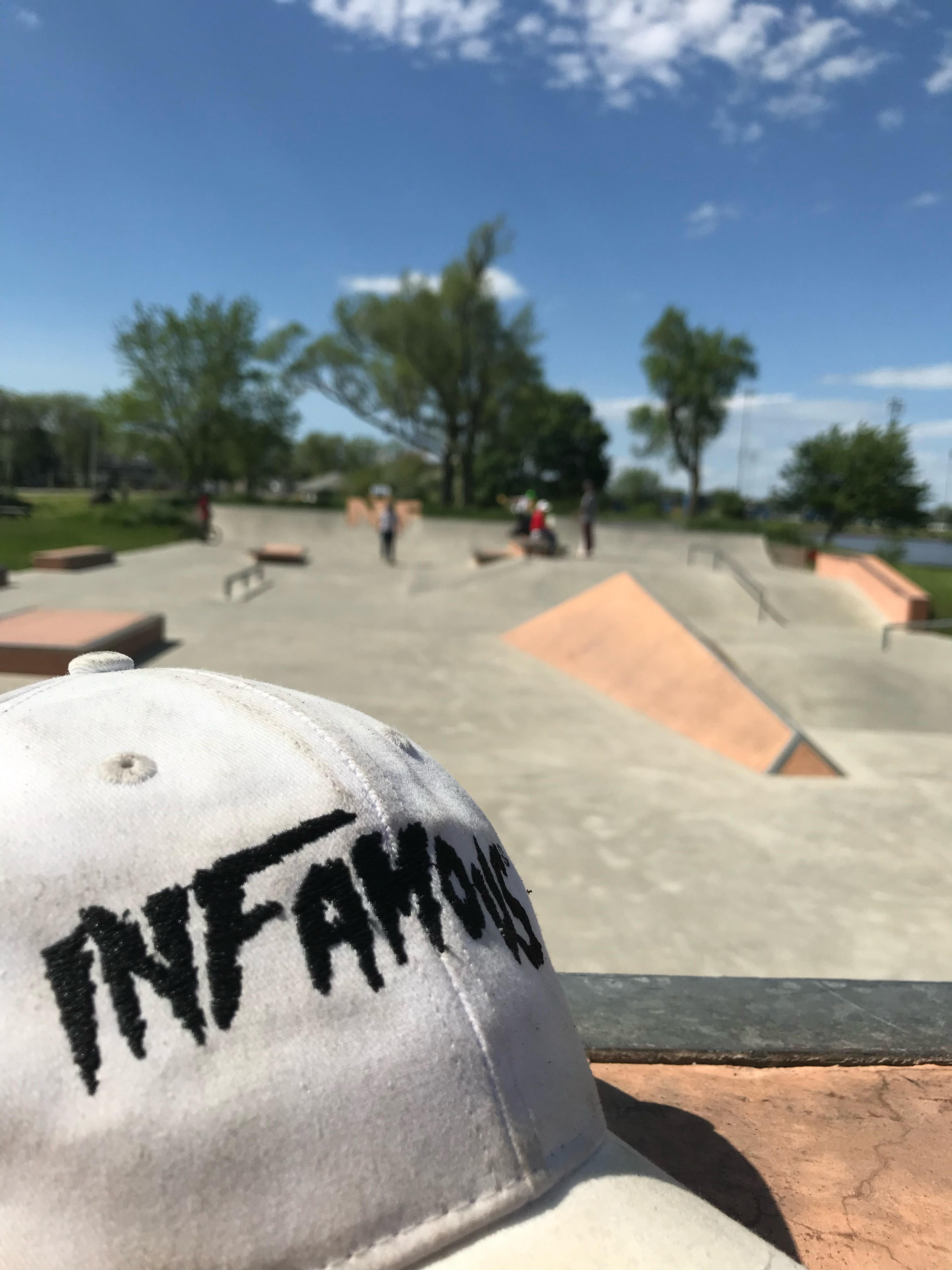 Something else on the horizon is taking up a lot of Matthews' attention, too, and it's something that hits home on a personal level. He's helping plan this year's follow-up to the first The Skate to End Hate, which was in 2019.
The Skate to End Hate was created by Matthews and colleague Nate Riexinger to bring more awareness to suicide prevention and mental health issues, while lending support to those affected by suicide. A series of suicides in this relatively small community in a short span of time made Matthews and Riexinger want to do something about it. What was originally supposed to be a Go Fund Me page turned into something much larger, an actual event, with speakers, musicians, and thousands of dollars in donations to the American Foundation for Suicide Prevention (AFSP).
"We're working on 2020 as we speak," he said, which is scheduled for September 16, 2020.
While Matthews stresses that he doesn't want Infamous Street Co. to be known for a particular cause close to his heart, the two are absolutely linked.
"When I started Infamous, I did not expect to be hosting charity events and raising money," he said. "And there's this kind of back-of-my-mind idea that I don't want Infamous to be known simply as the company that founded The Skate to End Hate, but at the same time, I can't get away from the fact that I did. I'm proud of it, and the work that we're doing. If that gets another dollar into AFPS' pocket? It might mean an education program in schools that might save a life."
Follow The Skate to End Hate on Instagram for up-to-date information at www.instagram.com/theskatetoendhate.
Making Infamous Famous
At the end of the day, Matthews still enjoys having gone from "a skateboard punk" to owning his own company. His computer is chock full of designs, and he's excited to roll them out. Infamous Street Co. just might be making skateboarding and other street sports more famous than infamous with each piece of apparel he puts out. And he's in a great place to do that.
"Rochester has always had a very prevalent skate culture here," he said.
Follow Infamous Street Co.'s Instagram at www.instagram.com/infamousstreetco to check out newly minted apparel or shop their website at www.infamousroc.com.

---
Related posts