Official T-Shirt Wholesaler Blog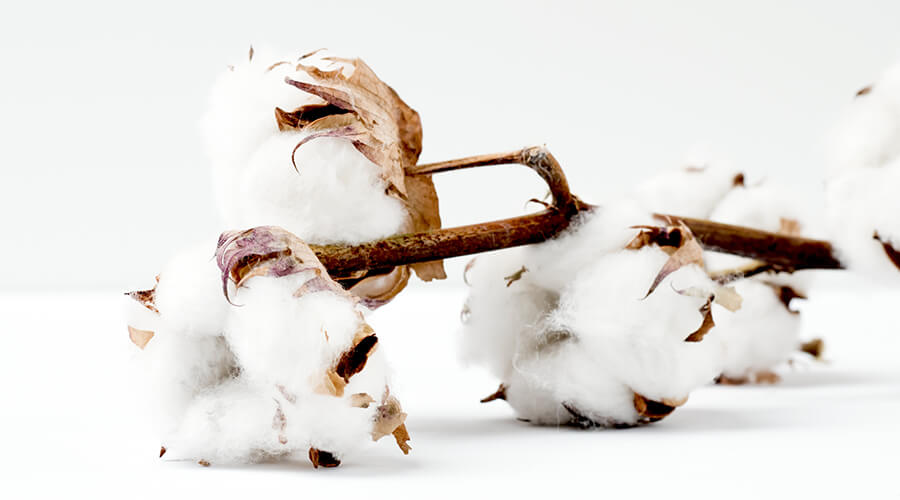 When your t-shirt's label reads "100% cotton," you probably think you know what you're getting. We don't mean to go all Matrix on you, but what if we told you there's a whole lot more to 100% cotton than you might think?
When your favorite tee is 100% cotton, what are you really getting? With us, you're absolutely getting 100% cotton. But if you've been looking at labels lately, you might be noticing additional information. Words like "Pima," "organic," "ringspun," and more. They keep popping up on your label, too. What happened to 100% cotton? Oh, you're still getting the good stuff, the cotton that you crave. The question is, what does that 100% cotton really mean? We're here to unweave the fabric of mystery that is 100% cotton.
All Kinds of Cotton
Everyone is abuzz, asking the Internet, what's the best type of cotton? This isn't really a fair question, and not just because of personal preference. There are different species of cotton, growing conditions, processing, knits, and more. We'll explain what's what, and then you take your pick of what you want on your tee's tag.
Here are the most common kinds of cotton you're likely to come across:
Regular Cotton
Preshrunk Cotton
Combed Cotton
Ringspun Cotton
Organic Cotton
See any of these on your label lately? We'd love to detail what you're buying. While we might not be able to answer the question everyone's asking, which is, what's the best cotton? Best to you could mean softness, texture, sustainability, price, printability—all, one, or a few of the above. Hopefully you'll find the best cotton for you.
Why Cotton?
We have a love affair with cotton. It's one of our favored fabrics and a staple of our wardrobe favorites, the classic t-shirt. We love cotton because of its feel, its natural fibers, its breathability, and its relatively inexpensive cost. We love it so much, we go through great efforts to make it look, feel, and behave just as we want. And because it's cotton, it's up for the challenge.
Regular Cotton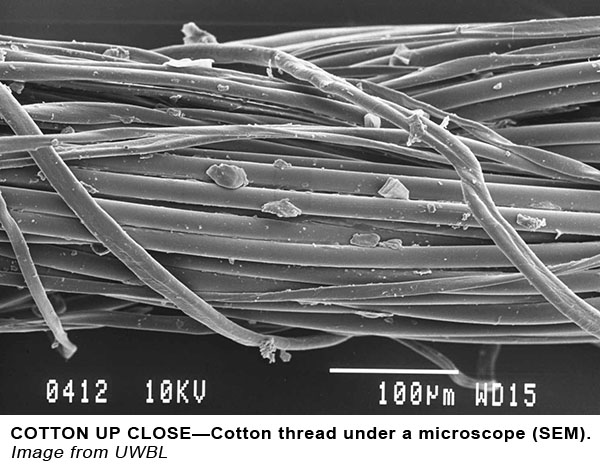 No, you're not going to find "regular" on any label or in any description. It's the most basic of cottons. Regular cotton ends after a modest production, but it can continue on with more refinement to produce other kinds of cottons.
Here's the basics on how a t-shirt starts. Regular cotton is made from fibers that are twisted together to make yarn, which is then woven together to make the material that can make up a regular cotton shirt. Processing is kept to a bare minimum, which means it's economical to make and inexpensive to buy.
While some describe this very basic cotton as coarse and scratchy, a fan following call this feel the cotton that they know best. Even at a heavier weight, it's still airy. The minimal production means a textured fabric that has a loose weave. A close look under a microscope shows a yarn with frayed ends which simply can't be woven tightly together. But it's a feel some prefer.
There's a slight problem with that loose weave, even if you love it. Even in producing your regular cotton t-shirt, there's not much give and take with a wide-open weave. That makes it harder for your tee to bounce back. And if it meets the washer and dryer? Shrink, shrank, shrunk.
While cotton is probably the most forgiving of materials to print on, you might want to take a hard pass. Your designs are likely lost in the push and pull of this untreated fabric.
It's actually harder to find a regular cotton these days. We salute you, regular cotton, though, for the contributions to the modern tee. And it still has its place in the hearts of many. It's priced just right, and has the best reputation of feeling like cotton to those who love a starchy, firm feel. Sure, stock up on this inexpensive tee...or consider reading on about preshunk cotton.
Preshunk Cotton
Sorry, regular cotton. There's a new kid in town. Preshunk cotton is perhaps the new basic when it comes to your cotton t-shirt. And why not? One extra step makes a world of a difference. And it's no longer an upgrade. It's fairly standard. When you see "100% cotton," the odds are in your favor that it's preshunk cotton. In fact, we take great pains to tell you you're choosing preshunk cotton with our tees.
What is the preshrunk process? Perhaps you're picturing your soon-to-be-bought shirt sudsing away in some magical washer and dryer. Would you prefer Tide or Cheer? Instead, your tee is still just a twinkle in someone's eye. It's the fabric, still in pre-t-shirt form, that undergoes that preshrunk magic. Makes sense, huh. Shrink, then sew. There is some magic behind the preshunk mystery, though. Manufacturers have their own methods, and some brag that they've mastered the method. In the most basic of terms, your basic cotton tee was made and the fabric stretched out during the process. When you take it come and launder it, your tee takes that opportunity to shrink to shrink back to before it was a shirt, and then some. The preshrinking process takes the fabric that will become your tee through a processing machine that forces the fabric's fibers to tighten on their own before that fabric ever becomes a shirt. There are more extensive version of this process, but the goal is to get the fabric of your shirt to its most compact material imaginable.
When you buy a preshrunk t-shirt, that doesn't mean that it will never shrink. Some manufacturers have the stats on shrinkage on a preshrunk shirt. Bella + Canvas promises that their preshunk tees won't shrink more than 5%, also stating that other brands can shrink up to 10%. That's basically a whole size, they report. Nonetheless, preshunk cotton is a major game changer. Just be prepared that preshunk doesn't mean you can go wild with the washer and dryer. Take care of your clothes, and they'll look good for you.
Try the simplicity of a classic preshunk cotton t-shirt line with the Gildan G500 T-Shirt 5.3oz Heavy Cotton, Gildan G500L Women's Missy Fit T-Shirt, Gildan G500B Youth T-Shirt Heavy Cotton, and Gildan G510P Heavy Cotton Toddler 5.3 oz. T-Shirt. It's a basic cotton—preshunk—that won't let you down in the wash. There's again a sturdiness to the fabric. It's not the softest cotton you'll ever feel, but it doesn't intend to be. It's solid structuring that feels like traditional cotton. It's the cotton you'll pick when other types feel just a little too froufrou for you. And yes, there are those out there.
At a low price, it's a printer's dream for getting those trendy tees out on the market quickly. And there's another benefit to printing on preshunk cotton. You're printing on a tee that's compacted enough to hold that ink. And with minimal shrinkage, it'll stay that way. Enjoy a low cost for a safe bet.
Combed Cotton
We're starting to go soft with combed cotton. You'll see combed cotton combined with other types of cotton, like ringspun cotton, too. When you see that, you've hit the dynamic duo of tees. But let's talk combed cotton itself first.
Combed cotton is a process. So is preshrinking cotton, but this is a little more labor intensive. It's more expensive because it increases the actual quality of cotton. Combed cotton is a step in the soft direction. When cotton is literally combed, brushes are used to remove any remaining impurities. Regular process has already been cleaned to remove many impurities, but combing takes it one step further. This combing process also removes many of the short fibers. If regular or preshunk cotton feels scratchy to you, it might be because of these miniscule impurities.
It might sound simple, but any extra processing costs more because of the time invested. But if you're exploring the softer side of cotton, the added expense will be worth it when you feel the smooth texture on your skin.
It's not as common as you'd think to find just combed cotton. If you do, it'll feel softer than regular cotton. You'll typically find it combined with other processes, like ringspun cotton, but not all ringspun cotton is combed. Lucky you when you find this added bonus. If you're thinking about whether combed and ringspun cotton is worth the extra cost in printing versus ringspun cotton, the first will be the superior softness with no impurities you're printing on.
Ringspun Cotton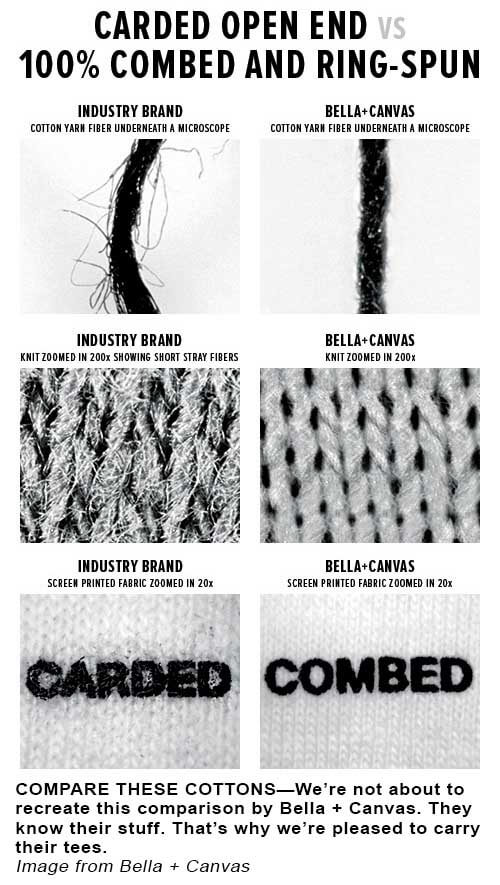 Ringspun cotton is a process. To fully appreciate the finished product of ringspun cotton, let's revisit regular cotton, that is, its production. For regular cotton, it's processed from raw form into yarn of smaller size until it's up to regular cotton snuff. With ring spinning, the yarn is further processed by being rapidly spun around a ring mechanism, hence, where the name ringspun cotton gets its name. This process makes the yarn longer and stronger by constantly twisting and thinning short fibers together. It turns out that this thin yarn is actually stronger than regular cotton because it's so condensed. The continual twisting of these fabrics smooths out any wiry strands regular cotton yarn still has. You may or may not be able to see those coarse strands left in regular cotton, but the comparison between regular and ringspun cotton under a microscope is no contest. But forget the microscope. You don't have to be a cotton connoisseur to feel the difference.
It's not as common to find strictly ringspun cotton t-shirts as you'd think. Want to feel the ringspun difference? There's the Comfort Colors C1717 6.1 oz. Ringspun Garment-Dyed T-Shirt, Comfort Colors C3333 Women's Ringspun Garment-Dyed T-Shirt, and Comfort Colors C9018 Youth Ringspun Garment-Dyed T-Shirt. This line plays around a bit even more with other awesome processes, like preshunk and a soft washed material. A softwash is a prewash that gives this line a soft and worn-in feel. So while there are many types of cotton, it's not difficult to see manufacturers playing around to make their products their own.
The good news about having a hard time finding strictly ringspun cotton? Or only combed cotton? That's because so many manufacturers are these luxury processes to the next level, which means you'll actually find more combed and ringspun cotton t-shirts than just one of these processes. Yes, because of their popularity, the price of upscale combed and ringspun cotton t-shirts sometimes is less expensive than you might think. Easy-to-find combed and ringspun cotton tees? Yes, please.
Despite a time-consuming process, the popularity of ringspun cotton t-shirts has kept prices lower than you'd expect with a luxury tee. With higher demand comes a cut in costs. A staple is the Bella + Canvas 3001C Unisex Jersey Short-Sleeve T-Shirt, Bella + Canvas 6004 Women's "Favorite Tee" T-Shirt, and Bella + Canvas 3001Y Youth 4.2 oz. Jersey T-Shirt line. The feeling of combed and ringspun cotton is smooth and silky. Aside from a blend, it's the softest cotton t-shirt that's most commonly available. It only feels rich.
The smoother and tighter your fabric gets, the sharper your design looks in print. Yes, you're spending a bit more. But with a superior product on a popular t-shirt, fabric favors the bold. That's the quote, right?
Organic Cotton
Have you decided to go green? This may be a drastic step in all areas of your life or you may be making one little change when you can. But it's also time to consider not just what you can do with organic cotton, but what it can do for you, too. Giving the cleanest cotton a try might make your world a whole lot better.
Yes, cleanest. Organic cotton is certified with strict guidelines. It's quite a commitment. In the U.S., it's held to strict standards. That means no overprocessing the land, no synthetic fertilizers, and no sewage sludge. And irradiation and genetic engineering—like the genetically modified organisms, known as GMOs—are out. In organic cotton manufacturing, weeding is done by natural processes. Organic cotton uses biological fertilizers, like chicken or cow manure. And organic cotton farming keeps millions of pounds of chemicals out of the environment.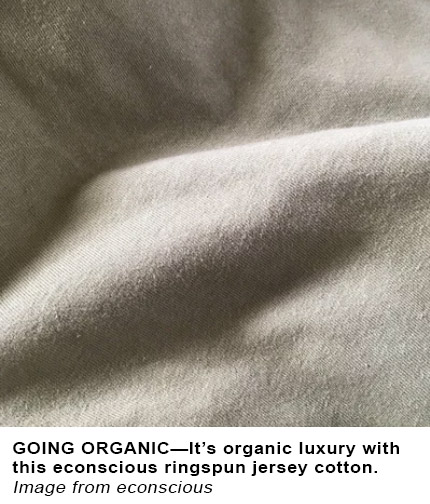 Here's where organic cotton affects you. It's possibly the cleanest cotton you can buy. An ongoing argument is that pesticides in other non-organic cotton can stay in the fabric, despite repeated washings. It's still just a theory, but it's something to perhaps consider if you're prone to skin conditions or simply have sensitive skin. We're in no way saying organic cotton is a cureall, but why not give an organic cotton t-shirt a try? The organic industry is not only counting on this being the cotton of the future, they're using processing like ringspun to add a little luxury. Because if you have sensitive skin, removing those little short strands through ring spinning can help anyone not itch.
Because interest is on the rise, organic cotton is becoming more affordable than ever. The econscious EC1007U Unisex 5.5 oz., Organic USA Made T-Shirt and econscious EC3000 Ladies' 4.4 oz., 100% Organic Cotton Classic Short-Sleeve T-Shirt are great places to start if you're organic cotton curious. Both are put through the ringer—that is, ringspun, so organic feels awesome. What does organic cotton feel like? Unprocessed, it feels much like regular cotton. But with added treatments like ringspun, there's no giving up softness or a smooth texture in the name of Mother Earth. She doesn't want us to be itchy in a scratchy material, either.
Additionally, the production of organic cotton uses less water, improves soil quality, and is less harmful to our air quality and atmosphere. Since organic cotton currently only makes up 1% of the cotton market, buying organic cotton supports a still small-scale industry. It's a small step if you're feeling eco-curious or just interested in a cleaner cotton.
Your customers support organic cotton. Get in on it by investigating eco-friendly printing.
Pima Cotton
Pima cotton originated in Peru, but it's named after the Pima Indians, who helped raise the cotton in the U.S. If this cotton already has an exotic feel that gets you excited, here's what makes Pima cotton of interest beyond its origins.
Pima cotton is considered high-end cotton with long fiber. There are, indeed, long and short cotton fibers. Regular cotton has shorter fibers. In fact, if we're talking much of our own regular cotton, the species is called Upland, and it makes up 95% of our cotton in the U.S. Certain species of cotton produce longer fibers, but they're also a more challenging crop to grow. You may have heard of Egyptian cotton, a famous best in bedding, but Pima has found its way to our clothing favorites, like t-shirts. Pima, quite simply, is just not as abundant as short-fibered cottons. That's why regular cotton owns the U.S., but here's how we've been making our short-fibered cotton perform like Pima cotton: ringspun cotton. Ring spinning weaves those short fibers into a long, thin, and soft strand. Pima is a straight-from-the-field, extra-long cotton. It's the naturally luxurious cotton look and feel that we recreate with short fibers.
Despite its exquisite feel, it's still not necessarily a household name. You'll still sometimes find it in shirts, which is why it has to be included in our cotton collection. And then there's Supima. Supima is Pima cotton grown in the U.S. The best Pima is grown under the unique growing conditions of the Peruvian coast and are hand-harvested. Pima cotton is expensive, because it has to be. The feel is a natural version of all we hope to recreate: soft, smooth, and oh-so-silky cotton. Only time will tell whether Pima—or Supima—will ever be a bigtime cotton contender or if it will continue as a luxury fabric. But its entry into our basic apparel is an interesting sign.
We've stuck with tees so far, but Pima is working its way into our polo shirts. Wondering how Pima cotton stacks against all other cottons? Try the Devon & Jones D100 Men's Pima Pique Short-Sleeve Polo and Devon & Jones D112W Women's Pima Pique Short-Sleeve Polo. It's only a matter of time before Pima works its way into more shirt staples, even our t-shirts, so Pima cotton just can't be ignored.
In the meanwhile, put your own touch on this Pima cotton line. Have your insignia embroidered into these polo shirts. Curious about how to approach it? Pima should be treated as the finest cotton you've experimented your art on—because it is.
We're 100% Done
Well, we've woven you quite a tale on all you need to know about the 100% cotton you'll encounter. There are more cotton species, types, techniques, knits, and more that you'll have to explore on your own. We've already spun quite a yarn, but we hope you understand more about what cotton you wear and why you love it. It might be 100% cotton, but there's so much more to the story.
Hey, thanks for the read! If you love our blog, you should sign up for our emails chock-full of savings and more awesome content from us here at T-Shirt Wholesaler. That's what you came here for, right?
---
Related posts