You've seen them worn on the runway, designers such as Oscar De La Renta and Christopher Kane have popped neon colors on the runway for over a year now and the trend is still going strong. There is no need to be afraid of neon shirts.
While not all neon colored shirts work for all skin-tones, there is a certain neon color that fits everyone. If you look astonishing in a Fall orange then chances are you will also look fantastic in a safety orange t-shirt.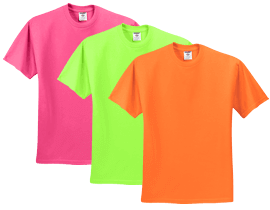 If you dazzle in yellows, then a neon yellow t-shirt is the perfect pick for you. Or perhaps you are glorious in green, if that's the case then go for a vibrant neon green t-shirt to accentuate your skin tone.
Neon t-shirts are a great way to stand out in the biggest and most fun way. Choose neon shirts for a pop of color at your next family reunion or company picnic, no one will be able to miss you. If needed in bulk, neon t-shirts wholesale are available on this very site. Neon t-shirts are also a great choice for children's group outings, as it makes keeping an eye on the kiddos that much easier.
---
Related posts